Winchester Announces New AA TrAAcker Shotgun Ammo
Russ Chastain 02.18.14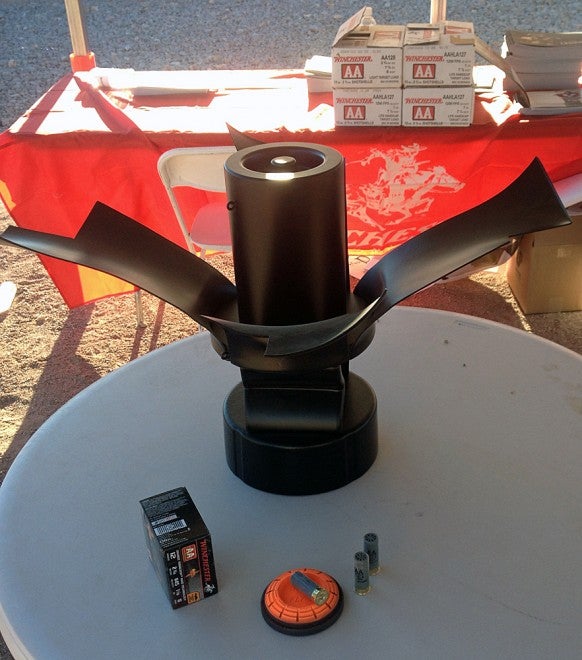 About a year ago, Winchester came out with TrAAcker shotgun loads, which feature a weighted wad that stays with the shot rather than separating from it. Since the wad is easily visible, this lets shooters know where their shot went, which can be vital in determining how they can correct their wingshooting.
Shotgunners often stop swinging their guns at the shot, and this usually means the shot will go behind the clay target. Too much lead will mean the shot will go ahead of it. If the shot goes high or low, there are obviously other adjustments that need to be made.
The uniquely-shaped wad comes in black and orange for different lighting conditions.
On February 18, 2014, Winchester announced that it will be expanding the TrAAcker line of ammo into Sporting Clays and 20 gauge loads. This seemed like a good time to take stock of TrAAcker ammo and its value to shooters over the past year.
Current loads are all 12 gauge, 2-3/4″ shells with 1-1/8 ounce shot. Shooters have a choice between 7-1/2 or 8 shot, with orange or black wads and a muzzle velocity (MV) rating of 1145 to 1250 FPS.
New to the scene will be two more (again, orange or black) 12 gauge 2-3/4″ loads with 1-1/8 ounce of 7-1/2 shot, with a spec'd velocity of 1300 FPS. The new 20 gauge shells offer the same 1300 FPS MV in 2-3/4″ shells with 7/8 ounce of 7-1/2 shot – and as always, are available with black or orange wads.
At a real-world cost that is considerably higher than the price of "regular" shells (average online price is $12 per box of 25), are these shells worth the money? Well, in reading user reviews, it doesn't look as if they are. I found that negative user reviews clearly outweighed positive reviews by ratios of 5:2, 5:4, and 3:1.
Some shooters loved them, others thought they were okay, but most had a hard time seeing both colors, said they weren't any easier to see than a regular wad, or simply found them to not be worth the price. In reality, some bad reviews will always turn up, but when more than half of the reviews are negative, it tends to give one pause.
For me, the jury is out; I'm a skeptic at heart anyhow. I'd love to try some at my hunting club's skeet range, and my shotgun skills could surely stand some improvement, but at twelve bucks a box I'm not sure I'll be buying any TrAAckers.
What do you think? Have you tried Winchester TrAAcker ammo? If so, how did you like it? Please let us know in the comments below.