Mission First Tactical AR-15 Accessories: Engage Grip and Evolv Stock
Major Pandemic 02.27.14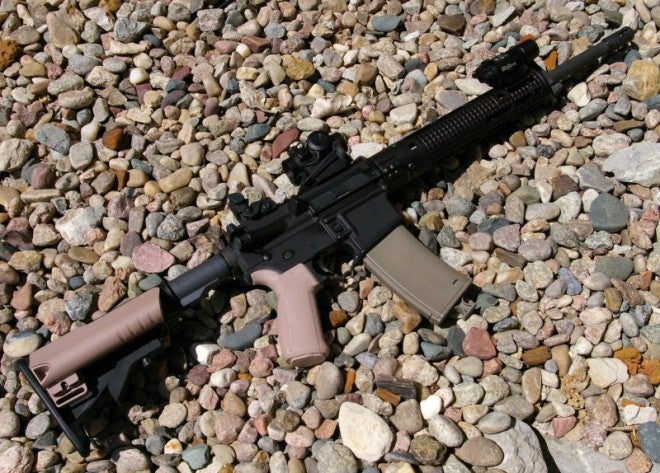 Mission First Tactical (MFT) is going after Magpul aggressively head-to-head with innovative new products, and the MFT AR-15 upgrades I've tested to date have certainly been highly innovative and feature rich. The two products I recently tested were the Engage customizable pistol grip with interchangeable straps and the Evolv battle stock attachment. Both products delivered big comfort improvements over standard furniture on my Spikes Tactical ST-15.
Fit, Feel, and Features
Mission First Tactical is a sibling company to Fobus holsters, so they know how to make great, durable, tactical polymers that stand up to abuse and provide great design and fit. All their AR upgrades are available in your choice of black, flat dark earth, foliage, or grey.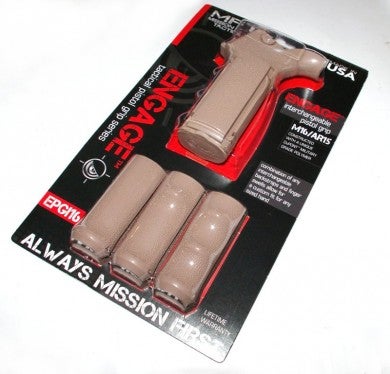 Each Engage AR-15/M16 grip comes with three front and three rear interchangeable grip straps. The front strap can be swapped for a plain, single finger or multi-finger front grip, and the rear has a three increasing contours to personalize the fit for various hand sizes. The grip straps lock securely in place with a plastic pin, but it can be changed easily at any point.
The stock M4 six-position stock on my Spike Tactical ST-15 was okay, but I do prefer the more comfortable option that the SOPMOD style stocks provide. The Mission First Tactical Evolv battle stock attachment is a simple and inexpensive solution to morph your standard stock into a SOPMOD style stock quickly to provide a better cheek weld, added storage, and standard and QD sling mounts.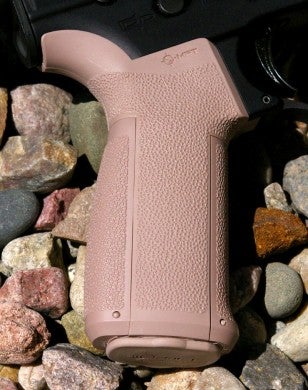 Functions
Mounting the Engage grip requires very few steps. First, remove the grip screw, then move the screw and detent spring over to the new grip. Finally, re-install the grip. I selected the smooth front strap and medium backstrap initially, but later installed the thinner backstrap for a little more comfort. The pattern on the grip locks the hand in well, and the overall design dissipates recoil much better than the stock grip. Not surprisingly, the upgrade was a huge improvement in comfort and handling.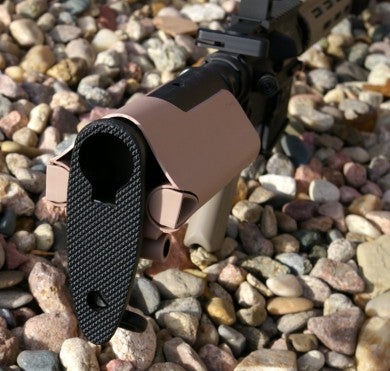 Mounting the Evolv Stock Attachment was a little tricky, as it fits and keys into the stock very tightly. The first step is to attach the sling mounts, orienting the standard or QD sling mount on the side you want and bolting these to the stock. The saddle secures to this and tightly locks into the grooves on the standard M4 stock for the feel of a one piece stock. It takes a little wiggling, but once everything is assembled, it is rock solid.
This is a pretty cool upgrade for the simple reason that, for $29.99, your standard stock can be upgraded to the same features as a $100 SOPMOD style stock. That's not a bad investment to get a stock that provides for a very solid and drastically more comfortable cheek weld, all while providing storage and extra sling attachment options.
Final Thoughts
Mission first has a number of other products, which I hope to test out at some point on the safe full of ARs I have, but so far the One Point Sling, Engage Grip, and Evolv Stock Attachment have all been great investment in comfort and handling. If you see these on the shelf, I would highly recommend you give them a try. They are every bit as good or better than that other brand, and they may surprise you with extra innovation and features.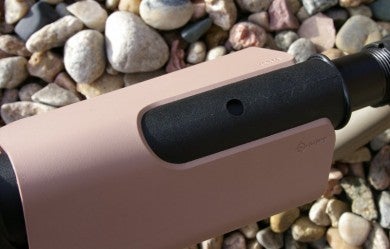 Specs
Easily affixes to collapsible buttstock – (may not work with non-standard models)
Upper section provides enhanced cheek weld
Two watertight storage compartments that separate batteries to prevent charge offs and reduce rattle
Quick Detach Sling mounting point and sling slot
Colors – Black, Flat Dark Earth, Foliage, Grey