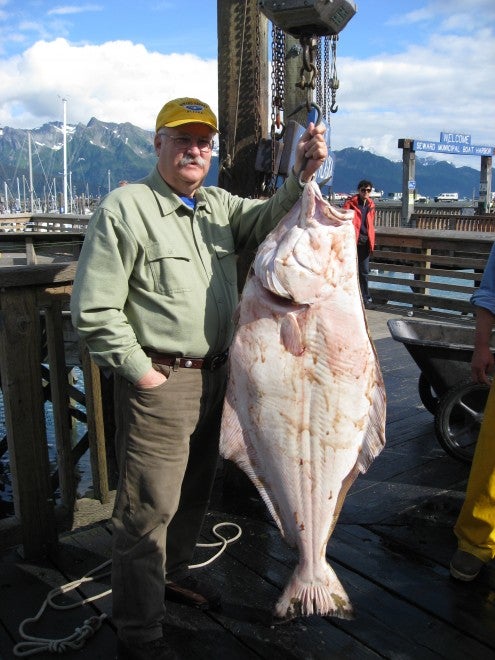 The t-shirt reads "Just for the Halibut." I thought it was a perfect tourist prize for a flatlander fisherman that just caught a 65-pound Alaskan Halibut off the coast of Seward, Alaska. There are a lot of thrills on the face of this earth, but deep sea fishing off Alaska has certainly got to be one of them, especially for a guy from the south.
Truth be told though, I was not a neophyte at hali fishing when I landed this monster. This was my fourth trip to Alaska for salmon and halibut fishing, and I have since been one more time. I have strong thoughts about going back again if I could find a break in the air travel expenses.
Before I talk about this fishing trip and how to get connected for such a trip, let me extol the virtues of a vacation trip to Alaska. If you have not yet been there, then it needs to be moved to the top of your bucket list. The Last Frontier is one panoramic view after the next, no matter which direction you look. Every turn on every highway in the outskirts is a post card of the most spectacular aura. I have been around the world, but few places can match the landscape of our own 50th State of Alaska.
Having been five times now with my brother we have an 8-9 day trip agenda pretty well worked out. We travel on a Friday, me from Jackson, Mississippi and Kenny from Seattle via Olympia, Washington. We try to plan our arrivals at roughly the same time but that can be tricky.
I usually managed to land in Anchorage around 7pm. If my brother is coming within an hour, I just wait at the airport and watch the endless line of 747s coming in from the Orient. I could watch that all day long. Planes come into Anchorage from Japan, Korea, and China all day.
When we have our bags, we call the nearby Long House Hotel on Wisconsin Street just across the road from Hood Lake. They have a shuttle service that will pick you up at the airport. When we get settled into our room, we walk across the street to a little hole in the wall pizza place run by a family of oriental folks. Go figure, but they make great pizza.
After dinner we go next door for a twelve pack of Alaskan White beer then we stroll over to the city park benches right on Hood Lake. This cold water lake is the No.1 seaplane port in the world with the most take offs and landings of seaplanes per hour. We sit there until it finally starts to get dim light which can be 10-11pm.
On Saturday we catch the city bus right outside the hotel and head downtown to the open air citywide flea market. There we might buy our take home tourist gifts – shirts and such. I have bought several custom handmade knives and smoked salmon there. We sample local fare, too, at the market and usually have dinner at one of the excellent downtown restaurants. We pick up our reserved rental car and head back to the hotel, more beer and time at the Hood Lake park bench.
On Sunday we load up early after breakfast at the hotel. On our way out of town, headed south to the town of Seward, I always make my brother stop at the Mountain View Sports Center on Old Seward Highway. It is a classic Alaskan outfitters shop for the latest hunting and fishing gear. I always end up buying something there. I have Alaskan outfitter holsters, gloves, wool shirts, and books. They have it all.
Then the travelrama begins. Taking Highway 1 south out of Anchorage starts the 4-5 hour journey to Seward and the new scrapbook pages. There are many pull outs along the highway with views perfect for the camera and we stop often. There is one huge gas station about half way on the trip where we stop to walk around a bit and pick up a snack or sandwich.
My brother has already brought a cooler of food, so we will stop somewhere along the highway to break out the salami, cheese, and rye bread. Kenny is a gourmet cook, so I never have any fear about wondering if there is anything good to eat in his cooler.
Arriving at Seward, we have stayed at a variety of places, but most often the Seward Resort for military personnel. My brother is a retired U.S. Army major so he gets us in, but reservations have to be made at least a year in advance. Sometimes we are only able to get a motel room on site, but other times a condo with kitchen. We make do. There are charcoal grills on the grounds, so we cook on them a lot and fix other food in the room. You can buy make-your-own salads and other fresh cooked foods at a supermarket just up the highway.
As to the fishing, for beginners the best bet is to go downtown in Seward for a stop at The Fish House. Do not be fooled that this establishment is a hardware store, which is an experience all its own, so plan to spend some time shopping there. In addition to the store, they have a central counter with agents to book chartered fishing trips.
They have charters for salmon and halibut out of the Seward Harbor into Resurrection Bay right from the dock. Trips can be booked for a half day or full day or other combinations. If you want to fish the classic Alaskan rivers like the Kenai or others, they can hook you up for that too. We have tried it all.
My brother is first and foremost a halibut angler because these fish produce the most meat, which we pack and freeze there and carry home in a cooler on the airliner. I like deep sea fishing, but the river floats for salmon are my favorite because of the constant movement along the river by Alaskan habitat. Any second could mean spotting a moose or grizzly. So far my biggest Chinook salmon to date is 70 pounds on the Kasilof River west of Soldotna.
The halibut charters we have done have all been first class affairs. You just show up at the appointed time (usually 6-7am) at the dock slot number, and everything else is taken care of. Just bring a cooler with some food and water. Take a warm jacket/rain gear, hat, gloves, and a camera. They will have all the tackle, rods, reels, and bait. They will clean and bag your catch at the dock upon return.
On the faithful day I landed the 65-pounder, we left the dock early with a full complement of six anglers. Oddly enough, the two other couples were both from Minnesota though not together. We hit the bay and then into open water going full blast for about three hours. You typically fish roughly 60 miles out, and the charter captains have their GPS spots already dialed in (though you may move to several areas throughout the day if fishing is slow).
The charter's goal is to get every angler their limit of two halibut per day. Once the tally reaches that number, up comes the anchor to get back to Resurrection Bay in time for some silver salmon fishing.
The trick (if there is one to halibut fishing) is to count the number of reel cycles the captain tells you in order to get your downrigger type steel weighted ball with bait the right depth. He knows this by his depth finder in the area he stops to fish. Then you stand by the rail of the boat and slowly "jig" your rod tip up and down. The rods are strong but only about 4-5 foot long.
Sometimes it takes a while to catch on to what is a bite on the bait. You will occasionally lose your bait to a fish. Then you have to crank in and put on fresh bait. You could be fishing at depths of 100 feet. The tough part is cranking the weight ball back up, especially with a 20-300 pound fish on the other end. It is not easy and is very tiring. Trust me. The deckhand will assist with all this as well as coaching you and landing the fish on the deck. They will notch the tail a certain way so you get your fish at the dock.
When I hooked my huge halibut, I of course had no idea how big it was until it finally surfaced. However, during the process of slowly and with much effort cranking in my fish, the bugger decided to swim all around the boat. I had to move from one spot to the next on the rail to keep from getting tangled into other lines in the water. That did not work.
By the time it was all said and done, lasting at least half an hour, that halibut had every other of the five lines tied up to the point that it was one spider web of fishing line mess. One by one, the deckhand and captain worked to unwrap or cut all the lines so I could continue to retrieve my catch.
When the "color" finally reached the surface (white stomach up on the fish), the captain declared it a huge fish for the day. It was no wonder it felt like a sack of concrete on the other end of my line. They finally gaffed the critter and it took both of the deck guys to pull it onto the deck of the boat. Much later, back at the cleaning station at the port, it was weighed in at 65 pounds.
The funny part of all this was having caught such a big fish I became somewhat of a 15-second celebrity at the dock. All of the Japanese tourists on the dock rushed to touch the fish get their photographs taken with it, with me, and their whole groups. I never had my hand shaken so many times for catching a fish. It was an amazing experience.
My brother had caught two 40-pound hali's and my second fish went about the same. The deckhand "field" dressed all the fish, including the few salmon we had caught, too. Back at the resort, we worked for hours cutting the fish into steaks and vacuum packing them for the huge walk-in freezer facility at the resort. They give you a numbered crate, and all your fish will be hard frozen by the time you pack up to leave, given at least 24 hours in the freezer. There are other fish processing services in Seward for all anglers to use as well.
During our time in Seward, we would do two chartered trips for halibut together. Some of the time I would do a river salmon trip, and Kenny would do a third trip for hali meat. We would eat a fair amount of the fresh fish while there, and then pack the rest in a cooler to check as baggage. So far, knock on wood, a cooler has never been lost on the trip home, and packed with all the dirty laundry, the fish stays well frozen.
We usually packed out on Friday morning heading back to Anchorage. Usually my flight home back east would be a late evening flight at 9 or 10pm with arrival the next morning. All such travel is different obviously. Whatever you do, if you can, avoid a flight through LAX. Kenny would fly out the next day, so we he would check back into the Long House and put our fish coolers in their walk-in freezer just for fishermen. We always had a little more time to watch the planes on Hood Lake before I caught a shuttle back to the airport.
Alaska is indeed a very special place. I wish I had gone hunting there in my younger days just for the experience, but the fishing trips have created some superb memories, especially for me and my brother. Make plans now to create some halibut memories of your own.