Keltec PLR22 and Crickett Pistols
Oleg Volk 03.05.14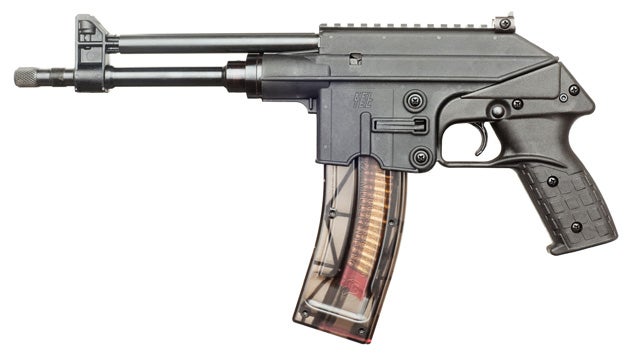 At first glance, Keltec PLR22 and Crickett .22 Hunter pistols couldn't be more different. Keltec is a semi-auto feeding from 10, 25, and 50 round magazines, Crickett is a single-shot bolt action. They do weigh nearly the same (PLR22 is 2.8lbs, Hunter is 2.5lbs) and have similar barrel length (10.1″ on the PRL vs 10.5″ for the Hunter), but in every other aspect they fall on the opposite sides of the .22 pistol spectrum.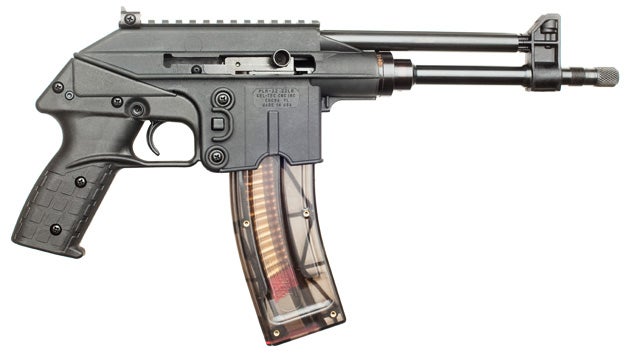 PLR22 has a number of useful features. It has a high practical rate of fire, comes with a muzzle threaded for a suppressor, and boasts a very long sight radius, 12.5″. The receiver is ready for optics. Other reviewers report excellent accuracy, a 1″ at 25 yards with ball and 3/8″ with match ammunition. The long barrel yields rifle-like velocities: 1300fps with 40gr CCI Velocitors, 1500fps with Aguila 30gr Super Maximum HP. 10 and 25gr box magazine and 50rd drum all made by Black Dog Machine are easy to load and feed reliably.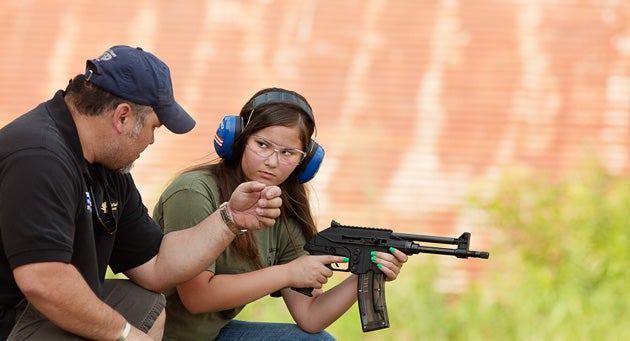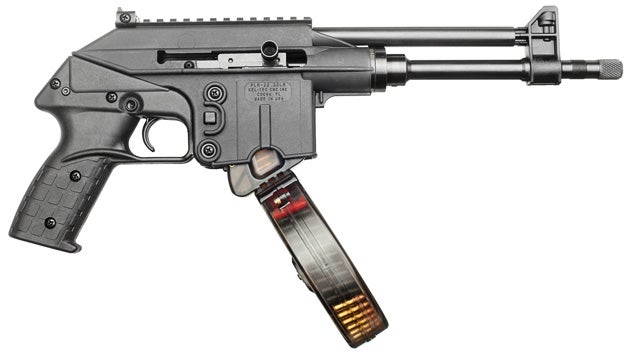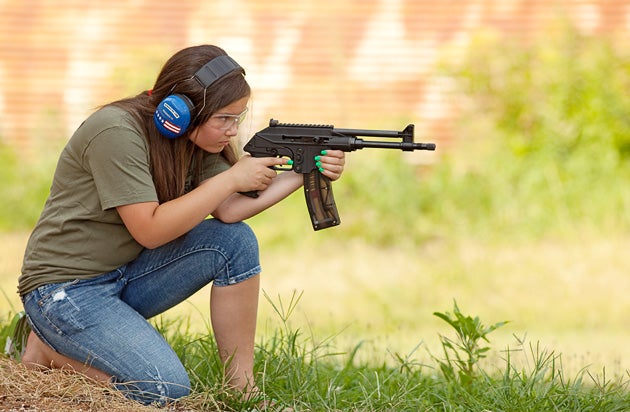 The down sides? With larger magazines, the pistol gets slightly front heavy. Being a semi-auto, it requires good quality ammunition for reliability. Overall, PLR22 is an excellent trainer for the .223 PLR16 and a capable hunting or target pistol in its own right. The shooter becomes responsible for limiting ammunition consumption, as it's easy enough to go through a brick of 500 rounds in a range session without trying hard. If you prefer putting the support hand forward, plastic or metal handguards are recommended for rapid fire.
Designed primarily for right-handed users, Hunter's ergonomic grip makes unsupported shooting much steadier. While the iron sight radius is shorter than on the PLR22, the fiber optic inserts make aiming a bit quicker. The receiver is drilled and tapped for a scope mount, and a good 2-power scope is available from Keystone Arms. The bolt is on the left, to be operated with the support hand. Instead of a separate safety, manually cocking bolt action is used.
Hunter has several advantages over semi-auto pistols. Any .22LR ammunition may be used, no matter what power or bullet profile. It's very well balanced and lends itself to easy off-hand shooting. With a bipod and an optic (either a scope or a red dot), it also works for more deliberate fire. Like the Crickett rifle, the Hunter pistol is quite accurate; my friends shot half inch groups at 25yds open sights and one ragged hole with a scope.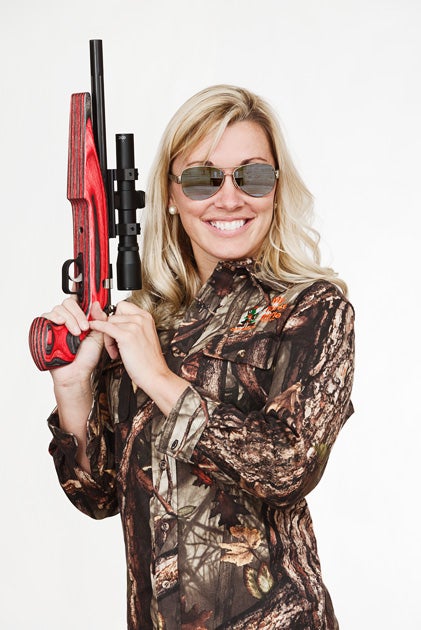 The practical rate of fire with Hunter is definitely less than with PLR22, and it's a bit harder to load with gloves on. A typical range session takes 50 to 100 rounds due to the slower and more pace of shooting. In compensation, the heavier barrel takes a lot longer to warm up, allowing consistent accuracy over time. Hunter pistol has another advantage: the same size package can be had in 22WMR, giving ~1800fps with 40gr bullets and over 2000fps with 30gr.
The last point of difference is the price. PLR22 retails for $360-400. Hunter pistols of various configurations run just about half of that amount. Maintenance is simple with both. Each provides similar ballistics and excellent accuracy. How much is the higher rate of fire worth to you?