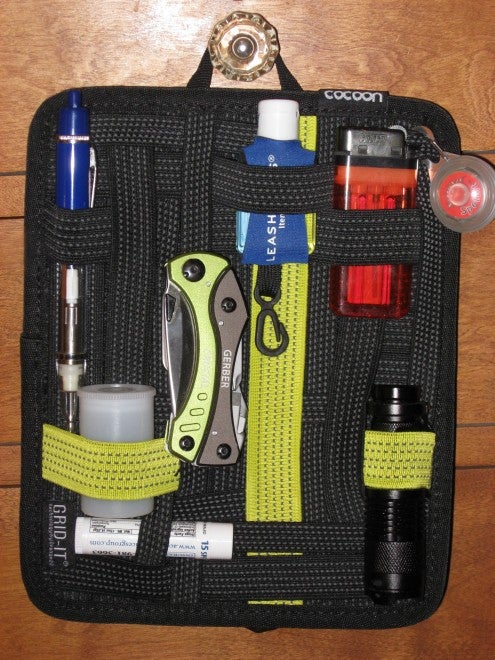 Last Christmas my eldest daughter of 26 got me the neatest thing. It's small, and at first reaction my thought was, "What in the heck am I going to use that for?" I put it up on my dresser drawers in the man cave and occasionally I would look at it. Then it dawned on me what to do with it.
The gadget is a Grid-It made by Cocoon Innovations. Essentially, it's a flat panel that the company calls a "rubberized woven elastic object retention system for gadget organization." It is sturdy and unbendable, and the back side is flat and plain with a nylon loop strap to hang over things like small knobs, door hooks, etc.
On the front side is a series of elastic straps going both vertically and horizontally, depending on how you orient the panel to yourself. With the loop at the top of the narrow side of the 7.5 inch by 10.5 inch panel of the model I received, I thought it had to be turned up that way, but it can be used horizontal. I am in the process of "rebuilding" mine to turn it that way, but it still has to hang by the loop if you use it. Just make sure all items are secure under a strap.
As stated by the Cocoon info page, the Grid-It offers versatile organization and endless configurations for digital devices and personal effects. Of course, you can put anything you want into the secure elastic loops. You can check out the associated photo I took of my Grid-It to see what I have loaded up so far. I'm still adding things that come to mind.
In terms of flexibility of use, I could see one configured for rifle accessories/items, one for a pistol, or one for electronics, like a cell phone, small camera, GPS, wind meter, and such. Another could hold medications for immediate or daily needs. One could be a first aid kit or a small tool kit. Another for a gun cleaning kit. Use your own creativity to configure one.
The Grid-It panel could be hung from a coat hook in the car or slipped into a laptop case, backpack, or other bag. I plan to put mine in the pocket behind the passenger seat of my Chevy Silverado extended cab truck. That way I can reach it from the driver's seat when needed.
Cocoon makes a number of different sizes and shapes of Grid-Its for multiple uses. Check out their web site for full details and specifications on the many models they offer. I am betting that, like me, you will eventually find a use for one or more of these neat little gadgets. Just one more step toward organization.

SHOP NOW