Due to the low cost and availability of 5.45×39 Russian surplus ammo, I recently decided to create the ultimate 5.45×39 build that screams to be shot constantly. In the end I used a naked, un-anodized, American Spirit Arms upper and lower receiver set, AXTS/Rainer Arms ambi-charging handle, Fail Zero carrier, Ace Ultralight stock with a custom tied paracord tube cover, AP Custom 15" carbon fiber forend, Houlding Precision Curse Muzzle Brake, and a Barnes Precision parts kit. I then topped it all off with an Eotech EXPS2 sight and G33.STS 3X Multiplier multiplier combo.
Fully loaded, the build weighs in at a feathery 7.2lbs with the optics. Okay yeah, I may have gone overboard a bit on this build, which totals around $2,800 with the Eotech optics setup or around $1300 without the optics, but keep in mind that I can convert this back over to .223 anytime. Meanwhile I will save around $240 per 1000 rounds — 5000 rounds and I come close to paying for this rig free and clean in ammo savings.
Anyway, I'll talk about the build in another review. Right now, I want to focus on one of my favorite parts of it: the AP Custom 15″ carbon fiber forend.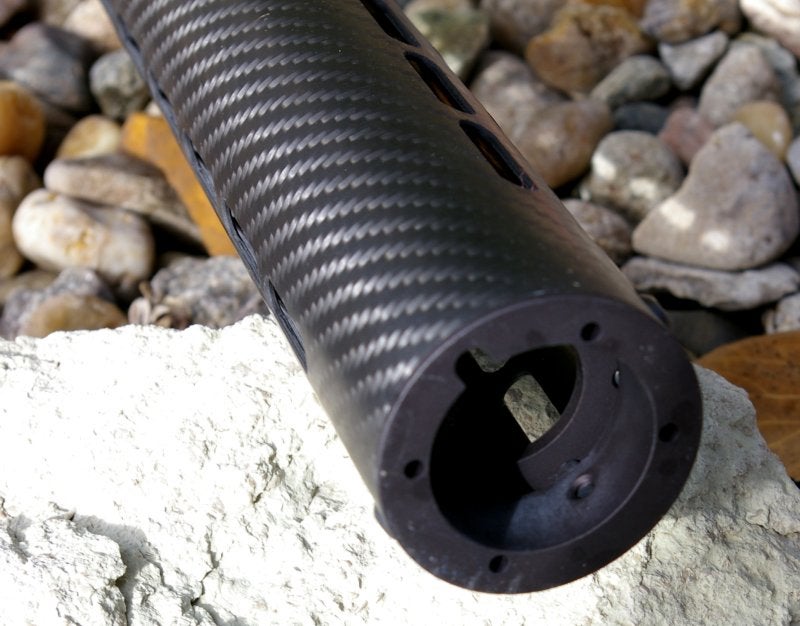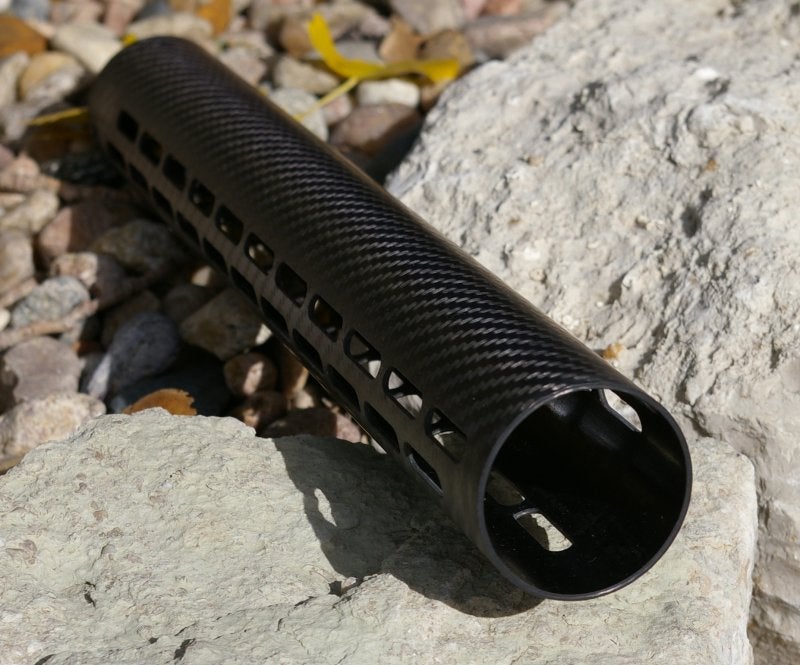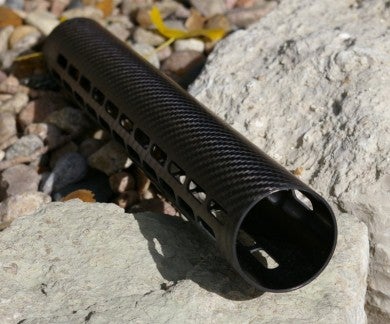 Fit, Finish, Feel, and Function
There are a number of carbon fiber handguards out there, but AP Custom is unique for a few reasons. Most carbon fiber handguards nix rail options and sometimes even lose the top sight rail options, but AP offers two based handguard options: a "Tactical" model with a top sight/optic rail and another "Standard" lightweight version naked. Since I was following the "naked" theme, I opted for the lighter version without a top rail and picked up a couple short accessory rails for a bipod mount and tactical light mount. Along with various accessory rail options, they also offer QD-sling and bi-pod/sling studs for the handguard.
The handguards are slotted at 2, 3, 6, 9, and 10 o'clock for additional clocking and to allow attachment points for the handguard accessories. The AP Custom handguards attach to the gun using a proprietary trunnion system via a standard mil-spec barrel nut. You can use your standard barrel nut, which can be attached with a standard Armorers wrench — no special tools required. The Clark Handguard requires epoxy, the AP Custom does not. If you are doing a new build, just note that the Mil-spec barrel nut is not included.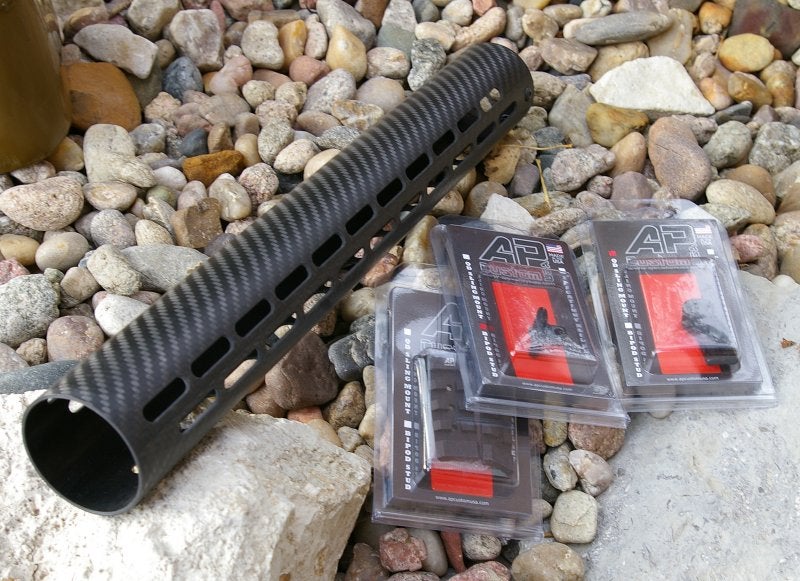 The finish is stunning, but a light wipe down tiny bit of oil on a rag makes the beauty of the carbon fiber pop. But the carbon fiber offers way more to the shooter beyond just looks: it delivers extreme light weight, very high strength, stiffness, and instant heat dissipation.
For me the key feature of carbon fiber is the heat dissipation. Most people never shoot an AR-15 to the point that a glove is required to to hold the handguard. I will guaran-damn-tee you that if you put five mags worth of any 5.56/.223 or 5.45×39 through a gun in pretty quick fashion, your aluminum handguard will be so hot that it cannot be held with bare hands. Carbon fiber has the almost magical property to dissipate heat instantly, so even if the gas block is glowing, a carbon fiber handguard will be exponentially cooler feeling than an aluminum forend.
You tend to get carried away hammering super cheap 5.45×39 rounds downrange, but even after the barrel and gas block is nice and hot, I can still keep shooting bare handed. This is one reason I am now moving more and more to carbon fiber handguards – this is my fourth.
The 15" length is dramatic but is still only 6.2oz. I love it because I have plenty of room to move my hands around, shoot off barricades at odd positions, and still have space to mount bipods and tactical lights out of my way. If you want something shorter, AP Custom offers Carbine length, Mid length, and Rifle length models as well in both the Tactical and Standard configurations.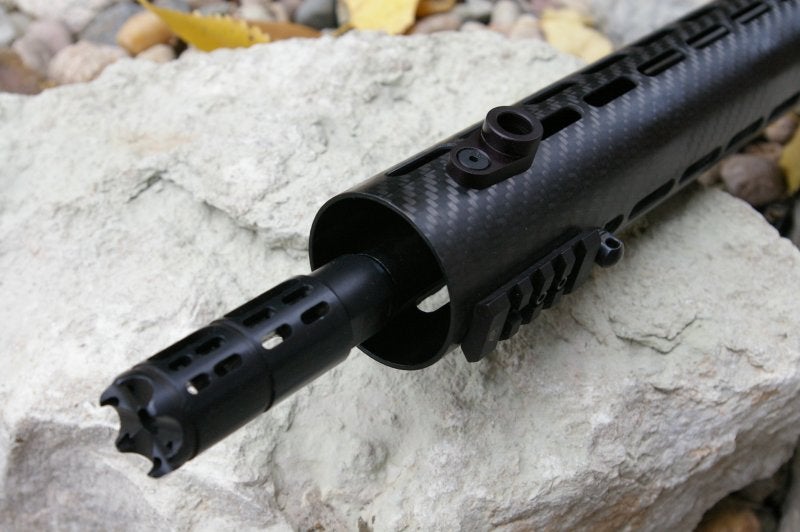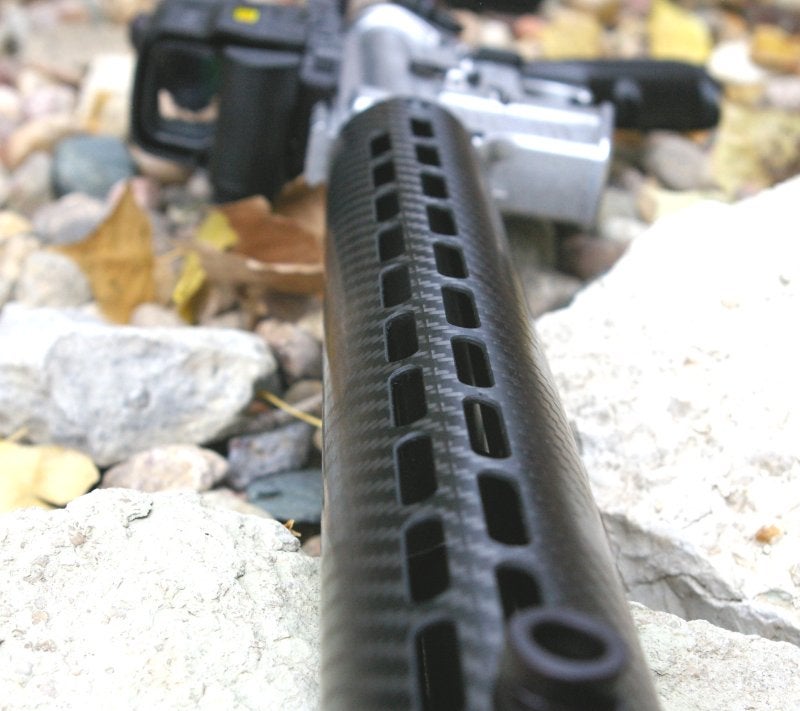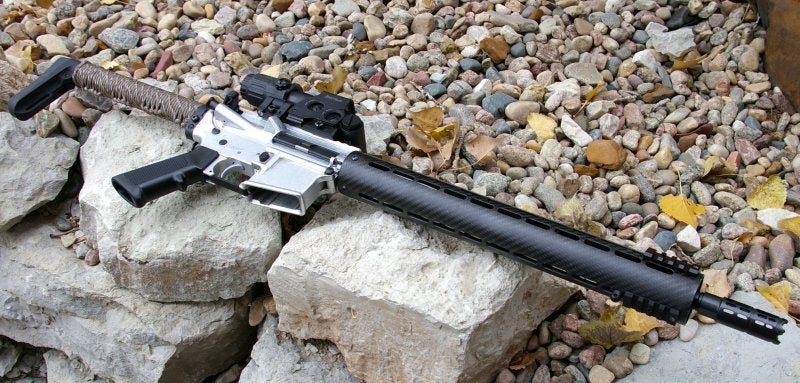 Final Thoughts
Readers know I try my hardest to accurately review and compare products. That said, the 6oz Clark handguard I tested previously is lighter, and even the carbine length AP Custom is an ounce heavier simply because you need to add in the weight of the required Milspec steel barrel nut where the Clark's is inclusive.
All that noted, I like the AP Custom a bit better because it offers the ability to add accessory rails and the slots line up well to access the adjustment screw on an adjustable gas block I added later on. Cutting into carbon Fiber is not a simple or easy exercise and technically should only be done in a fully ventilated and respirated environment. The AP Custom is the way to go if you need access to adjustable gas blocks, need a few extra holes, or want to add accessories.
The AP Custom also does not require the use of epoxy like the Clark, so the AR-15 builder can remove, reuse, re-tweak, and re-install the AP Custom handguard as needed by just removing a couple screws. To me the removability is a huge benefit when compared to the permanent, one-way install of the Clark.
The AP Custom handguard offers an awesome, practical, high performance option for handguards. I believe we will see a lot of 3Gun competitors using these very soon. It looks great and performs even better.
Specs
AP Customs 15" Standard Carbon Fiber handguard
$199 – From Nordic Components
Standard Carbine Length: 7.0 in., Wt.: 3.5 oz. $145 (Nordic Components)
Standard Mid-Length: 9.0 in., Wt.: 4.5 oz. $155 (Nordic Components)
Standard Rifle Length: 12.375 in., Wt.: 5.4 oz. $185 (Nordic Components)
Standard XL Length: 15.0 in., Wt.: 6.2oz. $199 Street (Nordic Components) (FEATURED)
Tactical Carbine Length: 7.0 in., Wt.: 5.4 oz. $145 (Nordic Components)
Tactical Mid-Length: 9.0 in., Wt.: 6.3 oz. $155 (Nordic Components)
Tactical Rifle Length: 12.375 in., Wt.: 7.8 oz. $185 (Nordic Components)
Tactical XL Length: 15.0 in., Wt.: 9.3 oz. $199 (Nordic Components)
Sources