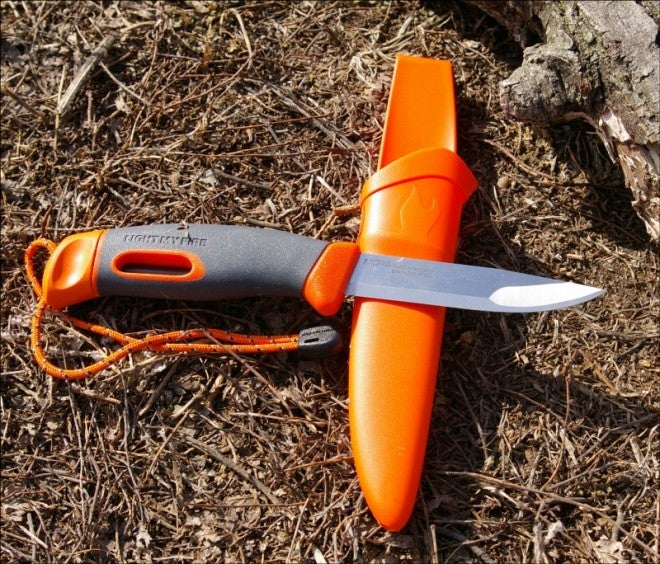 I'm often asked how big a survival knife should be, and I generally steer people into the 3.5″-6″ range. I can say from experience that those who recommend carrying a huge, mega survival knife as their only knife have not spent significant time outside as outdoorsman.
In reality, some of the top survivalists in the world recommend a relatively short, 3.5"-4" knife. Many of these same top survivalist carry a Mora brand knife, which is a simple and light knife with a blade size and shape similar to your average long kitchen paring knife. These folks know that it is not the big tree chopping tasks that get you to the next day of survival, but the little things that require the detail cutting that only a small blade can perform.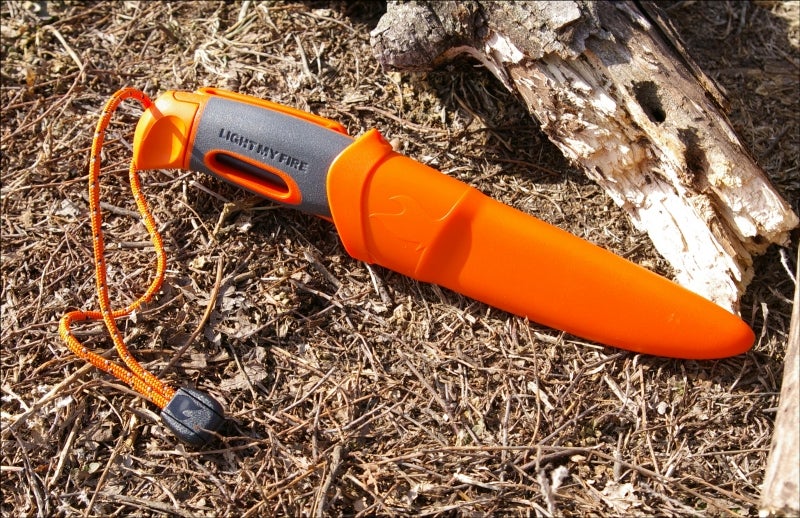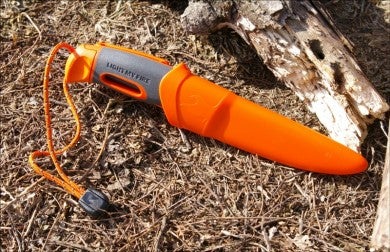 Light My Fire is a well regarded outdoor product manufacturer that produces everything from a titanium Spork to miniature Tealight lanterns. The company recently added a rather interesting survival knife to its line. The Swedish Fireknife by Light My Fire is a joint collaboration with the renowned knife manufacturer Mora mentioned above. Mora has been making knives for over 120 years and is well regarded as producing razor sharp knives that have stood the test of time.
The intent of the Swedish Fireknife was simply to combine the outstanding blade of a Mora knife in an affordable format that integrates Light My Fire's Swedish Scout Firesteel to provide an all around base for a survival kit. The result is an extremely sharp and durable, general purpose survival knife that can do everything from start fires to clean game all for under $30.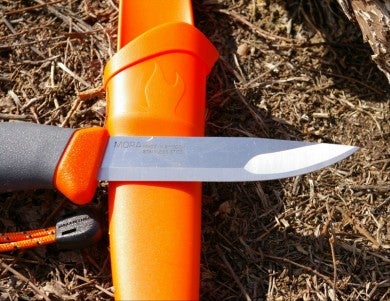 Fit, Feel, Features, and Function
As would be expected in a bright safety orange knife street priced at $29.99, the intent of this knife is not to deliver a stunning looking knife, but to offer a lot of utility for not a lot of money. The sheath, handle and ferrocerium rod handles are all injection molded polypropylene. It's not fancy, but it works. The majority of the expense was clearly dedicated to the flexible and durable blade made of Sandvik 12C27 stainless steel with a Scandinavian grind.
To improve grip on the Swedish Firesteel Knife, they integrated a high friction TPE rubber handle. Tipping the handle is Light My Fire's Swedish Firesteel Scout, which clicks into the end of the handle for safe keeping. I found this storage position perfect and did not have any issues with it interfering or coming loose during my testing. It was also quite simple to remove when lighting test fires.
Per my previous review of the Light My Fire Scout firesteel, there were no surprises and the firesteel performed the same here. The Swedish Firesteel Scout is available either separately or integrated into the knife, will deliver approximately 3,000 strikes, works wet or dry at any altitude, and produces a shower of 5,400 degrees sparks.
I always say that the sheath makes or breaks a great knife, and this simple, injection molded, drop sheath is a timelessly functional design with a few updates. The belt clip can be unclipped from the closed position so that you do not need to remove your belt to attach or remove the sheath. The knife securely locks into the sheath for right handed only carry, and there is a drain hole and lanyard attachment at the tip of the sheath.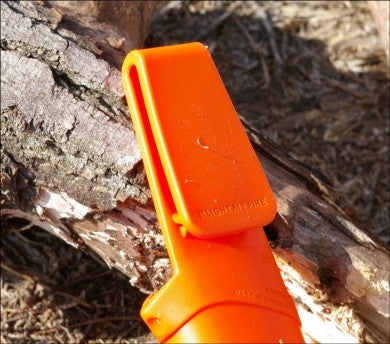 The knife performed amazingly well — actually, incredibly well. But I'm sure Mora would not put their name on a junk knife. Having handled Mora knives, the higher end models have improved blade geometry and better steel, but the blade and geometry of this blade did everything I tasked it with.
I was able to get away with light battoning; this does not mean I put the beat down on the knife, but I was able to use the extremely sharp blade to work my way through a 3″ cottonwood. This knife is easily capable of hard survival duty if required. This Mora designed blade sailed through my kitchen dinner prep test and the whole chicken breakdown test. It sounds simple, but breaking down a chicken will quickly show the flaws of a knife blade. As expected, the Mora cruised through the test.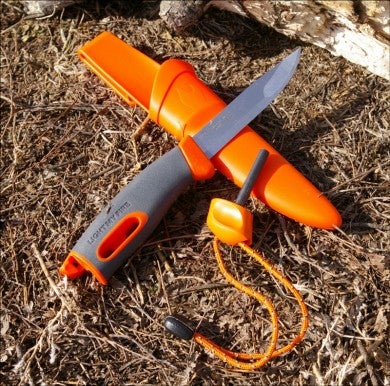 Final Thoughts
Although a more durable, full tang knife would be my preference, sometimes simple is the best solution to a complex problem like survival. In this case, I almost feel compelled to buy a case of these and make up simple little survival kits for friends and family. They offer everything you need in a survival knife. If you want to play Rambo or fight a zombie horde, this probably is not your knife, but if you're looking for a real survival knife, the Light My Fire Swedish Fireknife is a solid option.
For a street price of $29.99, the Swedish Firesteel Knife is a great deal for the quality of steel blade that comes with this knife, and considering it also includes an integrated $12 Swedish Firesteel, this is a screaming great deal for a simple survival knife that will deliver 95% of everything you could need in a survival situation.
Specs
Mora of Sweden blade of Sandvik 12C27 stainless steel
Scandinavian grind
Polypropylene sheath with clip
High-friction, TPE rubber handle
An original Swedish FireSteel® Scout, with approximately 3,000 strikes, twist locks into the handle for lighting campfires, gas stoves, and barbecues.
Swedish FireSteel

firestarter

works equally well when wet, performs at all altitudes, and produces a 3,000°C (5,400°F) spark.
Dimensions (in sheath): 8.7″ x 1.8″ x 1.2″ (22 cm x 4.5 cm x 3 cm)
Knife Length: 8.5″ (21.5 cm)
Blade Length: 3.75″ (10 cm)
Weight (w/ sheath): 3.4 oz. (94 g)
SHOP NOW
Sources
Industrial Revolution – Light My Fire