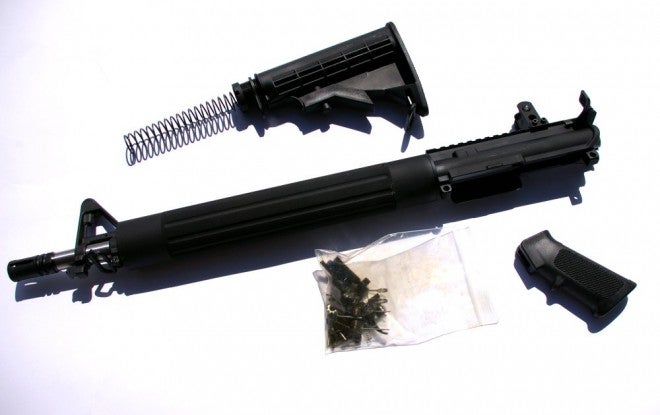 Due to the stunning backlog of ARs from manufacturers, many of us have decided to build our own AR-15 from parts or from kits. Kits generally do not include the lower receiver and will require you to assemble the parts on the lower receiver.
Parts-only kits are just that: you get to assemble each and every part on the rifle from the barrel to the grip. The easier route is to purchase pre-assembled upper kits from a manufacturer such as Model 1 Sales. These come with your customized parts completely assembled into a ready-to-pin-on upper that can be used on any complete AR-15 lower receiver as is. The remainder of the parts included in the kit include every part you need to be assembled on a stripped lower receiver.
Model 1 Sales has been one of the most noted manufacturers of these partially assembled complete upper kits. Ordering a kit is simple and requires no FFL as the receiver is the FFL registered part. Yes, your kit will get shipped right to your doorstep via UPS, but you will need to purchase via FFL or do a FFL transfer on whatever stripped lower receiver your choose to use.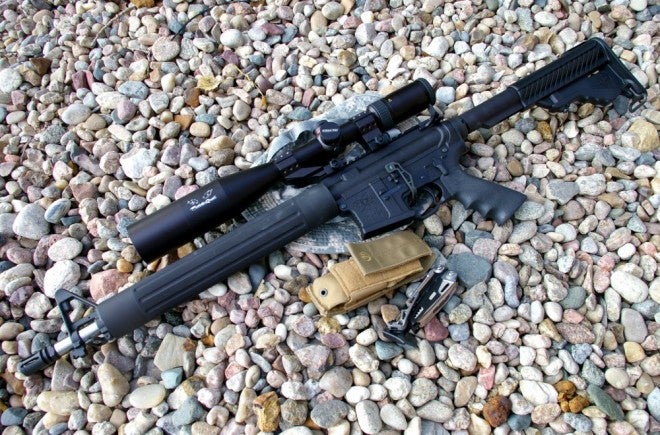 Back in October of 2004, Model1Sales.com was launched to provide value based AR-15 to customers with near unlimited customization options on AR-15 based kits. Today, that flexibility has expanded to provide buyers with a near limitless selection of thousands of individual combinations based on the buyers wants and needs for their AR-15 build.
As noted earlier, Model 1 Sales has everything for your AR build except one thing: the lower receiver. The buyer can select from a little over two dozen base AR rifle and pistol kits in various caliber options, and then customize the kit with their choice of chamber, front and rear sights, gas block, buttstock, barrel twist and material, bolt and carrier, charging handle, handguards, and grip. Add up all those options and you have the ability to create your own version of the perfect AR-15 that arrives partially assembled on your doorstep, only requiring the lower receiver parts to be installed, i.e. the easy part.
My Model 1 Sale 5.56 Dissipator Upper Kit
I wanted a heavier, target-focused kit that would provide a higher lever of accuracy than a standard 2 MOA AR-15. For my kit, I ordered a Model 1 Sales Dissipator kit in 5.56, with 16" stainless E.R.Shaw 1:8 twist barrel, A3 style flat top upper receiver, Yankee Hill Machine rear sight, chrome bolt and carrier group, standard trigger, extended Badger charging handle latch, standard front sight base, full length Dissipator aluminum knurled handguard, A2 buttstock, and Standard A2 grip. My total was $734 for what I consider to be a pretty upgraded and definitely unique AR-15. To complete my build I used a Mega Arms GTR-3S Billet lower receiver.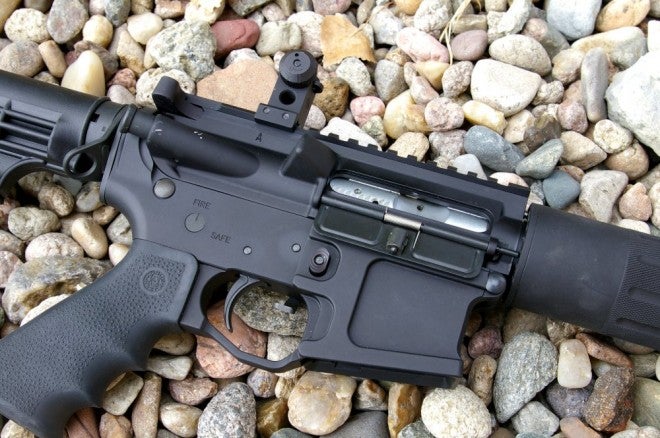 Fit, Finish, and Feel
The finish of the Model 1 Sales Dissipator AR-15 kit is good, although my kit did turn up with a small in-shipment scratch and the rubber coated sling had most of the rubber rubbed off. This was a shipment and packaging issue and I am sure it was not an issue prior to shipment.
Model 1 Sales notes they use T7075, forged, hardcoat anodized uppers with mil-spec teflon coating. Many people will just order complete uppers from Model 1, and I was impressed with the build quality of the complete upper receiver. All the usual 1/2×28 barrel threading, forged front sight base, ejection port cover, forward assist assembly, charging handle, and upper parts were all properly assembled and fit well. Model 1 Sales also notes that all their rifles are gauged and headspaced as well. I did not see any indications that the gun had been test fired prior to shipment, and some will not that Model 1 does not ship with premium "F" marked front sight, but for me the sights were for back-up purposes only.
My Model 1 Sales Dissipator AR-15 kit is not what I would term as light. The stainless barrel, full-length, knurled aluminum hand guard, and front sight mount do add about 1lb of weight to on the barrel end, but I found that weight an advantage for precision, off-hand shots. The long hand guard of the Dissipator not only makes the rifle unique but also provides a boat load of real estate for the benchrest shooting support. As a target rifle setup, I found that extra room handy when finding a rest out in the field while shooting groundhogs.
Features
As noted below in the specs, the features line up to what you would expect in any quality AR-15 build. The extras were nice upgrades and provided a little more utility and ease of operation. The Dissipator kit itself is based on a standard Carbine length direct impingement gas system with a low profile gas block hidden under that very long front hand guard.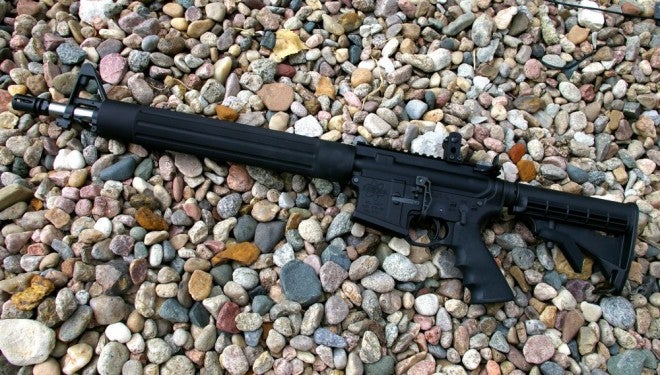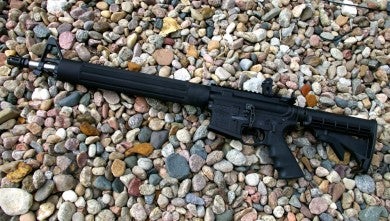 As you will notice, I did not splurge on upgraded grips, stock, and triggers. These are things I hope to upgrade in future articles going forward and I tinker around with this very accurate project gun.
The Model 1 Sales AR-15 Dissipator kit functioned as expected and has churned nearly 400 rounds with only one bobble, which occurred during the first eight rounds of the break in process. Since that point the build has performed perfectly with absolutely no failures of any kind using Magpul PMAG magazines. I have not tested the Dissipator with steel magazines at this point. Who am I kidding? It's unlikely I will anything but PMAGs going forward. The Badger latch and Yankee Hill rear sight both worked well although the rear sight was quickly replaced with a Simmon 6-24 Predator Quest scope using Millet mounts for long range precision shooting. For fun I tossed the upper on a variety of lower AR-15 receivers from Spikes Tactical, SandW, Del-Ton, and Ruger and ran a couple magazines through each on the short 25 yards range. I experienced no issues with fit or function on those lower receivers.
Accuracy
Recently I have picked up several ARs with 1:8 twist, and this has proven to be a more versatile for the type of ammo I like to shoot (which is whatever is cheap) than the slower standard 1:9 twist. It's also a little less problematic for light grained bullets with fast 1:7 mil-spec rifling.
Many people forget that the 1:7 is optimized for the military's heavier bullets, but most of us tend to use lighter 55 grain bullets. This is not a huge issue in most cases until you get out to longer ranges. At 100+ yards ranges rhe 1:7 rifling can be a little to fast for light .223 or 5.56 rounds, and conversely the 1:9 twist rifling can be too slow to stabilize heavy bullets. The 1:8 twist is right in the middle and seems to do a great job with all bullet weights. My best 3-shot group with the Model 1 Sales Dissipator AR-15 was with the Federal Match 69 Gr, which was a .6" group. Not a bad gofer hunting rig at all.
100 YARD AVG OF THREE 5-SHOT GROUPS
HORNADY TAP URBAN 55GR = .9"
WOLF FMJ 62GR = 1.1"
WINCHESTER FMJ 55GR = 1"
WINCHESTER PDX1 60GR = .72"
FEDERAL MATCH 69GR = .71"
HANDLOADS HORNADY AMAX 75GR = .86"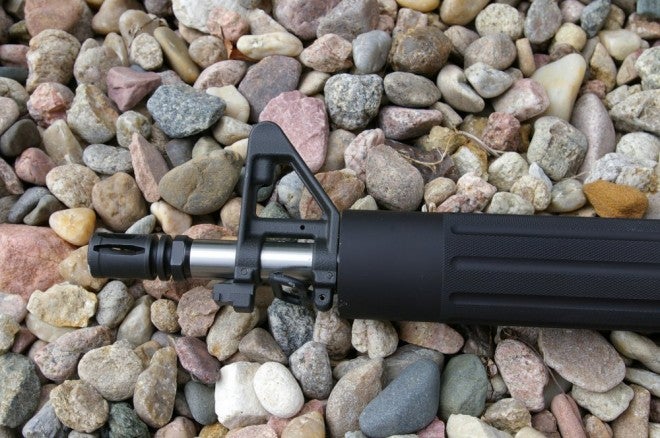 Final Thoughts
Model 1 Sales was great to work with and shipped my order about three weeks from my order date. The Model 1 Sales Dissipator AR-15 Kit assembled easy, shot well, and looks great. Overall a great rifle kit at a great price.
Specs
Upper Receiver Fully Assembled Gauged and Head-spaced
1/2×28 Barrel Thread
A2 Flashider
T7075 Forged Upper with Hardcoat Anodized finish and Mil-Spec Teflon Coating
Ejection Port Cover
Forward Assist Assembly Charging Handle
Complete Lower parts kit
Model 1 Sales Dissipator kit in 5.56
16" stainless E.R.Shaw 1:8 twist barrel
A3 style flat top upper receiver
Yankee Hill Machine rear sight
Chrome bolt and carrier group
Standard trigger
Extended Badger charging handle latch
Standard front sight base
Full length Dissipator aluminum knurled handguard
Standard A2 buttstock
Standard A2 grip
Retail $734