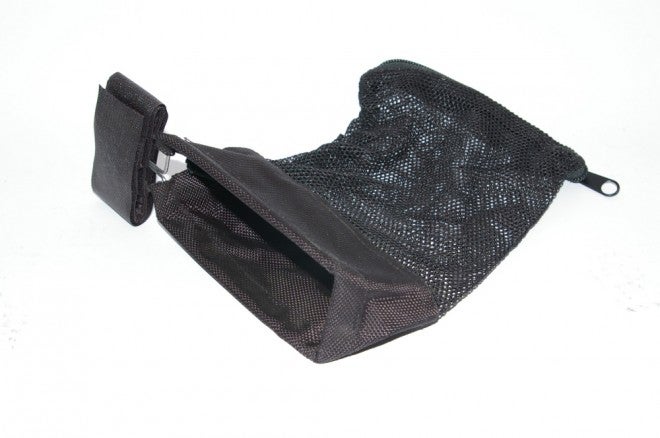 Chances are if you shoot anything that goes bang larger than a rimfire, you have probably thought about reloading. If you are an avid larger volume shooter, ammo can get expensive, which leads to reloading, which leads to damn I am tired or picking brass up off the floor, snow, weeds, grass, and dirt. What you need is a Mako GMG Universal Rifle and Carbine Brass Catcher for less than $15 at MidwayUSA.com
The brass catcher is a really simple concept: a stiff Nylon bag at the top, mesh nylon material toward the bottom, with a wire sub-structure that attaches to the barrel with a very long velcro strap. Attach to rifle and/or carbine and empty brass cases drop nicely into the evidence bag… er brass catcher.
I have heard of people having issues where the brass catcher prevents full exit from the ejection port and causes a jam, but I have yet to experience any of those issues. The metal sub-structured opening is definitely large enough for my .308 and actually allowed me to clip the front of the bag lip under my forward assist so that I could still work the forward assist through the bag. I did also assure the bag did not obstruct the ejection port cover. On both of my ARs, the inside cover opened fully without being interfered with by the catcher.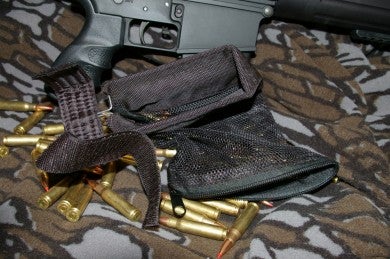 I have used this on a variety of guns including AR-15 rifles, 308/7.62×51 AR rifles, and even my Ruger 10/22 to assure my wife does not find the empty casings after shooting critters off the back deck, out the bedroom window, or out the front door.
The brass catcher has a zippered bottom so you can easily empty the casings. I also like to just keep it unzipped when benchrest shooting so the cases drop lightly on the bench instead of ricocheting off the guy's head on the next to me just to drop on my arm and burn a 2″ scar. This will indeed improve your range language.
The brass catcher is sized for rifle calibers and does work, but it doesn't work as well for carbines like my Keltec Sub2000 or Henry Lever Action rifle. It's hard to fault the design as it is not sold for these applications.
Ultimately, the brass catcher is a great accessory for any rifle/carbine shooter, and I highly recommend it. I am too old at this point to be bending over for 30 minutes with my butt crack showing while scrounging for brass just to save enough money to continue shooting.