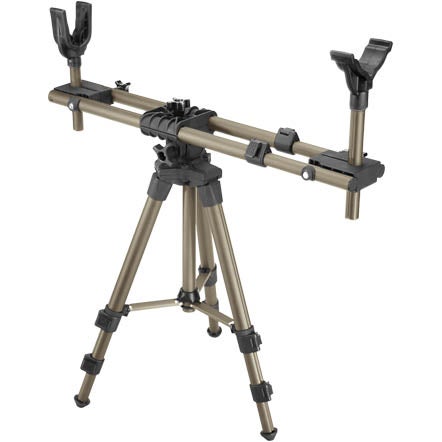 The Caldwell Fieldpod by Battenfeld Technologies is a lightweight, five pound, highly portable hunting and shooting rest that offers benchrest stability in the field or at the range. It has been rock solid in the paces I have put it through.
The whole unit collapses quickly for transportation. Getting used to all the nuances of how the gizmo sets up takes a few minutes, but once you get it all down, it becomes second nature. Wrap the legs with some camo fabric or brush it in with some cuttings of nearby bushes in the process of making a natural ground blind. This setup works great.
Its height adjustment range goes from 20-42 inches. This means it can be used for all kinds of hunting situations: hunting blinds, sitting on the ground, or seated in a hunting chair. The tripod legs are each fully adjustable to level it out on uneven ground. The adjustments firmly lock with screw knobs so there is no "sliding" inside the tubular legs.
Once the Fieldpod is deployed and set up, it can pivot up or down and rotate left or right for quick target acquisition. One cannot imagine the advantage of having this benchrest stability in the field until you try it for all kinds of hunting, including big game, deer, predator/varmint, and even turkey hunting.
One might think such a unit is cumbersome, heavy, or difficult to deploy, but the Caldwell Fieldpod is anything but. I have used it several times inside a ground blind. Once it is set, the hunter can scan the entire view out a window with the hunting gun positioned in the holding yokes. Moving it around into shooting position is quick and positive. It definitely makes your shooting more accurate.
I highly recommend hunters interested in shooting better at the range or in the field to investigate the Caldwell Deadshot Fieldpod on the Battenfeld Technologies web site.