First Impressions: Fallkniven Northern Lights Idun vs. F1
Jon Stokes 04.08.14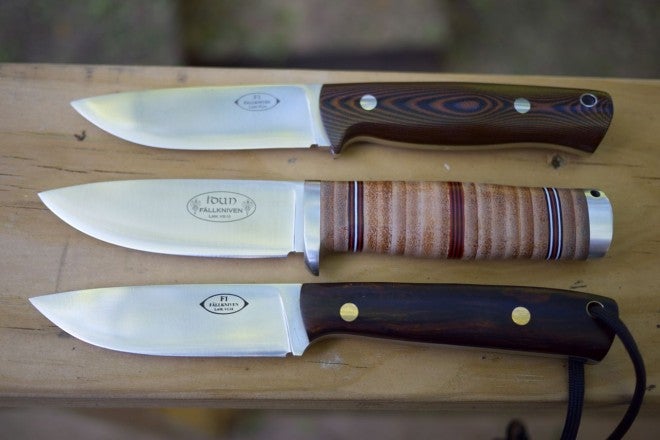 I recently got a big shipment of Fallkniven knives in for testing, but before I get into the cutting and chopping, I'd like to post some pictures and first impressions of the blades. In this post, I'll be taking a look at Fallkniven's Idun (NL5) model and comparing it to the venerable and widely loved Fallkniven F1.
Why compare the NL5 to the F1? A lot of people either have the F1, know someone who has the F1, or are considering the F1. It's an extremely popular, premium bushcraft and survival blade, up there with the Bark River Bravo 1, Spyderco Bushcrafter, and ESEE-5 in terms of popularity in the $130 to $200 price range. I'll be comparing my two F1s with the NL5, which is in their same size and weight category.
While the F1 is itself a bit of a premium production fixed blade, at $130 street price in its standard configuration, the Northern Lights series is Fallkniven's attempt to elevate the fit and finish of their line to near-custom levels. Most of the knives in the NL series have a counterpart in Fallkniven's regular blade lineup that function as a bit of an upgrade, if that's what you're looking for.
The Idun reviewed here lists for $460 and change, but you can find it around $300 if you look hard enough online. This price puts it into custom territory, so let's see if the fit and finish warrant the premium.
Dimensions and Blade
If you look at the comparison shots, you can see that the Idun is only a millimeter or so longer from tip to pommel than the F1. Here are the knife's basic measurements:
Total length: 215mm
Blade length: 100mm
Blade thickness: 5mm
Full convex edge
Full tang
Laminated VG10
Hardness: 59HRC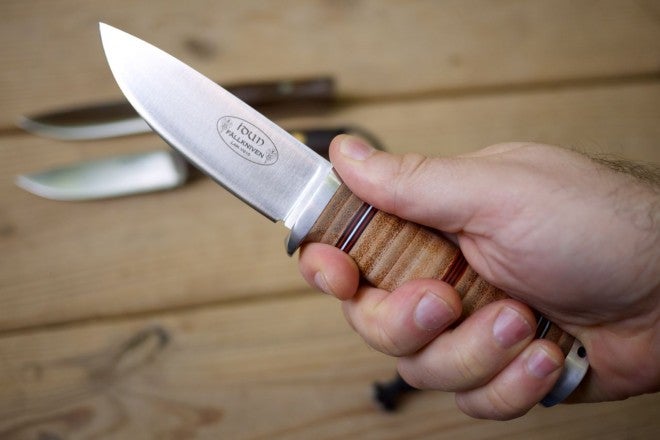 Here are the weights for blades pictured at the top of the post:
Idun: 168 grams
F1 with canvas micarta handle: 209 grams
F1 with desert ironwood handle: 178 grams
Stock F1 (not pictured): 150 grams
Note: The F1s pictured are, of course, not stock. Fallkniven used to sell F1 blades without handle slabs, and there was an aftermarket in adding custom handles of different materials to them. Unfortunately, they've since discontinued the program, so if you want an F1 with a fancy handle then you'll have to wait for one of Fallknivens' special edition runs. My main using knife, shown here, is an F1 with desert ironwood handles, which I got from JRE Industries for $279.00. The other, newer F1 shown above has green canvas micarta handles and is also from JRE Industries. (I bought their last one from them for $224.00).
The Idun's blade profile is very similar to that of the F1, but whereas the F1 is an all-purpose survival knife blade with a slightly dropped point, the Idun has a deeper belly and more pronounced curve up to the tip.
The Idun's blade shape makes it ideally suited to game processing tasks, especially skinning. Of course, the Idun is not a specialized skinning blade. It still works just fine as a field knife for general wood processing chores, but if there's a spectrum that ranges from "game" to "wood," Idun is further toward the "game" side than the F1. (The F1's blade is more suited for wood-processing, since there's less surface area to bind up in the wood if you're batoning.)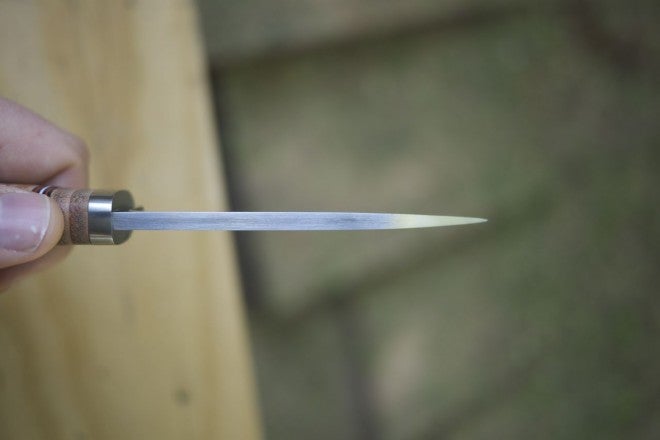 Despite being a bit wider, the Idun is very slightly thicker than the F1 at the spine. Speaking of the Idun's spine, it's squared off and fairly sharp, making it ideal for striking a firesteel.
All of the NL series knives are full-tang, and they all use Fallkniven's laminated VG10 steel. In the Knifetest.com destruction tests, the Fallkniven A2 in VG10 was one of the most durable knives that Noss put through the ringer, bested only by Busse's INFI steel. (Not that I want to wade into the VG10 vs. INFI debate, but I will say that VG10 has one important advantage over INFI, and that's that you don't have to pay Busse prices nor do you have to deal with their collector-oriented limited release schedule.)
I'm waiting to pick up a good camera before I do a bunch of cutting with the Idun, but I expecting to perform like a standard Fallkniven VG10 blade, which in my experience means that it's tough, holds an edge very well, and is relatively easy to sharpen.
One thing that I should note about Fallkniven's VG10 is that in the very beginning, the factory edge can chip a bit. I had this happen to my desert ironwood F1 on a camping trip during some pretty light use, and I was floored. I got small chips in three different places on the edge, and all I had done was cut food and whittle a few small, green sticks. Some internet research turned up the fact that this is a known issue with Fallknivens, and there are various theories on why this is so. Ultimately, the vast majority of users never see this issue at all.
At any rate, I worked the chips out with a stone and then re-convexed the edge on a loaded leather strop — this was quite easy to do with the VG10 — and I've not had any issues with it since; it has been tough as nails. But I'm definitely going to be on the lookout for this phenomenon as I test the NL series. Like I said, most Fallkniven users never report any problems, but there is a small minority of us who have encountered this chipping, so I want to document what I put the blades through in case it happens.
Handle and Furnishings
At the base of the Idun's blade is a stainless steel finger guard. Given that you're not likely to do any stabbing with this knife, it's mostly there for looks, and of course it does help keep your fingers off the blade. In all, the guard is a nice touch, but I'm a sucker for nickel silver and I wish that Fallkniven had used that for the guard and pommel, even at a little extra cost. (Update: I originally stated that the finger guard was aluminum, but it's stainless.)
(The extremely high-end collectible Cowry-X version of the Idun does have nickel silver furnishings, but be prepared to shell out a few grand for that.)
The knife's handle is a gorgeous, stacked-leather design that bulges out slightly in the middle and feels fantastic in the hand. I've actually never owned a leather-handled knife before, and I must say that after using the NL series, this handle material is going to the top of my favorites list, up there with canvas micarta. It's every bit as comfortable and grippy as canvas micarta, but it feels lighter.
I've read that stacked leather handles age really well, as long as you don't soak them in water and leave them wet. I'm planning on working some Obenauf's to the handle with a heat gun on low heat, so I'll report back on how that affects the look and feel of it in a later post.
Note that all of the NL series knives sport stacked leather handles, albeit with slightly different shapes. They're all gorgeous, and as I work my way through the collection we'll get a chance to look at each one.
As with the rest of its NL brethren, the base of Idun's handle is capped off with an aluminum butt cap. It also looks like part of the main knife body (the blade is full-tang) is poking out from under the butt cap, so if I were doing some light hammering with that I'd try to strike it instead of the aluminum.
Finally, there's a lanyard loop through the butt cap that can comfortably fit paracord or any other lanyard material.
Leather Sheath
One of the more impressive parts of the NL series are the sheathers. These are very high-quality, sturdy leather sheaths, and if you plan to stick to cowhide as a material, then there's really no reason to buy an aftermarket leather sheath for any of these knives. A horse butt or other alternate/exotic leather sheath would make for a nice upgrade, or you could go aftermarket if you want a firesteel loop or an alternate design. But given the quality of the sheath that ships with the Idun, you're probably not going to feel the urge to buy a new one.
That said, the aftermarket sheaths that you see on the F1s in the pictures above are from JRE Industries, and they are superior to the NL series sheathes in terms of leather quality and overall craftsmanship. But a pouch sheath like the one pictured will set you back $60, and the behind-the-back "Cricket" sheath goes for $75 (look for reviews of these soon).
Final Thoughts
In all, the Idun is an amazing knife with spectacular fit and finish. It makes a stunning first impression. The workmanship and overall attention to detail are actually above the level of some of the custom knives I have. So from a materials, fit, finish, feel, and overall aesthetic perspective, this is absolutely worth the markup over the stock Fallkniven line, especially if you're planning to process any game with the knife.
I really can't think of anything to complain about with the Idun. I think it'll make a fantastic hunting companion for a very long time, and I'll definitely be the envy of the camp. I'm excited to do some food prep and other chores with this knife, and I'll make a new post talking about performance when I do. I'll also treat the leather handle, and post an update on that, as well.
SHOP NOW
SHOP NOW