Whether you are building your first AR-15, upgrading, or looking for parts to create your next build, we are all looking for high quality parts at reasonable prices. This is Anderson Manufacturing's sweet spot. High quality AR-15 parts at very affordable prices. At one point, Anderson was offering $70 stripped lower receivers at the height of the AR-15 shortage.
It is Anderson's RF85 lubrication free parts treatment that started them building AR-15 rifles. I only have experience with their standard untreated parts. If you want the benefits of the RF85, then you need to order a complete rifle from Anderson manufacturing. With or without the RF85 treatment, Anderson delivers great parts at very reasonable prices for piecing together your next AR-15 build
Unlike the drove of "really brand new" companies offering AR-15s, Anderson manufacturing is passing its 50th year in business. Over the years they have provided manufacturing services for a wide variety of end users from automotive, to medical, to weaponry.
Along the way Anderson has been making AR-15 parts for other manufacturers – actually hundreds of thousands of parts. They also developed an exclusive and proprietary RF85 coating, which is applied to their complete AR-15 rifles and which they have touted as the world's only AR-15 that never needs oiling.
As opposed to other rifle companies, Anderson builds their own parts using the latest in computerized manufacturing, with all parts carrying a lifetime warranty.
The Build
As I looked around my Liberty Safe and through my parts bin, I realized that I was not that far from having another complete AR-15 rifle. Isn't that always the case. You know, all I needed was a barrel, gas block and tube, bolt carrier group, and charging handle.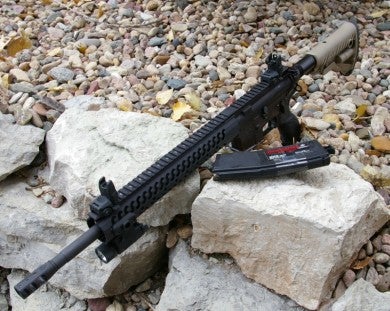 My previously featured Anderson Manufacturing lower receiver has served me well, and I even built another Anderson based AR-15 for a friend. As a guy in need of some key AR-15 parts on a budget, I fired up the laptop and started dropping things in the cart on their site for this build and a few other builds. My final order around was $300 and scored free shipping. It included the following components:
16″ M4 Carbine Length Contour Barrel Chambered 5.56/.223 With A 1-8 Twist
A2 Flash Suppressor 5.56/.223
Low Profile Gas Block
Carbine Length Gas Tube
Semi-Auto Carrier
Standard Charging Handle
The order shipped quickly, and within a few days I was ready to start bolting together my next new AR-15. The parts I had on-hand that originally spurred this adventure included a Fortis upper receiver and brake, a Samson rail/forend, a Barnes Precision parts kit, and my original complete Andersen lower with Mako Group grip and stock. Pawing through the parts bin further, I found an older Insight weaponlight, and a front Magpul BU sight. I then picked up a used Millet DMS and the rear Magpul sight on eBay for another $100.
Fit, Finish, Feel, and Features
All the standard Anderson parts are finished with mil-spec phosphate or are hard anodized, but unlike the flood of import parts, their parts are all still 100% made in the USA. The quality is also far better than what I have seen from the budget conscious import parts — do not let the price fool you. From my calculations you could build a complete AR from parts for around $600-$700 by surfing around on Anderson's site.
I have been thrilled with 1:8 Twist Anderson barrel. Many people are discovering the advantages and bullet weight flexibility of 1:8 twist barrels as a midway point between 1:9 twist barrels that like lighter bullets and Milspec 1:7 twist barrels which are most accurate with heavy bullets.
Anderson's  $119 16″ 1:8 M4 Carbine Length Contour Barrel in 5.56/.223 is probably the least expensive entry price for AR builders. The barrel still delivers excellent accuracy for a barrel, which competitors price at nearly twice this price. Actually, as I experienced before, each Anderson piece used in this build is an excellent value from the $16 low profile gas block to the $20 charging handle.
Functions
After bolting the build together with my Precision Reflex vise block and tools, I realized my creation was a pretty nice looking rifle thanks to the little custom pieces like the Fortis receiver and brake, Samson extended forend, and Mako furniture.
Functionally the build worked perfectly right off the bench, spitting out over 200 rounds of reloads and assorted available ammo from Winchester, Hornady, Federal, and Steel Cased ammo. I am always happy when everything actually works the first time out on the range.
A Millet DMS topped the rifle to push out the accuracy a bit.  Accuracy from the Anderson Manufacturing based build was pretty impressive and easily on par with quality Milspec AR-15s. 100-yard groups averaged in the 1″ range, but a few .8″ groups were printed as well with the Custom and TAP Hornady ammo.
The 1:8 twist shows off a bit when you are shooting a diversity of ammo and bullet weights, which generally seems to deliver less accuracy variances between rounds. If you really want to see the accuracy you gun can achieve, load up two rounds each of 15 different types of ammo. The groups will be bigger, but it will show how picky the barrel is within various ammo — an interesting experiment.
Final Thoughts
Anderson Manufacturing proves you don't have to have a lot of money to build your next AR-15. Add a few custom parts, and you have something that delivers looks and performance without a lot invested.
Obviously, I got lucky with a few parts here and there, but for me that is the fun in doing one of these "what do I have laying around" AR-15 builds that can take months to complete. Instead of hitting some of the notable discounters, I have found myself back on Anderson's site simply because the parts are of excellent quality and are available at some of the best prices around. Once I have these parts and have saved big, I can patiently hunt for that blem or deal for the custom parts I drool over. Great parts and little prices.
Specs
16″ M4 Carbine Length Contour Barrel Chambered 5.56/.223 With A 1-8 Twist     $119.00
Semi-Auto Bolt Carrier Assembly $129.00
Low Profile Gas Block $15.32
Carbine Length Gas Tube $15.00
Standard Charging Handle for AR-15 $19.66
Sources