Know Your Weapon's Trajectory
Oleg Volk 04.09.14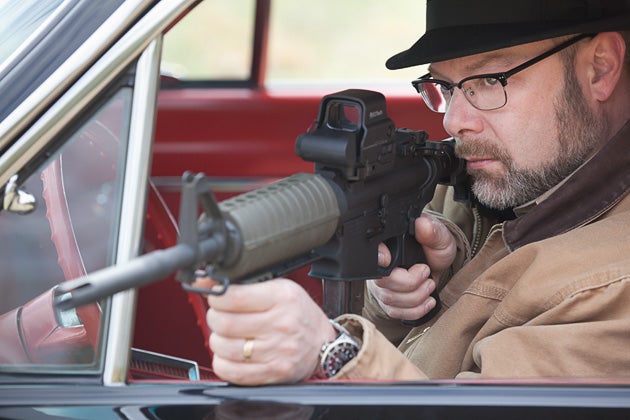 If you ever have to shoot beyond the point blank range of your weapon, it helps to know two things: how far the target is, and how to sight on it to score a hit. Some scopes make it easy by providing a reticle for measuring range on objects of known height or width and for holding over to compensate for bullet drop. Unfortunately, pre-calculated reticles are only close for the one combination barrel length/muzzle velocity, bullet weight, and height over bore, such as 3150fps, 62gr, 2.5 inches. Putting the same scope on a 20″ rifles firing 3300fps 55gr bullets gets rather different points of impact at range.
Point blank range itself varies with the size of the target. If you are trying to take down a deer or hit a gunman peeking out from behind a car engine, your margin of error is quite small. Firing several shots quickly to create a beaten zone gets around the precision requirement somewhat, but that takes time and exposure to return fire. First-shot hits are still preferred, and a good understanding of the weapon's trajectory is needed for that. But first, range the target.
The outer ring of EOTech holographic sight reticle is 65MOA, which corresponds closely to the hight of an average male at 100 yards. With a hundred yard zero, the point of impact would be at the middle of that circle. Point of impact would also be on the dot at about 18 yards, the near zero.

At 50 yards, the reticle would only fit half of a person. Or, if you decide not to point your rifle at a person just to find out the distance, a standard US stop sign would fit equally well.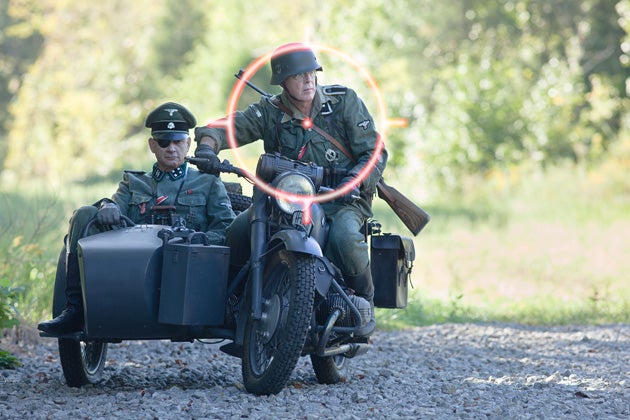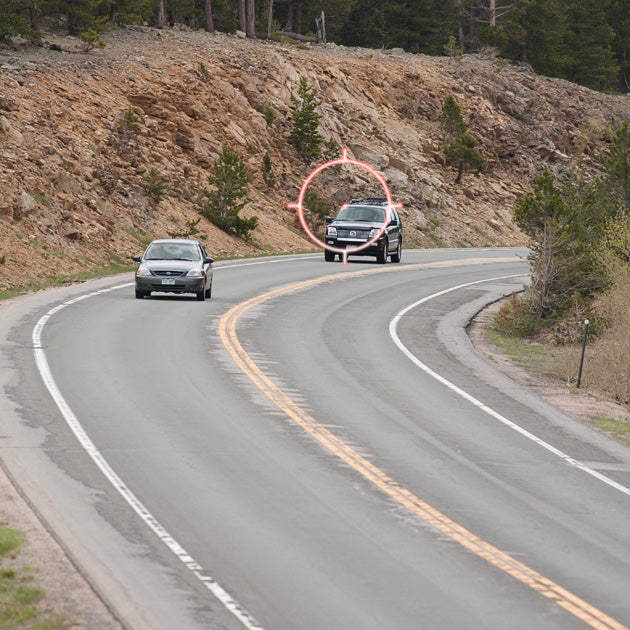 Most SUV bodies are about the same height as a standing man, so they can be used as reference objects as well. At half the height of the 65MOA cirle, this vehicle is roughly 200 yards away. By that range, the bullet slows down to 860-870fps and drops 32 inches (16MOA) from the 100 yard zero. The 16MOA drop puts the impact half-way between the dot and the lower edge. The projectile spends 3/5 of a second in flight, which is why the aiming point is at the left edge of the cab. Not knowing the exact speed of the vehicle, we can guess that it will move left somewhat and so hope for a hit somewhere on the windshield. Linear travel at 55mph would be just under 50 feet in the 3/5s, and we have to estimate just how much of that movement is lateral. One plus side of launching relatively slow bullets at long ranges is that they would hit the windshield at angles close to perpendicular, improving the likelihood of penetration.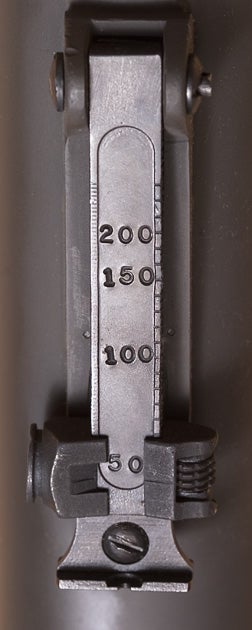 The leaf sight above is graduated only to 225 meters for a reason. At 300 yards (about 270m), flight time even for the 185 grain +P load is a full second, and the drop is 110 inches from the 100 yard zero. For the 230gr standard pressure load, the required adjustment is greater still. But 45ACP allows an excellent illustration of how individual the sighting is for every weapon and cartridge combination.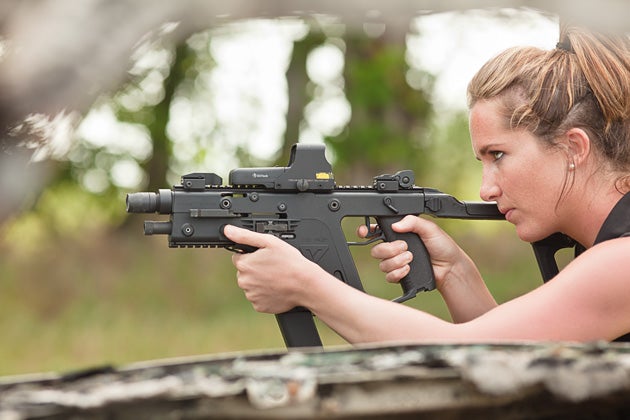 The same 185 +P has muzzle velocity of 1070fps instead of 1300fps. Standard pressure 230gr exits at about 860fps. A quick re-calculation shows that with 100 yard zero, the drop at 200 is almost to the bottom of the 65MOA circle instead of mid-way (full 32MOA of drop happens by 210 yards).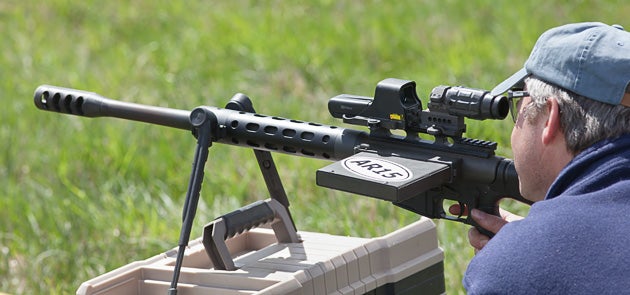 Because the magnifier affects the reticle and the target equally, the ranging function is unaffected. Uniquely among red dot sights, EOTech uses a sub-MOA center dot which our limited vision perceives as roughly 1MOA. When magnified, the reticle still appears to be 1MOA.
This kind of ranging can be done with other kinds of sights. For example, the angular size of protective ears around the front sight can be verified by sighting on a ruler or an object of known size at known distances. 2MOA and 4MOA red dots typical of Aimpoints can be used to range on smaller objects of known size. This kind of precision is more likely to come in handy during long-range hunting than in self-defense, but it can also come in handy in case of civil unrest or suppressing an active shooter. It's better to know what your personal weapon will do than not to know — and eventually the adjustments will become intuitive through repetition.