Hot Shot Manufacturing's New Accu-Peep
Ashley 04.10.14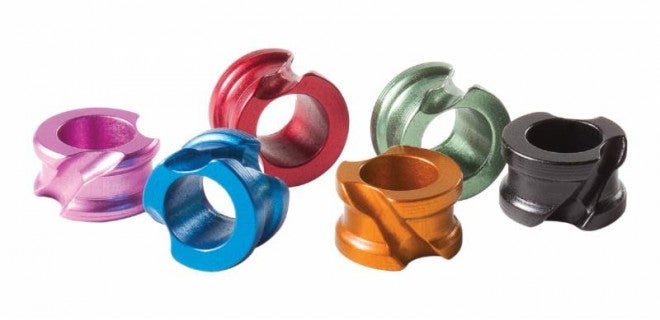 Archers and hunters are no strangers to detail and precision, and subtle but effective augmentations to a bow can aid in accuracy. That improvement doesn't have to be expensive. That's the goal of the Accu-Peep, a new peep sight recently released by Hot Shot Manufacturing. The Accu-Peep, which retails for $9.95, is available in several colors and dimensions, including 1/8, 3/16, 1/4 and 5/16 diameters. It's already available to buy through their website.
"Similar to the concept of a binocular or scope bell, the Accu-Peep utilizes a tapered conical design with convex entrance pupil technology to gather larger amounts of light than standard straight diameter peeps," the company said in a statement. "The additional light is then channeled into the shooters eye, creating two distinct advantages: longer shooting time at the fringe of daylight and the opportunity to shoot a smaller diameter peep sight, equaling greater possible accuracy."
Lightweight but durable materials also make this a worthy investment. "Constructed of high-grade aluminum and slight in design, the Accu-Peep's light weight minimally slows bow strings, while its robust construction will not crush or deform even when served tightly in. Deep-channel, smooth-edged radial, and angular grooves eliminate peep creep and keep the unit flush to your eye at full draw, further increasing light transmission."
Other new features of the peep sight include deep grooves "to hold the peep in place" and smooth edges that won't cut bow strings. So for $10, you'll get a substantial improvement to your bow. Plus, it's all made in the U.S.

SHOP NOW