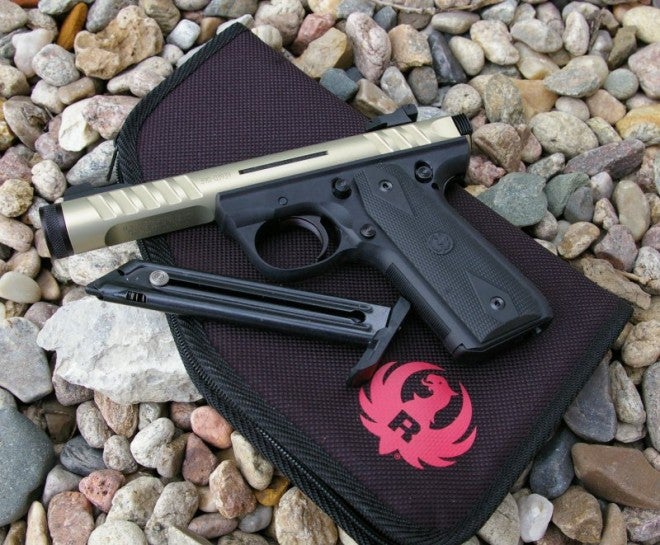 The progressive refinement of the Ruger Mark I, II, and III line of .22 semi-automatic pistols have been staples of the Ruger portfolio since their introduction, and without question these are the most popular .22LR semi-auto pistols in history. A few years ago, Ruger answered the requests for a 1911 style grip with introduction of the 22/45 line, which features a restyled, polymer lower receiver modeled after the 1911 married to the tried and true Mark III upper receiver. In later 2012, Ruger again added a few new options to the 22/45 line, including a few tactical threaded barrel models and this ultralight aluminum sleeved and tensioned barrel "Lite" model, which is the lightest 22/45 ever.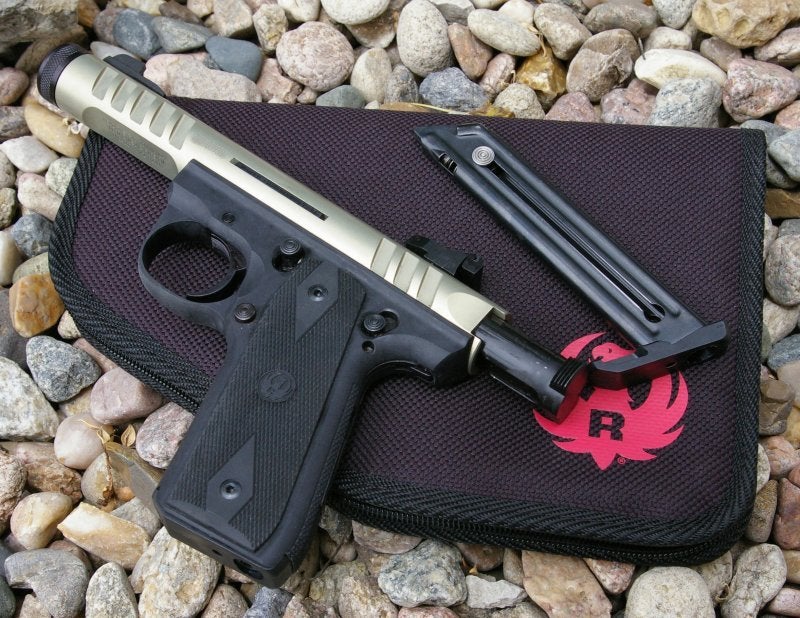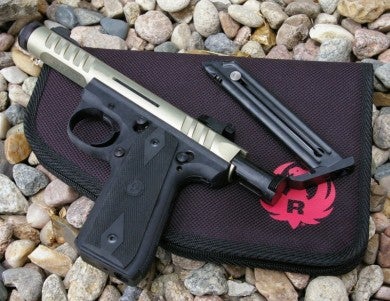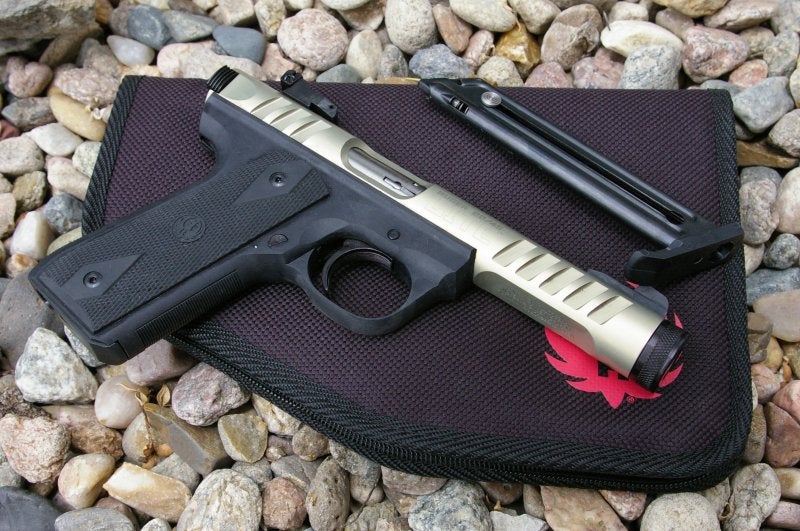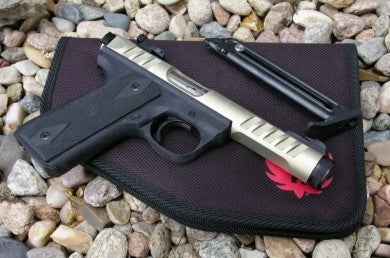 Fit, Finish, and Feel
Ruger is one of my favorite production manufacturers of all time simply because all of their products work and are brutally tough. I already have a few Mark II/III versions but have never really warmed up to the 1911 style grip. The initial limited edition golden anodized finished model pictured here has now become a standard black anodized finish, which, if I'm honest, I tend to like the black finish a bit better.
From a fit and finish perspective, the 22/45 Lite features the same high quality as any other Ruger 22/45 model, with the exception that it has an aluminum sleeved and tensioned barrel with a stainless steel liner. This is where the feel comes into play. The pistol is light — freaky light — and indeed may be too light for some shooters.
The 22.45 Lite is 23oz, vs the 43 ounces of an equivalent Mark III with steel barrel and steel receivers; it's definitely a huge weight savings. I certainly have a number of lightweight aluminum sleeved barrels for 10/22s, but in this 22/45 format, the feel is more of a toy than mentally what you expect the 22/45 Lite to weight. On the other hand, this extraordinary light weight makes for a perfect gun to throw in your pack or carry all day long.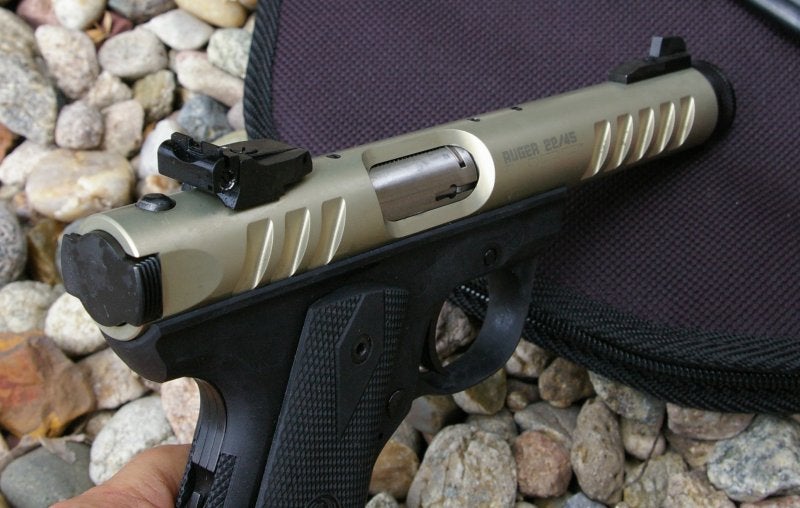 Features
Like the rest of the Ruger 22/45 line, the Lite model accepts the 22/45 magazines, but not the standard Mark II/III magazines. As you would guess, the magazine bodies and feed angles are the same. It's just the base plates on the magazines that are different between the 22/45 and Mark III models.
By sharing the same upper as the Mark III models, the 22/45 Lite model's controls are all in the same positions as the updated Mark III models, but feel more positionally correct due to the 22/45 lower receiver.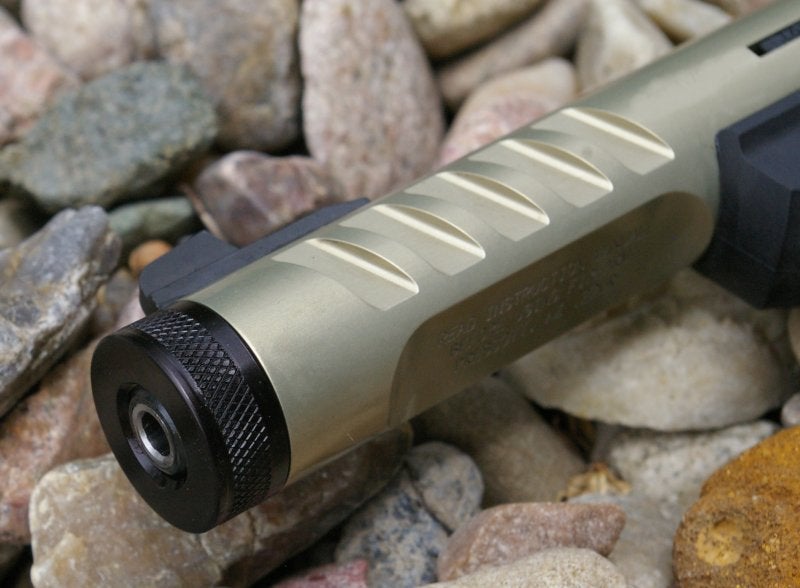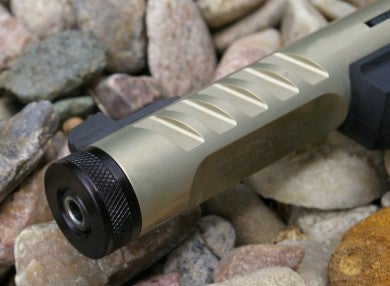 The main attraction of the 22/45 Lite is the lightweight aluminum sleeved barrel with a threaded muzzle. Everyone has been screaming for factory threaded muzzle models from Ruger for attaching suppressors and muzzle brakes, so Ruger assured standard 1/2″x28 threads tipped the muzzle, all protected by a spring washer and knurled thread protector.
The 4″ barrel was selected due to customer demand simply because a 4″ pistol barrel is considered optimal to assure even high velocity .22LR rounds remain subsonic, which in turn means potentially less noise with or without the addition of a supressor. The 4″ barrel has also been especially popular with hunters who want a smaller, more compact trail gun for all day carry.
The barrel itself is similar to Tactical Solutions PacLite barrel line. Ruger decided it was time it offered its own version with a tensioned stainless barrel liner and aluminum outer sleeve and upper receiver. In theory, a tensioned barrel will deliver higher accuracy and the aluminum sleeve will aid in heat dissipation to further increase accuracy. Of note, the Lite's barrel is pre-tensioned and non-adjustable, so you cannot "tune" the barrel yourself. Tensioned barrels basically apply tension or lightly stretch the barrel at each end of the barrel to increase barrel strength, reduce harmonics, and in the end increase accuracy.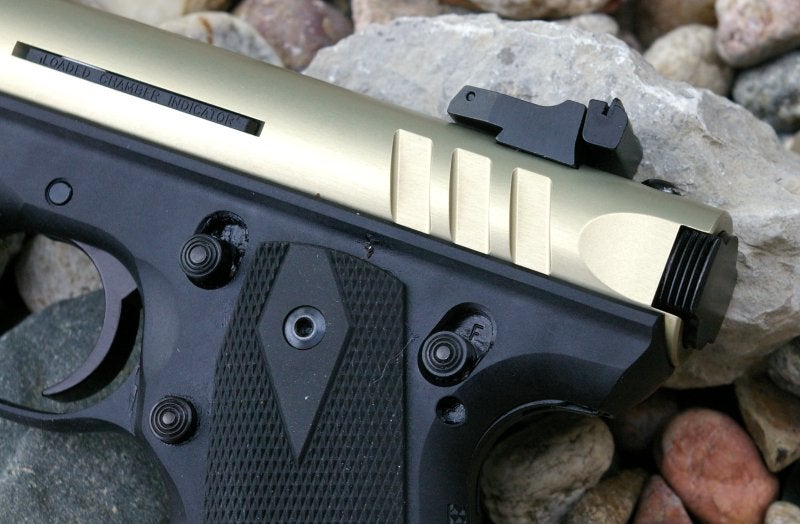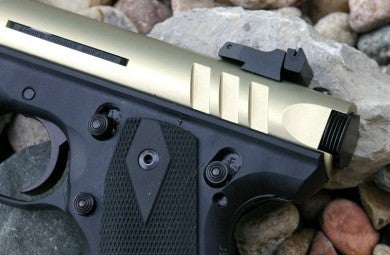 The 22/45 Lite comes packaged with two magazines and a lock, and it features target adjustable sights, 1911 style grip panels, and thumb actuated magazine release. On my first two Mark III pistols, originally I loathed the loaded chamber indicator which only seemed to deliver jams, double feeds, and failures to eject, but based on my testing I believe Ruger has worked through these problems from the initial first generation Mark III release.
Function and Accuracy
This Ruger features the now standard magazine safety on every Mark III and 22/45, including this Lite model. The original idea behind the mag safety was that it was designed for law enforcement officers who like to carry a round in the chamber; this could protect them from being shot with their own gun if the magazine release was hit during the gun take away.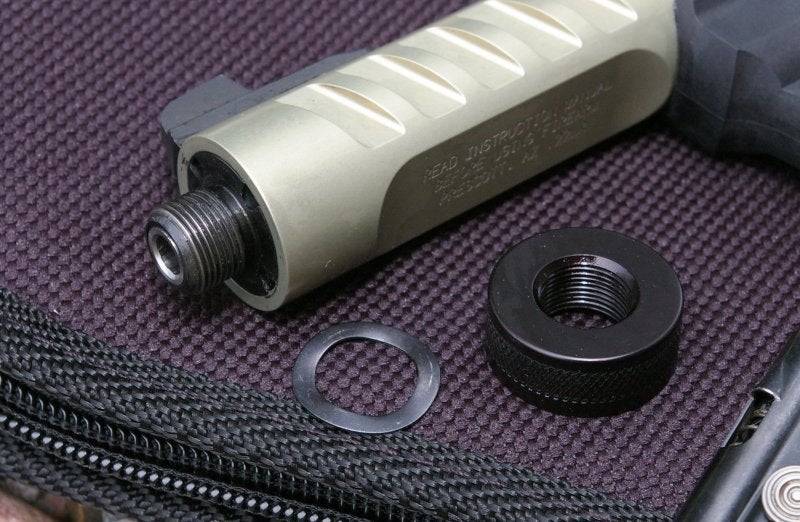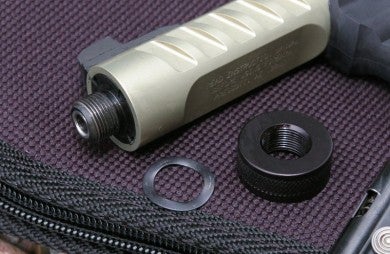 My main issue is that the gun will not fire if the magazine is ajar or missing, which in my opinion becomes a metal paperweight simply because the magazine button has been accidentally pressed. Yes, this occurred while testing and made me miss a perfectly good shot on a destructive varmint that had every right to die. Unfortunately the varmint was far quicker than my tap and rack. For this reason, I have actually removed this safety on my other Mark III pistols. Search Youtube and you'll find a number of videos which show this relatively simple process step by step.
One of the easiest ways to remove the safety is to just install a Volquartsen Mark II hammer, which effectively removes the safety disconnect. Rants aside, the magazine safety is not a deal killer because it is easily enough removed, but I think it is a dumb idea in the first place.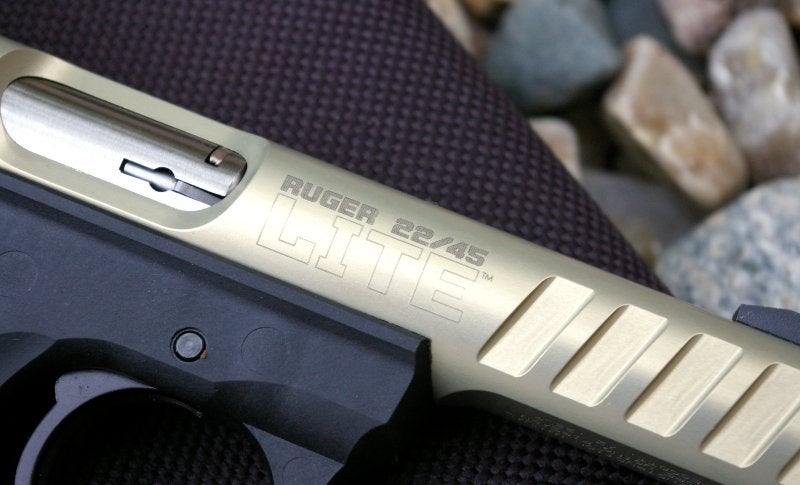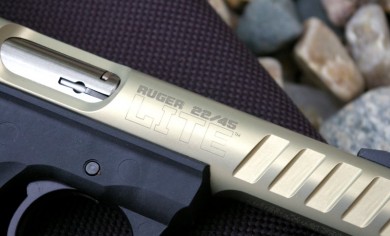 Generally, Ruger .22 semi auto pistols all require a fair amount of break in before they start humming along; generally a couple thousand rounds. I was surprised and pleased with the 22/45 Lite; we only had a couple issues in the first 500 rounds of Winchester M-22 and 555 bulk ammo. After that, it zipped along like any of my other Ruger rimfire pistols.
From an accuracy perspective, the Ruger 22/45 seemed to be about the same as any of my other Mark III pistols, and it wasn't substantially more or less accurate. My Winchester 555 and M-22 ammo delivered regular 1″ groups at 25-yards off of sand bags with open sights. This is very good accuracy from my perspective, which is plenty accurate for a pistol with this intent. Comparatively, my Ruger Mark III pistols carry 5.5″ and 6.7″ slab-sided target barrels, so similar open sight accuracy from a 4″ barrel version of the same gun seemed pretty impressive.
Generally with less weight comes less offhand shooting stability, and this was the case with the Lite model. Some shots were far easier with my much heavier Mark IIIs than with the Lite model. The trade-off for weight is off-hand stability.
Unlike the Tactical Solutions upper barrel unit, the Ruger Lite model does not have a match or enhanced match chamber, which means although similar looking to the Tac Sol PakLite barrel, it will not deliver the same 1/2″ group at 25 yard accuracy. I have personally shot a few of the PacLite equipped Ruger Mark III pistols and they can indeed deliver substantially better accuracy that what I was able to produce with this 22/45 Lite model. All that noted, keep in mind that you would have about $200-$300 more invested in a pistol with the Tactical Solution upgrade than with the factory Lite model, which I am not sure is worth is for a trail pistol or just for a host pistol for a suppressor.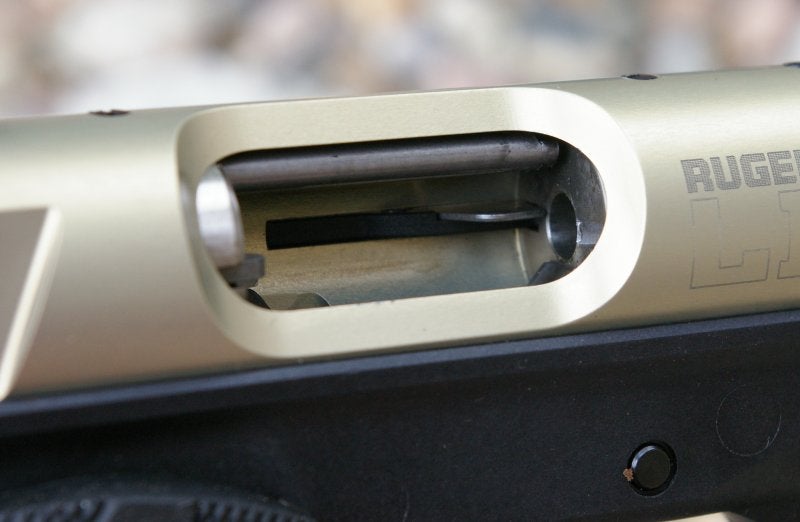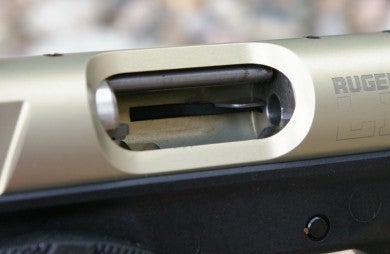 Final Thoughts
The magazine safety aside, the Ruger 22/45 does deliver everything we consumers asked Ruger for. A super light 22/45 with a 1911 grip format that allows us to do some low cost practice with a 1911 analog in-cheap-to-shoot .22LR. Ruger added a lightweight threaded barrel, all for a street price around $450. A great little piece of kit that is a solid option over going the custom route.
Specs
Catalog Number: P45MK3ALRPFL
Model Number: 3903
Caliber: 22 LR
Material: Aluminum
Finish: Black Anodize
Front Sight: Fixed
Rear Sight: Adjustable
Barrel Length: 4.40″
Capacity: 10
Length: 8.50″
Height: 5.50″
Width: 1.00″
Weight: 23.00 oz.
Grip Panels: Replaceable Black Laminate
Grip Frame: Zytel® Polymer
Twist: 1:16″ RH
Grooves: 6
MA Approved and Certified: No
CA Approved: No
Barrel Style: Threaded
Suggested Retail: $499.00