Lone Survivor Foundation Major Pandemic Custom AR-15 Auction Builds
Major Pandemic 04.15.14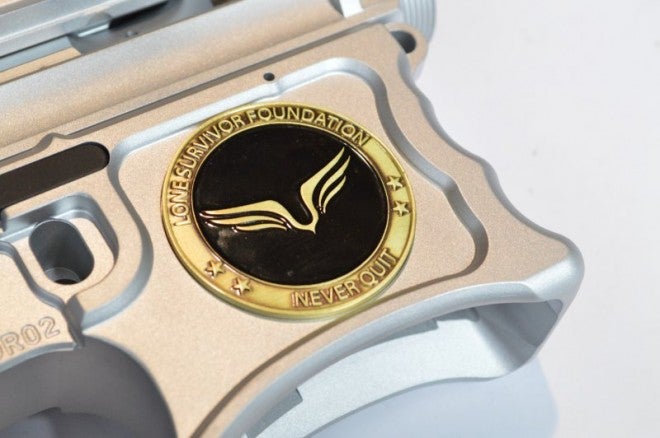 Sometimes you have the realization that you can do more than just write a check to support a good cause. At last year's "Mercury One: God, Guns, and Giving" charity event, I had the pleasure to meet and briefly talk with Marcus Luttrell about his Lone Survivor Foundation, as well as Glenn Beck and Joe Kerry about the other efforts Mercury One is supporting. All made a lasting impression and left me wanting to do more for their causes.
I reached out to some of the finest custom AR-15 and sporting manufactures to create two one-of-a-kind Lone Survivor rifles to donate free of charge to raise money for this great charity that supports our troops as they return home.
The first rifle (Serial # SURVIVOR02 – Silver) will be auctioned off at the May 15th Oklahoma City event
These major parts of these two Lone Survivor Rifles are custom in nearly every aspect, and the few that are stock were hand selected by company owners. No one will ever be able to duplicate of either of these truly one-of-a-kind AR-15s. Let's look at what makes serial number SURVIVOR01 (Gold) and SURVIVOR02 (Silver) so very special.
Custom Milled, Serialized, and Challenge Coin Match Area 53 Upper/Lower Billet AR-15 receiver Set
Premium Cerakote receiver finish
Handed Selected and polished BPM Barrels
Super-Spec YM National Match spec Bolt Carrier Groups
Custom Houlding and Fortis Muzzle Brakes
SLR Titanium and Steel Adjustable Gas Blocks
CMC Flat Blade Match Triggers
Custom YHM Billet Aluminum and Precision Reflex Carbon Fiber Handguards
Billet Aluminum Stocks
TangoDown mags and grips
Mission First Backup Light
Backup Sights and Sling
Battle Arms Development Ambi Selector Switches and Enhanced Pin Set
JP Rifles Ambi-Selector switch
Nordic forward assists and heavy duty precision billet machined charging handles
LEO Armory custom logo'ed ejection port doors
KNS precision machined detents and Anti-Rotate pins
MyCaseBuilder Custom waterjet cut cases
Leupold Mark 4 MR/T 1.5-5x20mm 5.56 Optimized scope with American Defense Manufacturing mount
Eotech Customer 300 Blackout sight.
More information about these builds and auction bidding registration can be found here.
Want to help spead the word? Click here to share this build on Facebook
#LoneSurvivorFoundationMajorPandemicRifles