First Look: Suarez International's Viking Survival Knife
Jon Stokes 04.16.14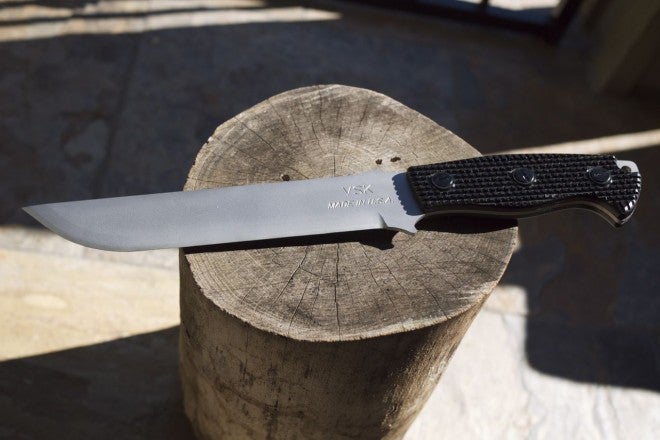 Anyone who has been around the knife world long enough knows that there are different camps and sub-camps that people tend to fall into. There are the EDCers, who can be further divided between carriers of traditional folding knives vs tactical folders. There's the fixed-blade crowd, which includes everything from bushcrafters to Seal Team Six wannabes. There are the traditional "pocket knife" users, who prefer Case knives with thumb nicks and jigged bone handles. I could go on, but you get the idea.
I'm definitely a fixed-blade guy, and my tastes fluctuate among large Bowies, tactical fixed-blades, and American-style hunting/bushcraft knives. Perhaps the one segment that I don't identify with is the Scandinavian bushcraft leuku/pukko crowd. It's just not me. Sure, I own some Fallknivens — and would like to own even more than I do — and I even have a Mora knife. But I'm not somebody who looks at a nice leuku or pukko and thinks "WANT!"
So when I got the chance to do a review of Suarez International's Viking Survival Knife (VSK), I was excited but I knew up-front that I am not the target market for this knife. I admit this right out of the gate so that you'll be able to properly interpret my review. I'm just not a viking survival kind of dude, and the VSK has not converted me. That said, there is a crowd whom this knife is actually for, and I think that crowd definitely should give it a good look.
Note: In the "First Look" series, I review the basic fit, finish, and functionality of a product. I'll take this knife out and chop with it when I'm able to record the results on video, which should be soon.
Ok, enough disclaimering. Let's talk about the knife.
Features
The VSK is a large, Scandinavian-inspired, Sami-style fixed-blade that's a sort of tactical version of something like the Helle Lappland knife. In short, if you took the Lappland and upgraded it with a full tang and synthetic handle slabs, you'd have the something like VSK, i.e. a tactical leuku.
Of course, the VSK has a few more survival-specific features than synthetic handle slabs and a full tang, but that's the basic pattern.
Specs
Overall Length: 14.5in
Blade Length: 8.25in
Steel: 1075 Carbon Steel
Weight: .9lb
Blade Thickness: 1/8in
MSRP: $189.99
Because TSD's definition of "survival knife" also encompasses possible use as a weapon, TSD added a finger guard so that you can stab with it and not worry about cutting your fingers off. The knife has a very sharp, very durable point that makes it an excellent stabber, despite the fact that the blade format is not necessarily optimized for this.
Above the finger guard is a thumb ramp with some aggressive jimping. This guard and jimping combo is quite comfortable, and I find that it lets me choke up on it very easily for finer work. It also eliminates the need for a choil, which you often see in survival knives of this size. A choil makes the knife a less effective weapon since it can get caught on slashing cuts, so fighting knives tend to eschew them.
The knife's handle is made of a hard synthetic material, and the overall shape and grip is comfortable. I must admit that I'm not completely sold on these handle slabs and would like to see a textured G10 or canvas micarta option, but I do understand why they did what they did with them. The slabs are clearly tough, easy to clean, and won't discolor with use and abuse. They're also probably pretty cheap to manufacture, so it keeps the cost down.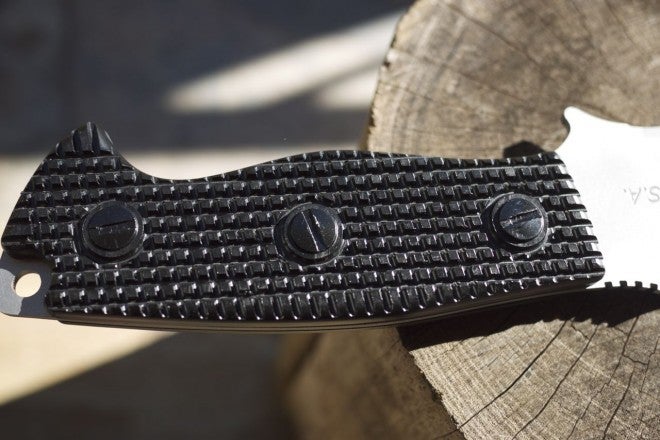 The handle scales are easily removable, and they're held on by three stainless steel Chicago screws. Unlike many survival knives, where the removable scales are held on by allen bolts, torx screws, or other special fasteners, you can remove the VSK's scales with an improvised flathead — a thin rock, a coin, or anything else with the right profile. So if you were alone in the woods naked with only this blade, you could most likely get the scales off and make an effective spear with it, and that's the idea.
The VSK's blade has plenty of edge and a two-stage bevel that was done to give the end user a few different options. You can leave the bevel as-is if you prefer it shorter with steeper angle — this is great for chopping. Or, if you want to turn this into a giant Scandi-grind blade, you can fairly easily do so by grinding out the first bevel and using only the second one.
My personal preference would actually be to convex this blade, which can also be more easily done given the two-bevel design. With a mousepad and some sandpaper, it would probably take me most of an afternoon to put a nice convex edge on this knife.
Speaking of the blade, it's made of standard 1075 carbon steel for ease of sharpening and edge retention. More and more survival knives are going back to these traditional carbon steels because the idea is that you can sharpen them on anything hard. Unlike the modern supersteels, many of which really need a diamond stone for sharpening, these traditional steels can be sharpened on a rock or the top of a rolled down car window (in case you run across one of those in the woods).
The downside, of course, is that these blades will stain and rust if not cared for properly. But if you're stuck in the woods for so long that this knife is rusting out on you, then you've got bigger problems.
I actually did some cutting with the knife in fresh wood and then left it outside for a month in the sheath. You can see the rust that developed, below.
It's really not bad at all, and it cleaned up nicely with a little polish. In fact, I lost the original pictures of this knife and had to polish it up post-rust, so other shots that you see of it are after I've been over it with a polishing compound.
The knife's balance is great, and it feels like a small machete. I can see this being a great chopper, but it's also fast enough (and pointy enough) to work in a defensive role.
The entire back edge of this knife is not rounded and in fact has fairly sharp corners. This is deliberate so that you can throw off a nice spark from a firesteel.
The sheath is a functional KYDEX job with a TEK-LOK attachment for your belt. It has a tab-based retention mechanism that locks the blade in securely, yet is easy to manipulate with gloves on.
Some Downsides
The one immediately apparent downside to this knife is its thickness. At only 1/8 inch thick, I can actually flex the blade a bit just by bending it with my hands. Not a lot, mind you, but I would definitely not feel comfortable using it as a pry bar. I'm pretty sure if I put it in a vise and yanked hard on it, it would bend and not snap back. So if you're in the market for a pry bar and not a knife, then don't buy the VSK because you'll know you've made a mistake on pulling it out of the box.
Of course, you could certainly do some light prying with it, but I wouldn't trust it if I really had to bear down with my 220lb frame.
My guess is that the thinness of the knife is a tradeoff that was made in favor of weight. The knife is extremely lightweight for its size at only about 10 ounces. Again, this fits with the whole survival knife idea because a knife that's too heavy will get left back at camp, and the old saying about such things is that "the best survival knife is the one you have with you."
The final thing I'll say that I don't like about this knife, as far as features, are the TSD logo and the VSK name and "Made in the USA" engravings on the side.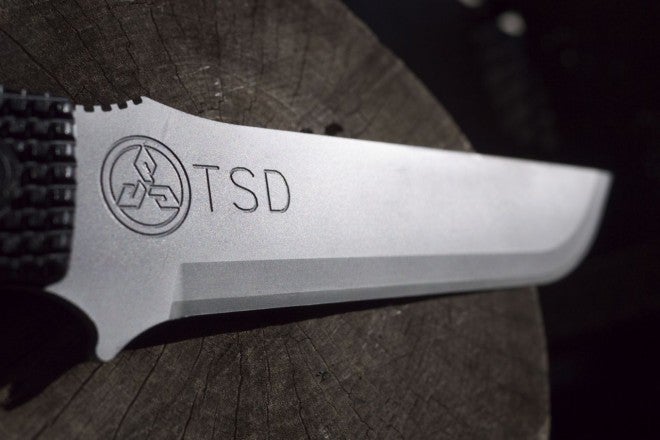 This looks a little tacky to me, and it could be done in a much smaller, less noticeable way. I realize that this doesn't really matter as far as use, but this knife is competing in the $190 range, where there are plenty of good-looking alternatives. The large size of the text on both sides makes the knife look less premium.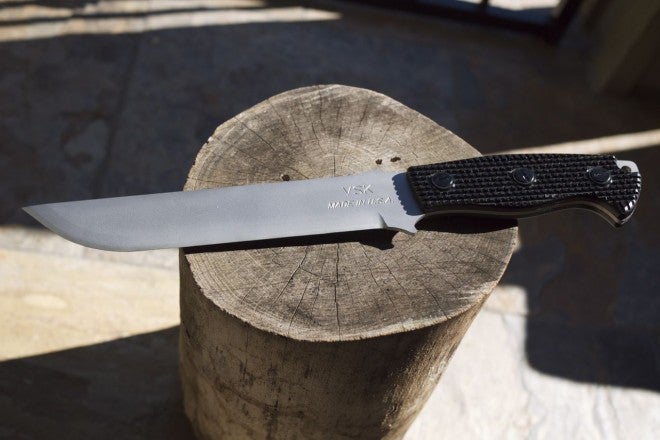 Conclusions
At $190, this knife isn't exactly cheap, and there are a ton of great survival knife options in this particular price range. However, almost none of those options have a 9-inch inch blade, and this is where it comes down to your own idea of what a "survival knife" is.
For me, the ultimate "survival knife" is full-tang fixed-blade in the 4-inch range, especially if I'm in the woods and don't plan on having to kill anything with it. So one of my Fallkniven F1's is pretty much ideal for me (although I am eyeing the Busse CABS, which is basically an F1 made out of INFI). If I thought I might need to use the knife as a weapon against a wild boar or a zombie, I'd want something in the 10-inch blade range with a Bowie-style clip point. But given that I don't see myself knifing anything that isn't already dead, the VSK isn't for someone with my requirements.
Ultimately, if you're in the market for a large Sami fixed blade that could double as a weapon or spear, then the VSK is pretty much the only real option. You could buy a more "authentic" Sami like the Helle Lappland linked above, but it's not full tang, it's going to weigh more, and it's probably not as tough as the VSK.
I do have some reservations about the thickness of this knife, but then again, being a Busse guy, I would. But other than that it's a solid effort for a large, Sami fixed blade survival knife, and I can recommend it to anybody in the pukko/Sami camp who wants to carry a large, capable, but lightweight knife into the field. Don't pry anything with it, and you should be good to go.