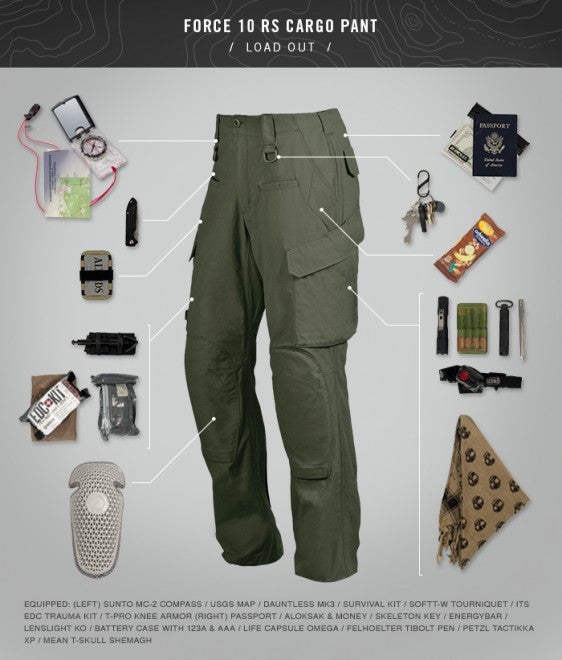 I'm a blue jeans guy, and I don't wear anything tactical. At all. Ever. That said, I'm loving the TAD Force 10 cargo pants. They're super comfortable, have a ton of features, and they're not so obviously "tactical" that I feel like a mall ninja in them. Indeed, the cargo pockets on the sides of the pants are extremely low-profile to the point that if they're empty you don't even notice that they're cargo pants at first.
Apart from the comfort and durability (and the fact that most of TAD's gear is made in the USA), the main thing that TAD pants of all types have going for them are pockets. Lots and lots of pockets, many of which are even inside other pockets. You're basically never going to be at a loss for where to put something in the Force 10's, and the larger pockets are so well subdivided that you also don't have to worry about your stuff jostling around.
Of course, my favorite feature of all the TAD pants is the pair of front pockets, which are the perfect size for a smartphone. My HTC One drops right in and stays there, and I even tried it out with one of the larger Samsung phone/tablet hybrids (there's one in my future), and it also fits.
When I wear my TAD Covert DC pants, I typically carry my phone in the left front pocket and a small multitool, like the Leatherman Skeletool CX, in the right. In fact, now that I'm a convert to the Bellroy Sleeve Wallet, I tend to drop the wallet and phone in the same front pocket so that I can have room for the multitool in the other pocket.
However, the F10 pants have those great cargo pockets on the side, and the interior each pocket is subdivided into smaller pockets, one of which is accessible via a slot in the top flap and is the perfect size for discrete multitool or flashlight carry. In fact, I found that with the F10 pants, I can comfortably carry my Leatherman Charge TTi, which is a full-sized multitool that's about the same size as the Wave. With the multitool in the cargo pocket, the other front pocket is freed up for my wallet.
Another big feature of these pants, aside from the pockets, is the material. It's really tough, and it also dries like nobody's business. If you're wearing them, the pants can go from a full soak to mostly dry in about 15 minutes — probably faster if wind and weather cooperate. I didn't jump in the pool with them, but I did test them with the water hose. I'd feel pretty good about wearing these in a situation where I might get seriously wet.
I'd also feel good about wearing them to Krav Maga training, since they actually have a better range of motion than my normal workout pants. TAD touts "unrestricted movement" as one of the pants' main selling points, and I can definitely vouch for that.
In all, these are great pants, and the only thing bad I can say about them is that they don't go with cowboy boots. My dad is also sold on them after checking out my pair and is picking some up for an upcoming overseas trip.
Here's the specs list for the Force 10:
Specs
Standard Fit
Straight Leg
100% Nylon (3.40 oz) with Durable Water Repellent (DWR)
Triple Needle Stitching on In-seam and Out-seam
Double Needle 1/8" Stitching on Knee Pads, Gusset, and Reinforced Seat
Single Needle on Remaining Seams
Knee Reinforcement Pockets Accommodate T-Pro Knee & Elbow Armor
Reinforced Seat
Gusseted Crotch
Two Front Welt Pockets
Two Hand Pockets with Coin Pocket Dividers
Two Thigh Cargo Flap Pockets with Hidden Dual Button Closure, Drain Grommets, and Internal Pocket Dividers
Two Rear Flap Pockets with Hidden Dual Button Closure
Two Hidden Internal Rear Patch Pockets for Travel Cash & Passport
Front Vislon Zipper Fly with Single Button Closure at Waistband
All Zippers are YKK® Zippers
1″ Width Belt Loops
Belt Loops with D-Rings Above Welt Pockets
Adjustable Leg Drawstrings
One 1"x1" Loop Swatch with Logo Patch on Right Thigh Pocket
You're basically not going to be disappointed in these pants, especially for the price.