Rugged Shark's Shoes for Water Recreation
Ashley 04.21.14

Things tend to get a bit muddy and wet during spring thanks to unexpected rainstorms and the influx of sprinklers fired up in neighborhood lawns. But without the chill of winter, wearing water resistant-boots results in sweaty feet, especially as the weather inches closer to summer. A good pair of shoes can make all the difference, so features like mesh fabric and breathable design are a must-have for spring recreation.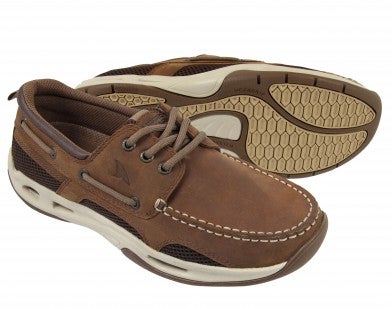 Shoe company Rugged Shark makes several solutions perfect for water-centric activities, including the Tidal Wave (left) and the SQUALL (pictured in blue, above). The Tidal Wave is referred to as a "lightweight drainage moccasin" and is a trendy choice for warmer months.
Intended for water sport enthusiasts, the Tidal Wave features a "Hexagrip™ slip resistant, non-marking rubber outsole created for wet decks," according to Rugged Shark. "The lightweight compression molded midsole in tandem with breathable cushioned EVA foot bed support provides all-day comfort and prevents fatigue."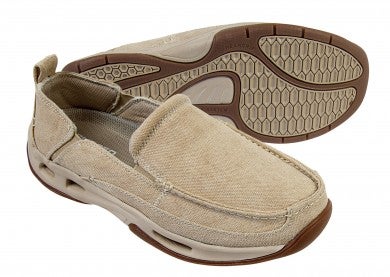 The SQUALL, also available in tan as pictured here, is also equipped with Hexagrip™, as well as H2FLO-VENT™ technology, which is what makes the shoes breathable–air circulates throughout the shoe, preventing discomfort.
The Tidal Wave retails for $69.99, and the SQUALL for $59.99. Both are available in full and half sizes 8-12 and size 13, and can be purchased at many outdoor retailers. To locate one near you, visit Rugged Shark's website.

SHOP NOW