Battle Arms Development Announces Sub-4-pound AR-15 Prototype
Jon Stokes 04.22.14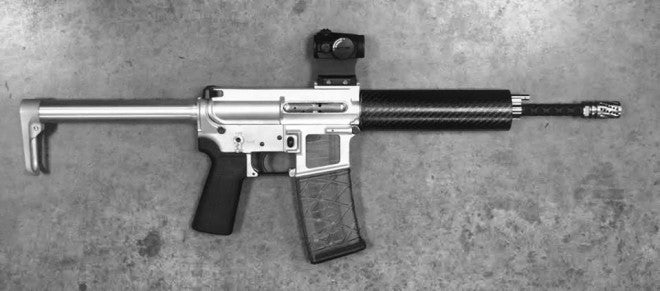 Battle Arms Development has posted a sneak peek at an ultra-lightweight, sub-4-pound AR that they've been working on for over a year now. Most of the lightweight builds that Major are over 6 pounds, so under 4 pounds is a seriously light AR.
Here's the description:
For about a year now, Battle Arms Development have been working behind the scenes on a secret lightweight rifle project (under 4lbs!) that is well balanced in conjunction with the master armorers at Bentwood Gunsmithing. Here is a picture of the early, hand built, proof of concept prototype (using forged upper/lower) for our loyal fans!

The production rifle will be made from a beautifully designed and crafted billet upper & lower plus many custom made lightweight components from BAD, Inc. in aluminum, titanium, etc! You saw it here first!
According to their FB page, where the image was posted, they don't have a price for it yet. They also claim that the platform's weight savings don't impact reliability at all — I'll have to see that to believe it, though.
Speaking of Facebook, someone posted a link for the video below that features a 4.5-pound AR that was announced at SHOT.
It's called the Omega Armory 4.5 Competition Series Featherlight Rifle, and it's apparently not out yet because I can't find it for sale anywhere. According to Omega Armory's FB page, it looks like it's still in development.