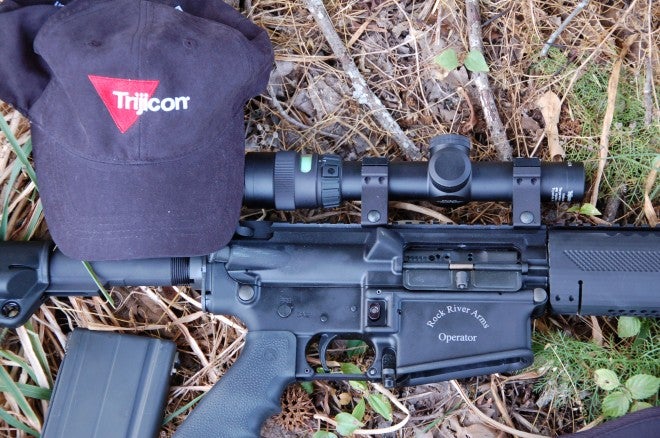 When the rack buck followed the smaller fork horn out of the woods line in tow behind a doe, I quickly propped up my Rock River AR .308 rifle on the shooting rail. When the Trijicon TR24's yellow AccuPoint reticle came to bear on the target, it shined like a light glow stick in the last minutes of hunting light. This was a riflescope that immediately proved its capabilities.
The 150 yard shot was the easy part; getting the 200 pound buck up onto the rack of my Honda ATV was another matter. The performance of the Trijicon scope was remarkable as I have proven several times since.
Trijicon is not likely a product name often mentioned at the dinner table or around deer camps. Other optics names are much more familiar, but serious hunters should take a serious look at these scopes. Their optics offer optimal clarity in a rugged package.
The Trijicon scope I use is the TR24, 1x-4x power with the triangle post reticle topped with a yellow indicator. Trijicon's scopes are illuminated by natural light gathered through a "window" via fiber optics. The scope does not require a battery to function. Many other options are available as are scope models, powers, and features.
I have to admit that Trijicon scopes are expensive. They are extremely high quality, durable, and assembled in the U.S. It costs a little more to have the best. A quick search of several optics sales web sites offered prices for this scope in the $1000 range. It may be hard for some to justify that kind of money for a riflescope, but trust me the Trijicon's are worth every penny.
Spec wise, the TR-24 model I have is built on a 30mm tube, which automatically means that this scope is going to collect more light from the environment and transfer it to the shooter's eye. Coupled with the natural light Tritium illuminated reticle, the combination makes for a bright scope during daylight, but because this system draws in so much more light, it's also capable of very bright sighting even under low light conditions.
The scope comes in a black matte finish that is water resistant. The lenses have a multi-layer coating for better light transmission and visual clarity. The Trijicon TR-24 is only 10.3 inches in length and weighs in at 14.4 ounces. The scope body is hard-anodized aluminum for strength and light weight. The scope also comes with a set of lens caps to keep the optical glass clean and debris free.
The triangular reticle is available in amber, green, and red. I chose the amber color and it is exceedingly bright on the target. I have seen both green and red wash out in lower light, though I can't honestly say this would be the case with this Tritium sight. Easy to use external turret controls for windage and elevation are quick to adjust, even with gripper gloves on.
Trijicon also offers an excellent Picatinny rail type scope mount/rings for their optics. I elected to get a set of their 30mm ring-mounts, and it mounted secure and tight on the Rock River Operator rifle. I think it would take a 50 cal round direct hit to knock it off.
Though the TR-24 is described as a short range riflescope, I had no issue taking deer with it out to 200 yards, which I consider a typical long range shot where I hunt. It is quick on target with its bright reticle field, and the power range of 1-4x is just right for food plot hunting or in the woods with the power cranked down low for close up shots.
I encourage all hunters to investigate the full line of AccuPoint Trijicon riflescopes. Many other models and versions with multiple options are available with other objective lens sizes and power ranges offered. Check out their web site page at www.trijicon.com for a full review of their entire line of optical scopes.

SHOP NOW