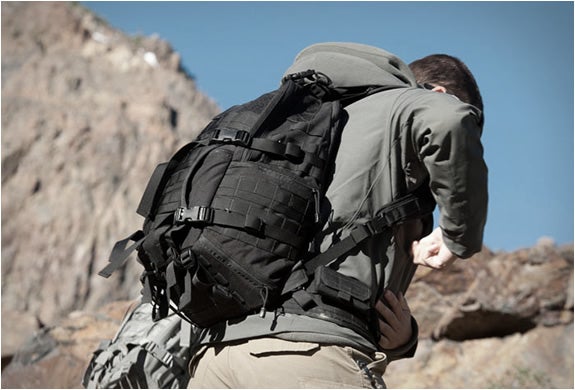 So my sister-in-law, as it turns out, is a closet gear geek. This weekend she showed me her load out, much of which she had made herself, with well deserved pride. She was planning a two day solo hike and was prepping her stuff. She uses a hammock to sleep in and made herself a very nice underquilt. As we were sharing gear tips, I asked her what knife she was carrying, and she told me she had a $1.00 Wal-Mart "Knife," or as Mike Stewart, the owner of Bark River Knife and Tool is fond of calling them "a knife shaped object."
She is a gear geek, but not a knife knut. We talked about what options she had and she gave me a few general criteria. I am not an ultralight backpacker, but based on what she told me her needs were, here is a list of a few options that I came up with for her. They may be totally off base, but they did meet every one of her criteria.
First, the criteria:
Small, low maintenance blade
Low cost
Easy to use with no extra features
As minimal weight as possible
I am not sure every ultralight hiker would want these four things, especially the cost one (have you seen how expensive some ultralight gear is?), but they seem sensible. Note that the Dragonfly 2's and SOG Flash I's of the world are too fat, both coming in at more than an ounce (1.2 ounces to be exact).
With those criteria here are a few choices:
Victorinox Cadet
Okay, so I get probably a dozen or so emails a week with gear recommendation questions and the Victorinox Cadet comes up in about 90% of my answers.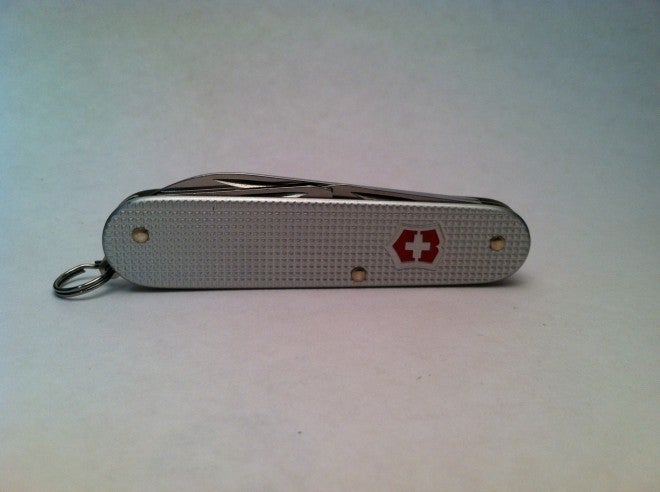 It just does so much, so well, for so little money. Now, for weight conscious folks, the number on the Victorinox website, .7 ounces, is about an ounce wrong, as both my scale and SAK Wiki, have the weight at 1.61 ounces. Even then, this is still a good bet as the other tools might come in handy around the camp or when your gear needs repair. It does violate the no extra features criteria and it is not strictly speaking as light as absolutely possible, but it does do quite a bit.

SHOP NOW
AG Russell 3″ Lockback
Now this is a legitimate .7 ounce knife. The original is a .9 ounce knife, and AG Russell stripped it of its titanium scales and replaced them with even lighter carbon fiber. The cost is not bad, coming in at under $50, but the knife is pricier than the Cadet.
The lack of supplemental tools is made up for by a very good outdoor steel: VG-10. Though not a true waterproof steel like H1, VG-10 is significantly harder and still easy to sharpen.
Oh, and in case you're wondering, I am not going to recommend the Baladeo 22G. It's around the same price as this knife, has a weird design that looks uncomfortable in the hand, runs an inferior steel (420), and is portlier by more than 2 grams. What a fatty.
Gerber LST
Yes, I am recommending a Gerber knife.
And no, the last time I checked, the Devil was not sledding. The
LST
is something of a cult favorite among ultralight backpackers. 
Here
is a good forum review of the knife, though again, the weight number is wrong.
I owned one, which I gave away and now want back, and it was a perfectly fine knife. It runs 420 steel, has a simple lockback design with a nail knick, and comes in at around $16. It also is the lightest of the blades here at .6 ounces (that Baladeo looks fatter and fatter as we go along).
The blade is dead simple, but it works. This was ultimately the recommendation I made for my sister-in-law as it was the lightest, cheapest, and most widely and readily available of all these knives.
Spyderco Ladybug
The blade is the smallest of the knives references so far, but the weight is amazing at .6 ounces and you can basically pick any steel you want–from saltwater loving H1 to my favorite ZDP-189 to the uber exotic Super Blue.
There are even different handle colors to help you keep track of the knife in the woods — the H1 runs a yellow handle, and there are orange and blue handled sprint runs and specialty releases.
This knife also has the best deployment method of any of the knives on this list–the awesome (and weight saving) Spyderhole. Also note that the Manbug is roughly the same size with a slightly different blade shape. The Bug line is also light, even with stainless handles, but they lack a lock, have inferior steel, and are, except for the Grasshopper, too small for even medium sized hands.
Fallkniven U4
I reviewed the U2 a while back and I was blown away by how great it was in the hand and in the pocket.  That knife isn't a bruiser by any means, but it's too heavy for this list.
The smaller version of the U2, the U4, has a 2 inch blade and weighs a paltry .7 ounces. It also has the most exotic steel of any knife on this list — SGPS. At a HRc of 64-66, it's easily on par with the best steel in the Ladybug line. Its not cheap or even cheapish at $75, but if the U2 was any indication, Fallkniven spent all of their price allocation bullets in the right place.
Al Mar Hawk Ultralight
This is probably the only list on the planet where the Hawk is one of the fatties.  At .96 ounces and over a $100, I hesitate to include the Al Mar Hawk Ultralight on this list.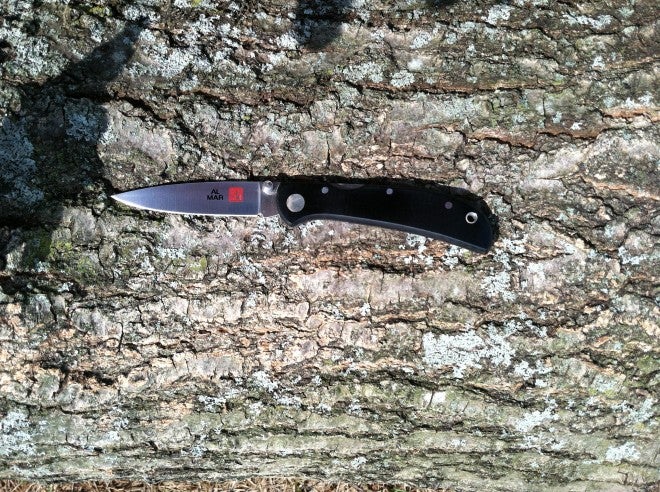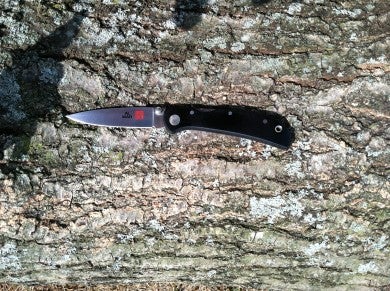 Only its amazing fit and finish pushed me to do otherwise. This is a great knife with AUS-8 steel, which in this company, is not bad at all. It is also the only knife with a thumbstud and a full flat grind. This is probably the best slicer of the lot, but when is the Hawk NOT the best slicer in a group? As a splinter picker, you couldn't find better. I just wish Al Mar Knives would release a version with ZDP-189.
The demands of ultralight backpacking are hard. These are the true gear zealots of the woods, doing things like cutting off the handles to their toothbrushes and removing labels to save weight. But the goal–getting outdoors with as little hassle as possible–is an admirable one. The less weight the better, not just for ultralight folks, but for all of us.
Gear is not an end in itself, but rather it's a means to an end (I have to keep telling myself this). That end is going outside and having fun. Again, I am not an ultralight backpacker, but I do have a lot of product data stored in my brain. Considering that, and given criteria, I can come up with a list of a few items. This is what I came up with for my sister-in-law. I hope it's helpful for someone else as well.
SHOP NOW