SureFire Dueck Defense 45 Degree Offset Sights Review
Major Pandemic 05.23.14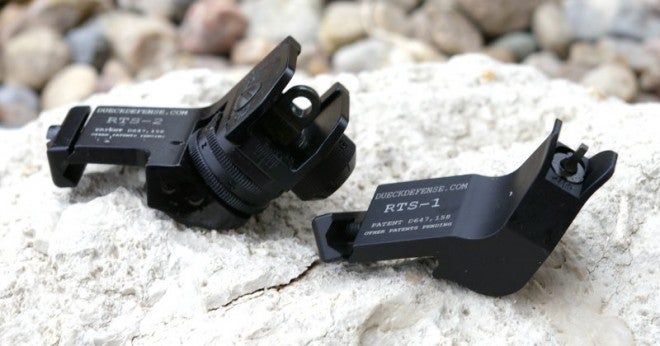 As 3Gun competitions were getting popular, Barry Dueck, SureFire's Director of Suppressors, came up with a great idea to provide a set of offset backup sights that could actually be used when an optic was mounted in place. The concept was simple: create a set of sights that allow the shooter to simply and easily transition to the backup sights with just a twist of the rifle. The result has been one of the hot ideas in 3Gun competition that has spilled over into the defensive world as well.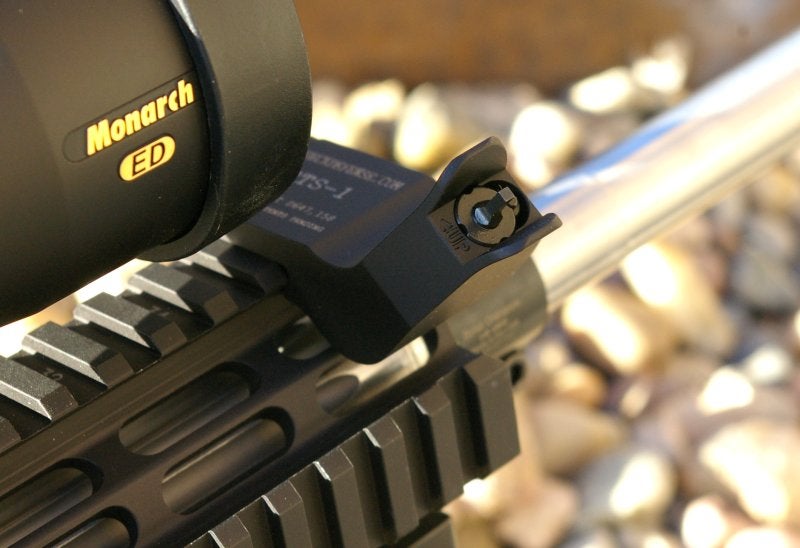 SureFire makes the statement that, "We didn't reinvent the wheel, we reinvented the flashlight," and that they did in a way that has changed personal lighting and night fighting tactics like nothing else. SureFire has been the innovator and founded the history of tactical flashlights and developed and hold the patent on laser weapon sights.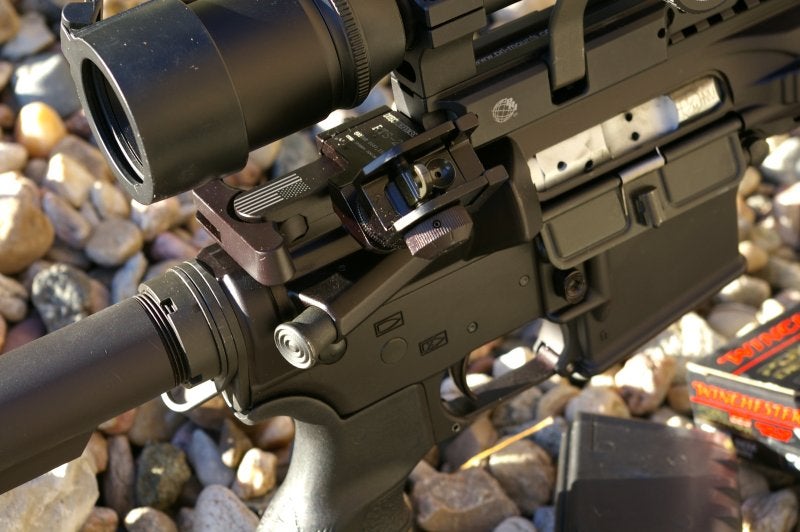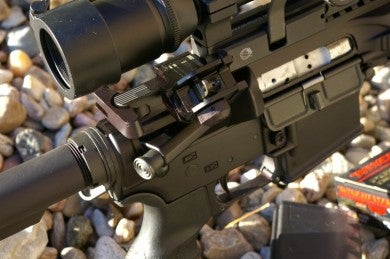 Today the company has expanded to produce laser sights, handheld, weapon, head and helmet mounting lighting, flash hiders, muzzle brakes, suppressors, weapon accessories, and even innovative hearing protection. The company even makes high quality AR-15 sights such as these competition/defense 45 degree offset sights.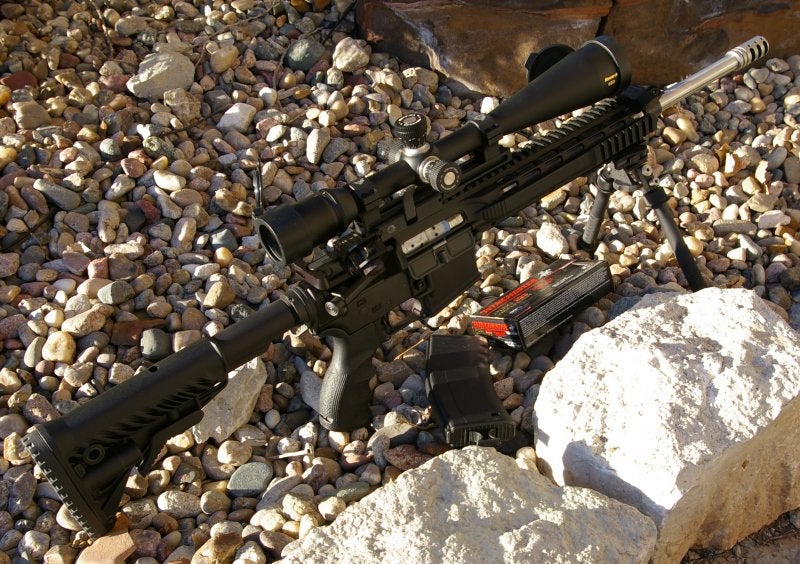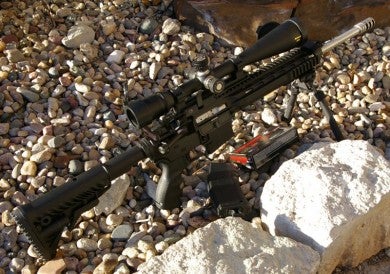 Fit, Finish, Feel, Features, and Functions
The Dueck Defense SureFire 45-degree offset sights are a simple idea that has been executed beautifully. The shooter now has an iron sight option for close up shots without requiring a magnification change. This has proven to be an incredibly fast shooting option that cuts shot times and increases hit probably on very close ranged targets. The sights mount directly to the fore and aft picatinny top rail and do not interfere with optics use, nor do they require the shooter to remove their hands from the weapon to transition to a very close range target.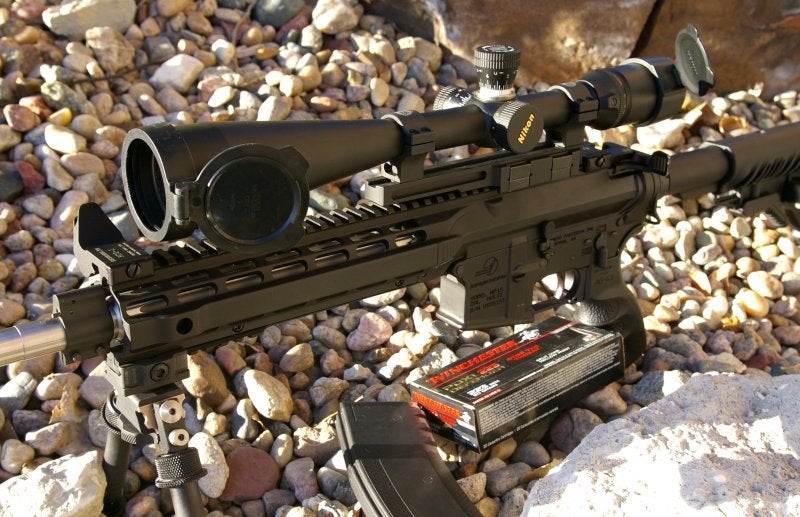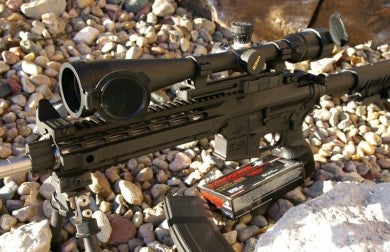 The front and rear sights are solid 7075 aluminum and deliver the same height to bore ratio as a normal mounted sight set would. The sights have hooded National Match AR-15 style adjustments, which yields some real precision if you are talented with iron sights. If you want to drop in aftermarket AR-15 compatible front or rear sight upgrades, these sights are Mil-Spec and will work with your tritium and other sight inserts.
I mounted my set on my Aero Precision COP upper and lower, which features a White Oak Precision Shilen barrel and Geissele trigger. I added used my big Nikon Monarch Gold 8-32 to really test out the high magnification to close range shooting, and it worked great. I will admit most competitive 3Gun shooters will use a 1-4 or 1-6 optic, but the Nikon seemed like an extreme option to try, even for a hog hunter. Let's say you are focused on those 100-200 yard hogs and one pops up a few yards in front of you. Would you rather take the time to spin your optic magnification down or just cant the rifle 45-degrees and take the shot? I think this sight set has uses far beyond competition and defense.
Specs
Model # SureFire DD-RTS-SET
Machined from lightweight, extremely durable 7075 aluminum, Mil-Spec hard anodized
Same height above bore as standard-issue M4 / M16A4 sights
½ MOA elevation and windage adjustments
Ambidextrous sights easily and securely mount to Picatinny rails using a flathead screwdriver
Low-profile sights extend only .2″ above top rail, don't interfere with primary optics or military IR illuminator /laser sight
Weight: Rear sight – 3 ounces (85g) / Front sight – 1.5 ounces (44g)
$238.00