Sorry for the timing on this one. Jackets are hard to test, especially one that is touted to be as all around versatile as the Stealth Hoodie. But I realize that being prepared and being a gear geek are year round pursuits. So have fun reading an article about a jacket on the hottest day of the year.
In 2009 my beloved peacoat, a jacket that had got me through grad school and law school, was about done. It was thread bare and the material had pilled and then worn away under the arms. It was time for a new jacket. I liked the traditional look, but it was not a high quality item. Coming from a store at the mall, it cost a pretty penny, but it was not worth nearly as much as I paid for it. It was a style over substance purchase and a great lesson in why that's stupid thinking.
Searching around I found Triple Aught Design. This was before my full blown gear obsession. I carried a pocket knife because I have since college, but that was it (it was a Kershaw Scallion if you must know, a horrible little contraption with a wretched pocket clip and lackluster steel). Looking around and comparing specs I couldn't find anything that was close to what the Stealth Hoodie offered. Arc'teryx offered some jackets that were as good, but they were $600. The same was true with Patagonia. Nothing hit the same price point/performance threshold, so I decided to bite the bullet and spend some dough on a jacket I had never even seen in person. I tried to place an order for more than a month and each time the website didn't work (TAD Gear would later overhaul it) or they were out of stock (this is still a problem all Taddicts understand). Eventually, I moved on and bought cheaper and lesser jackets from North Face, Patagonia, and LL Bean.
Then in January, with a small bit Christmas money left, I went back to the Stealth Hoodie. In February I decided to buy the jacket that had eluded me in 2009.
Description
The Stealth Hoodie is a soft shell jacket from Triple Aught Design. There are two different designs: the Stealth and the Stealth LT. The Stealth is $359 and has fleece lining. The Stealth LT ($459) has fully taped seams for enhanced water resistance but lacks the insulation of the Stealth. While both can be used as the top layer, the Stealth LT is explicitly designed for this role.
The Stealth, like most soft shells, is designed to strike a balance between warmth and comfort of a fleece and the rain protection of a rain coat. Most companies use chemical treatments on the fabric to guard against dirt, wind, and rain (DWR is often referred to in specifications and that is what it refers to). The Stealth uses both a chemical treatment and specialized high tech fabric. The treatment and fabric come from a European company, Schoeller. The jacket itself is made in Canada. It was designed and prototyped in-house by Triple Aught Design. For more on Triple Aught Design, take a listen to Episode 20 of Gear Geeks Live. Gianni Donati came on and gave us a run down of TAD Gear and how they produce gear.
The hood itself is extra deep and has a stow option that turns the hood into a collar.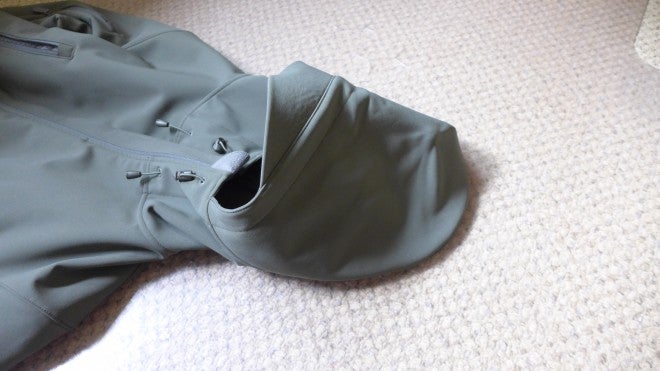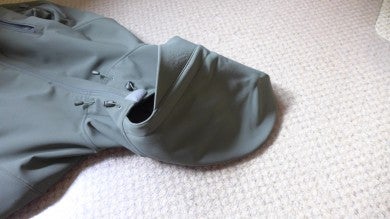 The main side pockets sit a little higher than normal. There are additional pockets inside the main pocket for smaller items like a pen. There are two pockets on the shoulders and a RFID ski pass pocket on the left wrist.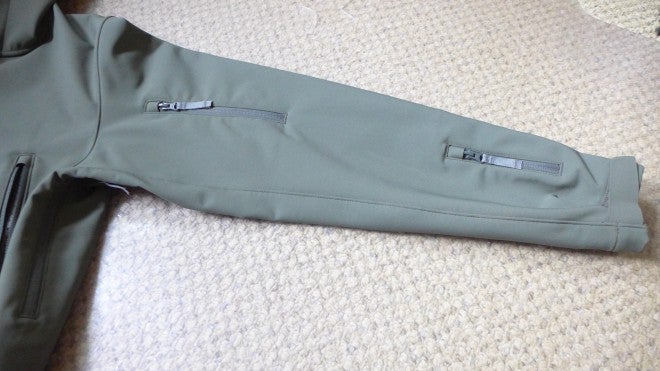 Finally there are two large pockets on the back of the jacket. There are no interior pockets. The zipper is a two direction zipper, allowing you to zip up the front of the jacket and then unzip the bottom for more maneuverability. All of the zippers have quiet fabric pull tabs.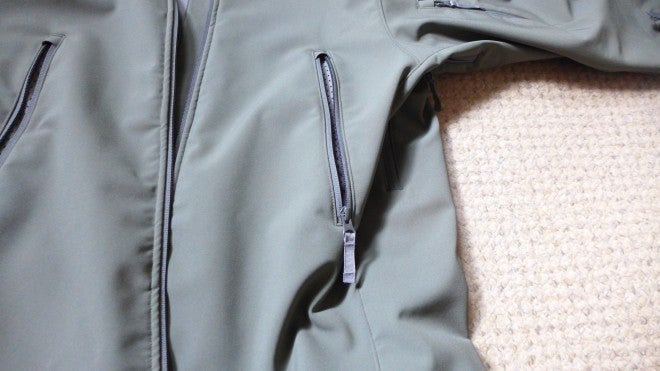 The jacket comes in a few different colors: gray, black, and green. I ordered gray and I got green. I am sure TAD Gear would have fixed the issue, but I kind of like the green so I kept it.
Testing
Spring in New England is a mess. It was more of a mess than usual this year. We had snow on the ground well into April this year, and from January until May we have had especially cold weather. Both rain and snow have fallen in near record amounts. This made excellent testing conditions for the jacket (and my patience–snow shoveling while listening to baseball games is NO FUN). My wife, son, and I usually go on a day hike once a week, and this spring we managed to make almost every weekend despite the weather. I wore the Stealth on all of these hikes. I also wore the Stealth around town and even to work as a rain coat. That picture above was taken when the temperature had finally cracked 40. It was deep into April. Finally, to test just how well it vented heat. I wore it for an hour or so in an indoor pool area on three separate occasions.
Design
The Stealth's lack of garish logos and covered zippers gives the jacket a very clean look.
The number of pockets does detract from that clean look, but not too much. The hood is exceptionally deep (so deep in fact that my four year old son calls the Stealth the "Green Arrow jacket"). Overall, the jacket looks nice. On three separate occasions with heavy rain I wore it over a suit to court and it was fine. In fact, I got three complements: one from an officer, one from the most fashionable person in my office, and one from someone that knew I had purchased the jacket and the backstory behind the purchase.
Because the jacket is a small batch design, some of the slick features on other jackets are missing. For example, the cuff adjusters on sleeves can be tightened like they can on most softshells.
However, on both my North Face and LL Bean jackets, the Velcro is fused to a rubber tab. This probably took some expensive machine to do, so the small batch Stealth has a strip of fabric with Velcro instead. It's not a difference in performance really, but it does not look as clean. Second, the bidirectional zipper can make it tough to start zipping up the jacket.
I'd prefer a traditional zipper, as I have done quite a bit of hiking, even climbing up pretty steep grades with no real impediment to mobility.
Overall, the Stealth is very nice looking with an excellent shape to it. The design is warm with good dead air management and all but waterproof with only two small dings.
Implementation
The jacket is really a step above the competition because of the materials used in its creation. While the design is good, the implementation of that design (the fit and finish and materials used) is unparalleled at this price.
Over time, both the North Face and the LL Bean softshell lost their water and stain resistance. This is because those two softshells repelled DWR through the use of a chemical treatment applied to the surface of the softshell material. Here TAD Gear uses a new fabric and a superior treatment, both from Schoeller. Interestingly both pieces of tech are biomimetic. Here is a close up of the material, which appears smooth, but has a distinctive texture to it: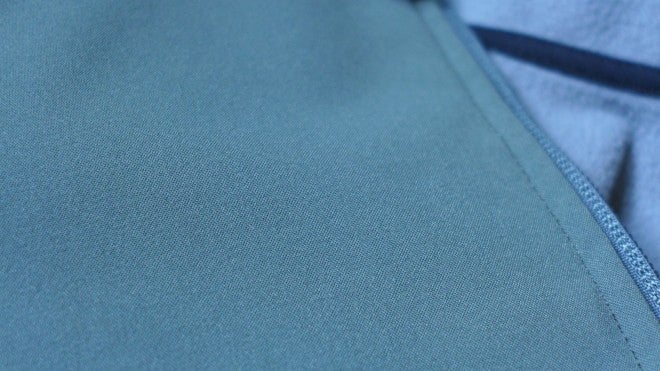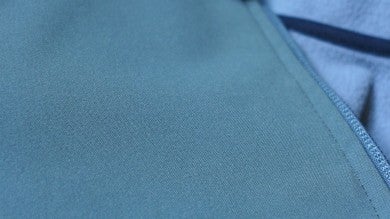 The fabric is Schoeller's c-change material. There are two properties that make c-change interesting in a softshell. First, like a pine cone, c-change's pores open and close based on exposure to interested temperature. This change allows for the Stealth to vent heat in hot environments (like an indoor pool area) and to retain heat in cool environments (like scrambling down a wet rock face in March in New England). Schoeller's c-change also has another interesting property. The material itself is a series of very small valleys and ridges. They make it hard for dirt and water to adhere to the surface.
The treatment, Schoeller's Nanosphere, is equally interesting. The treatment has fluorine in it and mimics the leaves of certain plants. Fluorine, one of the main chemicals in teflon, is very hard for molecules to bond with, resulting in very little interaction between things like your Stealth Hoodie and dirt or rain. Water simply will not absorb into the surface of the jacket and dirt can be brushed away with ease.
These two pieces of tech, taken together, make the Stealth virtually unrivaled in the sub-$500 softshell market. Compared to the North Face and LL Bean hoodies I have owned, the Stealth repels dirt and water much more aggressively. Additionally because there are two different ways in which the jacket works to repel DWR, in theory it will do so much longer. My LL Bean jacket lost all of its water resistance after about two years of use. It was much cheaper than the Stealth, but it is essentially just a bad fleece now.
And here the fleece material is quite nice and very warm.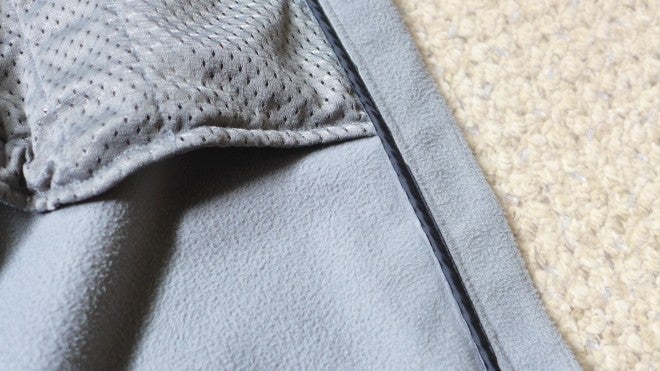 With a wool base layer I comfortably wore this jacket out into freezing temperatures with howling winds.  Only when it was single digits did I feel a chill and even that was chased away by a little movement (such as, I don't know, SHOVELING SNOW DURING BASEBALL SEASON….whew, sorry). The pockets were made of fleece mesh and were also quite nice. They were plenty tough without feeling like someone stashed a paperback in my jacket, as some pocket do on cheaper jackets. The pockets also included quite a few nice cord management/pass through ports: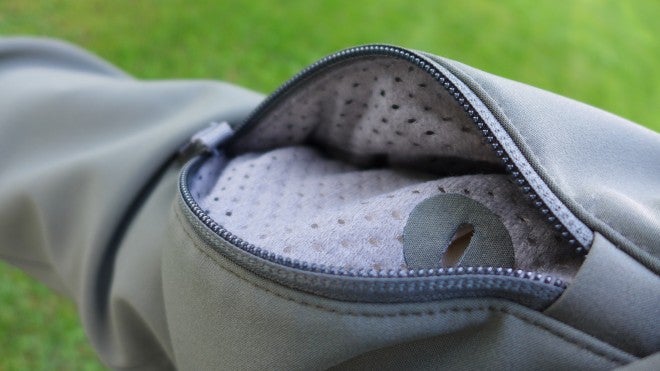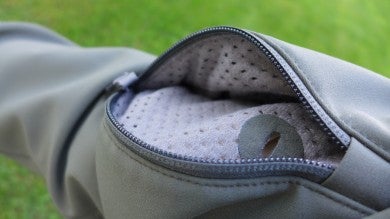 There was nothing like a stray thread or a loose thread. The entire jacket was impeccably made, which is, of course, one of the things that is a hallmark in every piece of TAD Gear I own (which is now a few items, two pairs of pants, two pairs of shorts, a T-Shirt, a baseball cap, and a custom Dauntless).
Conclusion
The Stealth Hoodie works amazingly well. It really could be your jacket all year round, barring truly blizzard-like conditions. Even then, with a base layer, it can handle quite a bit. It's nice in warmish weather and works as a rain coat.
Its appearance is close to the tactical line, without going over. Instead, the muted colors and clean lines keep it in the "normal people" clothes category. But the performance is simply stunning. Running up and down small rock ledges or around town in a rainstorm or in the sweltering heat of an indoor pool area (the closest thing I could get to something actually warm in the early New England spring), the Stealth performed as promised. The deep hood does keep rain away, but it has a slightly unconventional appearance, which some may find too unusual. Additionally, the placement of the main pockets is different, but here it is a difference I like. All of the secondary materials are excellent. It's been five years of waiting, but the wait was worth it. This is the perfect jacket for almost any weather.  I wouldn't go on a lobster boat during a Nor'Easter with it, but I wouldn't be surprised if it worked pretty darn well there too.
The drawbacks are minimal. The worst is the bi-directional zipper, which even months later occasionally stymies a quick zip up. There are, and I never thought I would ever make this claim, too many pockets. I like the storage but not the look. People will notice the jacket. They will ask you about it. It looks nice, but it also looks a little different. That didn't bother me, but it is worth mentioning.
The TAD Gear Stealth Hoodie does not disappoint, even with the $359 price tag. It is, in more ways than one, the Sebenza of the softshell market. The magic of the Sebenza is that it competes with much more expensive knives very, very well. It's pricey, no doubt, but compared to other $300 plus knives, it is a bargain. The Stealth Hoodie is much the same. It can run with the big dogs from high end companies, jackets that easily cost twice as much. So while its never fair to say a $359 jacket is cheap, there is no question that the Stealth Hoodie is a superb value and an excellent all-around performer.