Improving M1 Carbine Sights
Oleg Volk 06.30.14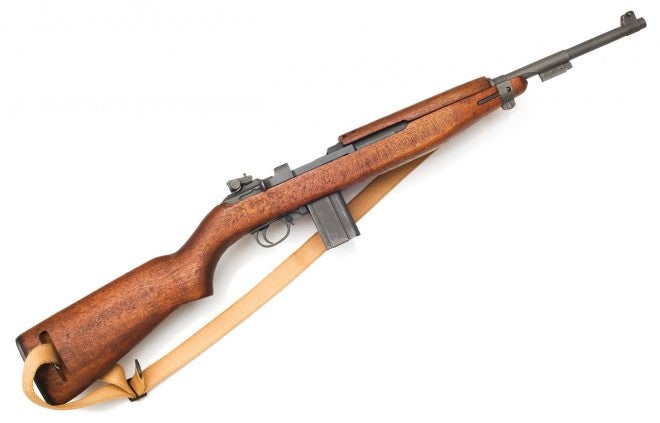 I like the M1 carbine, but it offers two imperfect sighting options. The older 100/200 yard two-aperture flip sights are simple and easy but require a drift punch for windage adjustments and offer no elevation adjustment at all. The M2-style ladder sight is range and windage adjustable in finer increments, but on all examples I've seen, the aperture moves up the ladder to longer-range settings on recoil. For close range, the sights may be ignored completely in favor of pointing down the trough in the upper handguard. The stock sights are fine for engaging enemy infantry but hitting point targets–something size of a ground hog or a head sticking out of a trench–at extended range is more difficult.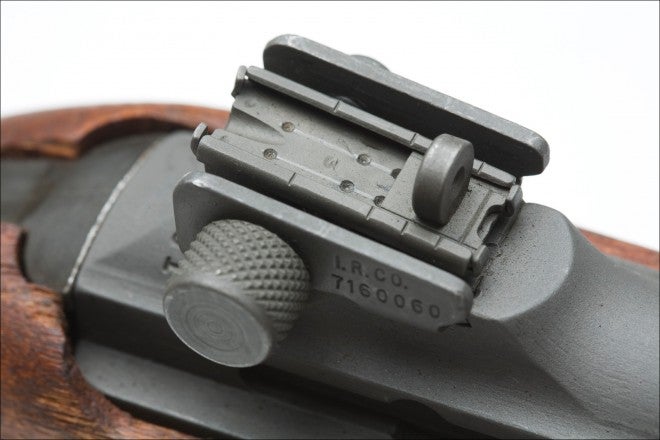 A low-profile red dot on a railed handguard is one possible solution. Auto Ordnance and Ultimak both offer such handguards.

I have used M1 carbine with Aimpoint T1, Primary Arms micro, and Lucid M7. The latter offers an advantage in the form of a circle-dot recicle (2MOA dot inside a 25MOA circle). For up close, the bigger reticle is easy to acquire, while for extended range, the outer ring offers drop compensation. At 200 yards (with 25/100 yard zero), the point of impact is right at the bottom of the circle. For longer range use, sight in at 10/200 for a 280 yard drop to the bottom of the circle. The trajectory never rises above 6.8″ at 110 yards, which works out to half-day between the dot and the top of the circle.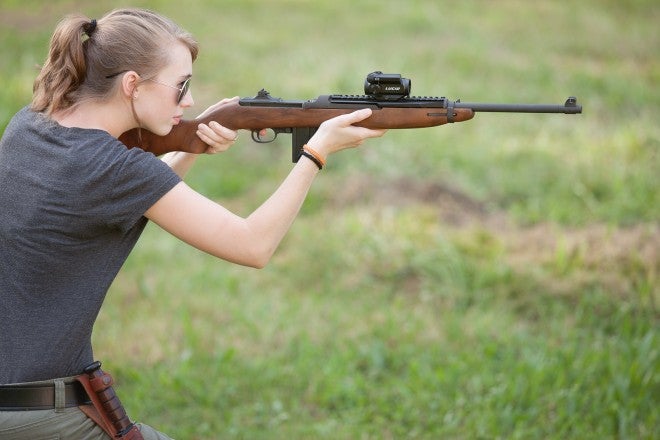 The importance of the red dot is not in the slightly improved precision but in bringing the target to the same focal plane as the reticle. Having both eyes open for sighting and focusing on the target also helps with seeing the target more clearly than iron sights allow. Front-line troops in the age of iron sights tended to be under age 20, while American civilian shooters are usually older and so don't have the best eyesight. Moreover, even the old-time youngsters were hard-pressed to shoot accurately in low light.