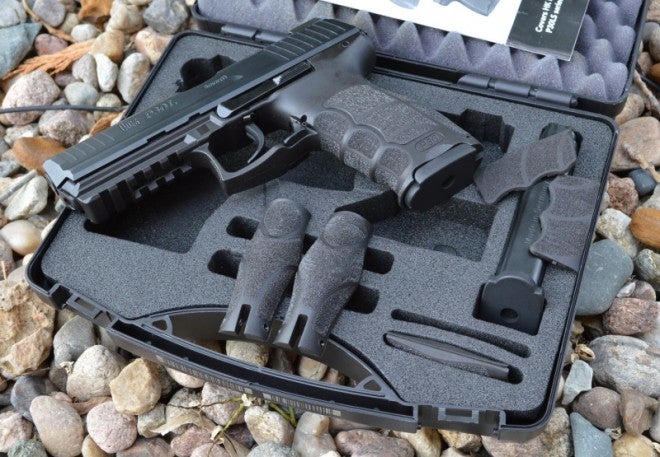 I have always wanted a $1,100 H&K pistol about the same way I have always wanted a BMW 7 series. In reality, there are many cars far less expensive that can deliver the utility of the BMW, but with the Beemer, you get a style and exclusivity which many cannot afford. I still do not have the $85K for a low end 7 Series, but I decided to plop down the cash for the H&K P30L after seeing it at SHOT show 2014.
Beyond the exclusivity of the H&K brand and style, one of the main features which grabbed my attention was the simple but effective rear decocker. Other features that sealed the deal include the H&K trigger guard magazine release,which I have become a huge fan of, as well as the outstanding ergonomics. In many ways this H&K P30L delivers a nearly identical ergonomic experience as the Walther PPQ M2 which I am totally enamored with, but it does it with H&K style and features.
About H&K – Heckler & Koch
Obviously, as a German company, Heckler & Koch's history dates back prior to WWII as a defense manufacturer, but at the end of the war, the company was disbanded. In 1946 the company was reformed as H&K, initially as a bicycle and sewing machine manufacturer, but by the 1950s, the company was back at it developing firearms and weapons. Since that time, H&K has consistently been on the bleeding edge of firearms designs.
Some designs put them on the map as a top tier firearms manufacturer and design house–others not so much. One such idea that never took off was a ceaseless ammunition rifle and ammo. Basically the powder was compressed in a manner that allowed it to durably function as its own case. H&K was the first to develop this caseless select fire rifle, which I am still not sure why it was not insanely popular with the military folks. Perhaps it was too cutting edge of an idea, and it begs the question if someone offered a Star Wars Blaster, would the military reject it just because it does not look like an M4? H&K was also the first to develop hexagonal rifling which many companies now use to improve accuracy and reliability across a diverse array of ammo.
Successful cutting edge designs obviously include Heckler & Koch delayed roller sub-machine guns and pistols, but for the general populace they also had some edgy designs that were still very successful. From a pistol perspective, I thought the polymer VP70 Volks introduced in 1970 with a stunning 18-round capacity was one of the most futuristic production pistols I had ever seen, and it still remains futuristic looking today over thirty years later. The pistol was initially hot because of the huge capacity and followed with an amazing 29-year production life.
The collectable HK P7 with its squeeze cocking device is still a gun to lust after even though they are going for more than this new HK P30L. Meanwhile, companies like Colt and Springfield are just recently getting into polymer pistols. So you get the idea that H&K are innovators and this HK P30L is one of H&K's newest designs.