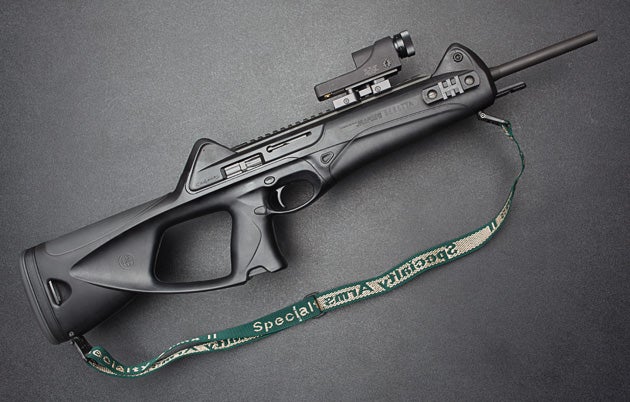 In today's world, most people live in cities and suburbs, drive small cars, and live in small houses and apartments. Most target ranges are indoor and are limited to pistol caliber arms. This makes it impractical for most people to own a full size rifle. This leaves a lot of shooters with a pistol as their primary arm for sport and self defense, but there is another option: the pistol caliber carbine.
A pistol caliber carbine is shorter and handier than a full size rifle, and it's easier to use than a pistol. I have several in my collection that I enjoy shooting very much. The Beretta CX4 Storm is one of my favorites.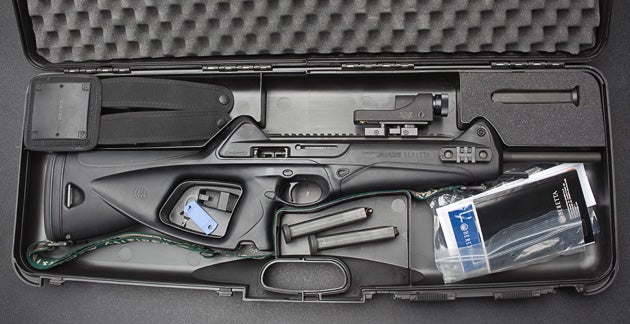 First Impressions
Looking at the Storm, you know it comes from the land that gives us the Ferrari. Even the post 1989 ban bridge that runs from the pistol grip to midway of the butt stock is graceful and looks right. It is graceful and easy on the eye and touch. No sharp corners or odd bits sticking out to snag, poke, or get in the way. The fit of the components and the color of the finish, polymer, and steel are perfect. It would look good hanging from the shoulder of a lady in her little black dress out on the town.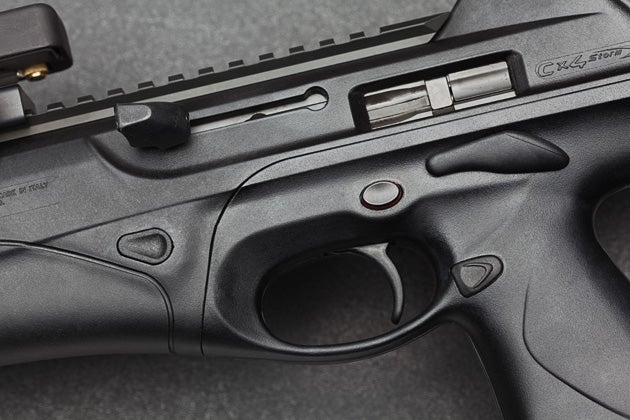 Fit and Feel
This is one of the slickest feeling firearms I own. You can run your hand over the gun and get only one snag–the one you want, the charging handle. The balance lies between the pistol grip and the butt making it fast and stable to shoulder and track your target. The shoulder stock in height and length gives me perfect sight alignment on the iron sights. The magazine fits in the pistol grip like a third generation Subgun. The safety and mag release are just like a model 92. They are also rounded and snag free but are easy to manipulate.

Features
The adjustable flip up sights are recessed in wings that are just the right size to protect them and not obscure a good sight picture. There is one accessory rail under the forend that, when not needed, stores in the stock. You access it by pushing in on the front sling swivel and pulling it out. There are spacers for the buttstock to change the length about two inches. The cocking handle and the ejection port cover can be swapped for right or left handed use. The magazine feeds from the pistol grip. My carbine is a PX4 that uses the P92 magazines. The barrel is hammer forged and chrome lined. The Berretta CX4 Storm carbine is available in the three major pistol calibers: 9mm,.40S&W, and .45ACP.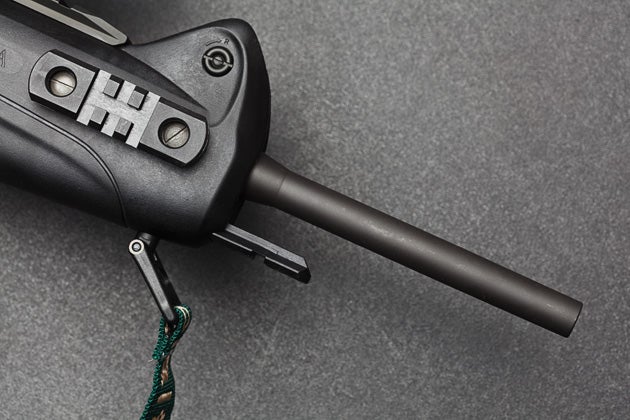 Function
On a day at the farm I shot the carbine at 50 yds. standing unsupported with odd lots of ammo from my dump can. This is the coffee can I unload magazines into when I don't feel like sorting. In that can there is ammo ranging from 20 year old NATO ball to new gold dots and everything in between. This is normal practice for me when just shooting in a gun. It saves time and helps determine if it is ammo sensitive. There were no issues with feeding or ejecting. Pull trigger, gun goes bang, whole in target, repeat. Magazine changes are fast and easy. Push button drop mag insert. The old hand finding hand method is very fast.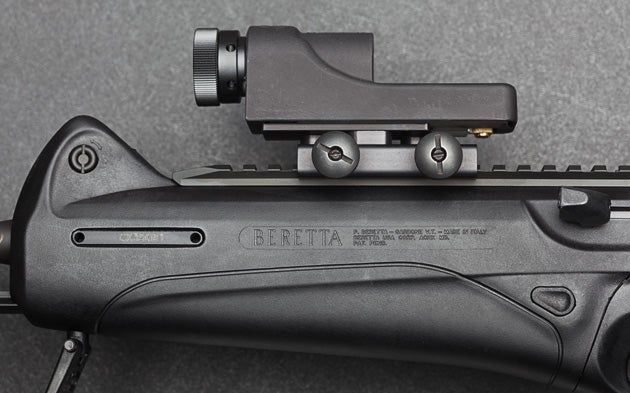 Accuracy
Needless to say I didn't wring out the accuracy potential of the gun yet. I did put all the shots–about 60–in the center of mass. When I get the new bench put together I'll define the true accuracy potential.
Until then I can say that it would be good to go for milk jugs and coyotes.

Accessories
For those who wish to put any of the many popular accessories like lasers, lights, or red dots on the gun, there are rails available. I added a top rail for a red dot and a side rail. Also there are magazine adapters that allow the use of both P92/96 and Storm magazines, including 20 rounders.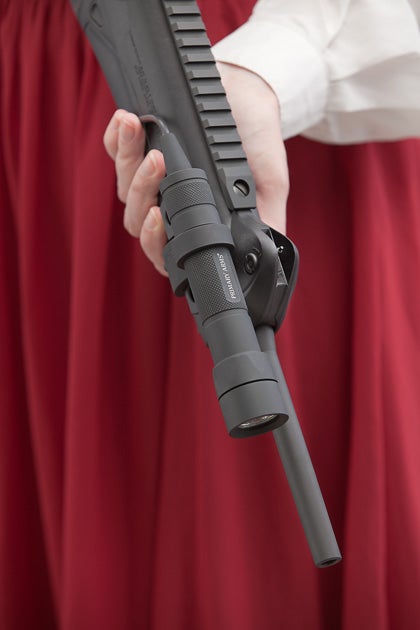 Specifications
Action Semi-automatic, Blowback action, detachable magazine fed
Barrel 16.6" Hammer forged, Nickel Chrome Moly, Chrome lined
Length 29.7 to 31.5 inches, depending on stock spacers
Weight 5.75lbs. unloaded
Sights Front and rear adjustable with rear flip 50/110 yd. aperture, 12.9″ radius
Magazine capacity 10 to thirty rounds depending on caliber and geographic location
Safety Manual push button, automatic firing pin block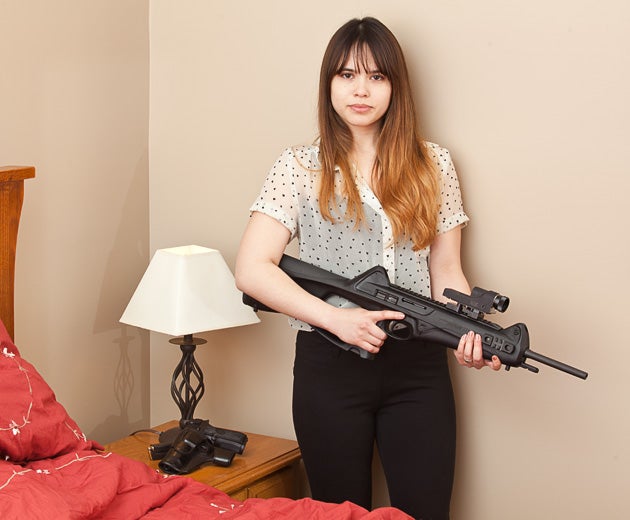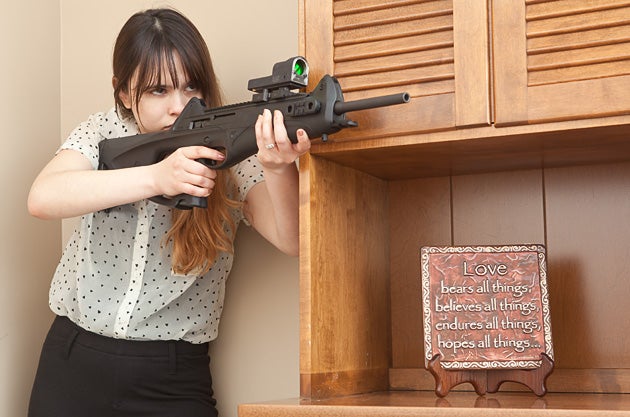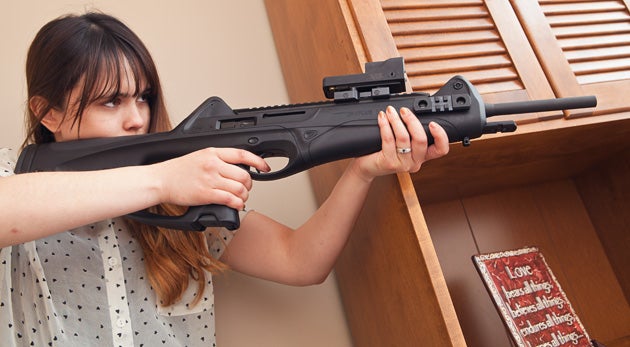 Left-Hand Functionality
Storm can be configured with controls and ejection on either side. Disassembly is required, but no extra parts are needed.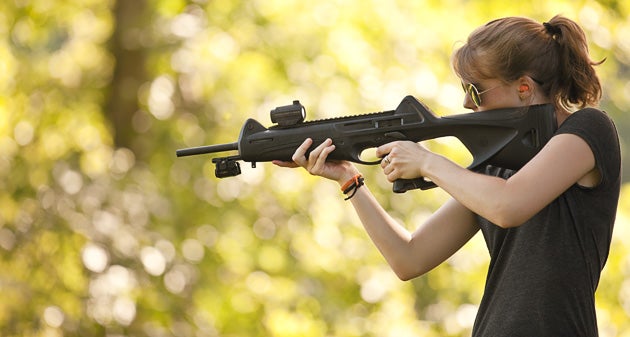 Final Thoughts
I am very happy with the look feel and function of this carbine. It handles better than an AR or rifle style, and to me it is more practical because I can pair it with my Berretta 92 Vertec and Compact. Now, if I can just keep one of the girls from running off with it!