Savage Announces New Stevens Model 555 Over-Under Shotguns
Russ Chastain 08.01.14

The Stevens name is an old one in the gun world. Long before I began hunting and shooting, Stevens was known for useful, affordable firearms. Savage Arms long ago acquired the Stevens brand, and in recent years has brought back the tradition of marketing more affordable guns that wear the Stevens brand.
The latest Stevens offering is an over/under shotgun, dubbed the Model 555, and it's priced below $700.
I happen to love over/unders, perhaps because my earliest hunting memories involve me hunting with my father as he carried an old and well-worn Browning Superposed in the woods. Sadly, Dad has gone on, but his old twin-stacker still goes to the woods with me on a regular basis. Savage says the new Model 555 "is as suited for hunting as for breaking clays," and that rings true to me since I use an o/u for most of my clay shooting and shotgun hunting.
The 555 comes in 12 and 20 gauge and has a lightweight aluminum receiver with a steel insert, which helps keep weight low while adding the durability and strength of steel. The receiver is scaled to gauge, so the 20 gauge version will have a smaller, slimmer receiver to match its smaller shells.
Barrels are chrome-lined, which means good wear resistance and ease of cleaning, and the ribs between the barrels and above the top barrel are both vented, which is a nice touch. Naturally, these barrels are threaded for choke tubes, and each gun comes with five tubes.
At this price, you don't get shell ejectors (it has standard extractors, which partially remove the shell from the chamber when the gun's opened), but you do get a single selective trigger and a walnut stock & forend. The safety is manual and is located just where a shotgun safety belongs: on the tang.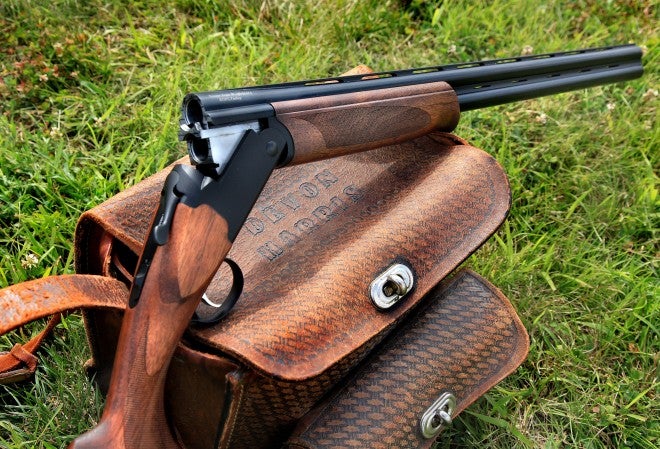 The 555 is available now, and looks pretty good for what it is. Here are some specs:
Model 555, 12 Gauge:
Part number: 22165
28 inch barrels
14-3/8″ length of pull (LOP)
2-1/8-inch drop at comb
Weight: 6 pounds
44-7/8″ overall length
Chamber: 2-3/4″ & 3″
MSRP: $692.00
Model 555, 20 Gauge:
Part number: 22166
26 inch barrels
14-3/8″ length of pull (LOP)
2-1/4″ drop at comb
Weight: 5.5 pounds
42-7/8″ overall length
Chamber: 2-3/4″ & 3″
MSRP: $692.00
Visit the Savage Arms website for more info.