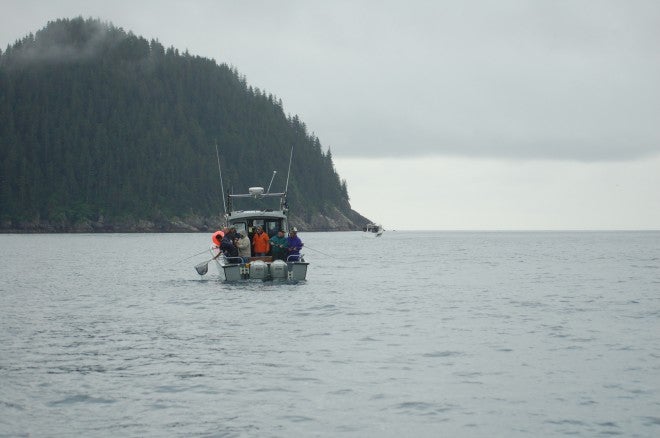 If you have never been to Alaska, then get out your bucket list and immediately put an entry in under "place to go this year." All of Alaska is a postcard state, but few of the destinations are as panoramic as the southern coastal town of Seward direct down Highway 9 (also known as the Seward Highway) from Anchorage.
The trip itinerary can be as simple or as expanded as you want. The easy course is to fly into Anchorage on a Friday. Stay overnight at the Long House Hotel on Lake Hood. On Saturday catch the city bus downtown to experience and shop the huge outdoor fair for fun, food, souvenirs, and local crafts. You can pick up your rental car downtown, too.
Then eat dinner at one of the excellent restaurants in the downtown area. This affords a great opportunity to taste some local beers and get a head start on some primo grilled salmon or halibut. There are other touristy venues downtown, too, so don't miss them if this is your first time to Anchorage. It's all part of the total experience.
On Sunday morning, take a leisurely breakfast at the Long House, then head out. I highly recommend a stop at the Mt. View Sports Center at 3838 Old Seward Highway if you are truly an outdoors person. This is one of the most well stocked outdoors stores I have visited anywhere. You can buy just about anything there from Filson® to local brands. Just shop the gun racks to look at their expansive stock. They have an excellent book selection on many Alaskan topics. If you fly fish, then this shop has an extensive stock of flies, rods, reels, and other fishing gear.
As you head down Highway 9 toward Seward, be sure you have your camera at the ready. There are numerous pull-out parking areas along the way for taking a break and some photos of the mountains across the bay. When I go with my brother, we pack a picnic lunch and stop at one of these rest areas to eat and gaze at the beautiful scenery.
Once you get into Seward, check into your housing. During the trip planning stages, you can do an extensive net search on Seward for hotels, motels, as well as bed and breakfasts. If you happen to be active or ex-military you can get condos or motel rooms at The Seward Resort for military personnel, but these usually have to be booked a year or more in advance.
After you settle in, take stock of your time there and make plans for what you want to do when. There are tons of venues to visit besides the fishing part. Drive down to the city harbor area or downtown Seward for dinner and just to look around to get your bearings on the place.
For booking fishing trips, go into The Fish House across from the harbor. You can work with them to book a full day or half day fishing trip for salmon, halibut, and other fish caught along the way. You can shop around, but we have found in multiple trips this is the best way to go and turns out to be the most economical. They book the charter boat, and you just show up ready to go. You can buy your fishing licenses there, too.
On the morning of your trip which usually begins by 6-7 am, have all your personal gear in a backpack ready to board. You will be given a dock slip number where to show up. Take a lunch, water, snacks, sunscreen, Dramamine if you get motion sickness, a hat, gloves, and rain gear. Some kind of warm vest or jacket is a good idea, too. Bring your camera.
On a typical fishing trip there could be as many as six anglers on the boat. The charter boat will have all the fishing gear, bait, and will clean your fish back at the harbor dock. Depending on the fishing trip you book, you could travel out to sea from Seward's Resurrection Bay for 60 miles or so into 100 feet of water for halibut. For salmon, they may just stay in the bay.
The salmon usually caught from Seward are silver salmon, one of the better eating salmon to be caught. Fish size varies from five to twenty pounds give or take. An ideal halibut size is around 30-40 pounds because they eat best.
The fishing style for salmon is to cast out into the deep, cold Alaskan waters with a variety of lures or baits the boat captain and deckhand will suggest. It is straight line fishing, so you have to be on guard for a fish biting and be ready to hook it. I tend to lose a few before I finally get the hang of it. Salmon can give a respectable fight on line, so expect some fun fishing action once you yell "fish on."
You can expect the charter boat to stay out long enough for all the anglers on board to reasonably have time to fill their limits. Those vary annually, but in the past have been two halibut and four salmon each. Remember, you can fish multiple days, too.
One tip I recommend is to bring clothing and consumable supplies in a big cooler and check it as baggage. On the return trip, pack the frozen fish in the bottom (most hotels have walk in freezers, but check) and cover with your dirty laundry as insulation. If you have direct flights home, the fish may just be starting to thaw when you arrive.
Definitely a bucket list trip, fishing for salmon in Alaska is an all time classic adventure. Of course, you can also book float trips on the famous Kenai or take in the glaciers, whale watching, and all else. It's such a trip-of-a-lifetime that I've been five times now.