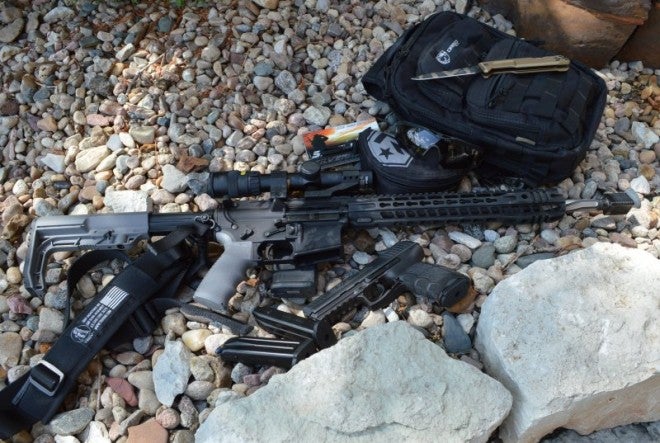 I love to try new products, new ideas, and new manufacturers. In this build I attempted to showcase a number of those new ideas from the front to the back of the rifle. The result is one uniquely forward looking rifle which looks awesome and shoots great.
From the interesting looking muzzle brake to the Mission First grey Minimalist buttstock, there are a number of manufacturers who are making AR-15 performance products that are different than the expected Mil-Spec norm. Some purport to deliver performance upgrades, others look cool, and others add features the AR-15 never had or take away something the AR-15 has had for a long time.
Aero Precision No-Forward Assist Upper ($84.99 MSRP)
I started with Aero Precision's unique No-Forward Assist upper. This is a unique product in the industry which actually takes away a classic AR-15 function that some folks such as myself are pretty excited about it — they removed the forward assist. The forward assist did not exist on very early M16s, but due to reliability was added to assure rounds made it in the chamber.
There are heated debates on whether the forward bolt assist mechanism is a relevant feature any longer. It was initially added as a solution to solve of the early ammo woes experienced in the Vietnam war. The thought was that if you could get a round in the chamber it would blow out and kinda self clean the gun until the next lull in shooting caused the in-barrel powder residue to cause feeding and functioning issues again. The military did at one time teach to hit the forward assist after each reload to assure the first round from the mag was definitely in the chamber. Most of the military guys I know say this is not the case any longer.
The very few times I have used the forward assist just left me swearing with some out of spec inexpensive steel cased ammo. It pushed the rounds in the chamber, but I ended up jack hammering the AR-15 on the ground to free the now jammed rounds after detonation. Sure, in some very extreme situations the forward assist can help keep an insanely dirty AR-15 shooting even if there is damage or gunk preventing normal cycling. My opinion is if a normal Condition 1 or Condition 2 failure clearing drill does not re-enable firearm operation, there is something serious wrong which requires disassembly.
I am not alone in my complete non-use of the forward assist. The current industry best practice for misfeeding rounds is not to hit the forward assist, but instead to get that damn round the hell out of the gun and put a round in that will cycle. So Aero Precision asked the question "Do we really need a forward assist if no one is using it?"
Customers surveys on the company's Facebook page indicated that a mil-spec upper without the forward assist would be a great product as long as they kep the ejection port cover, and they whipped out the CAD eraser tool and removed the forward assist milling process. The upper is cleaner looking and of course shaves it ounces from the weight of the upper — all great things if you never use the forward assist.
Aero Precision Ambi-Lower (MSRP $165)
Another AP innovation is their Mil-Spec compatible AR-15 Ambi Lower receiver designed around the Battle Arms Development Short Throw Ambi-Selector Switch (abbreviated B.A.D. A.S.S.) Aero Precision's design adds a right hand trigger finger bolt release/catch control paddle which is proprietary to the AP Ambi lower design. The index finger can simply reach up after dropping the mag and be ready to release the bolt when the fresh mag is inserted. If you are a lefty, this delivers right side controls to drop the bolt after reloading. Aero's Ambi-lower is probably one of the cleanest and least expensive ambi-lowers I have tested without jumping into custom billet price ranges.
Aero went a step further into the custom lower receiver realm by making their forged Ambi-Lower pictograms which align to the B.A.D. A.S.S. short throw ambi-Selector switch. This selector adds ambi-controls to the right hand of the receiver and features a short 45 degree throw to speed selector switch operation. Beyond that, the AP Ambi-Lower is just like any other top shelf Mil-Spec AR-15 Forged lower receiver. $165 with Ambi-Bolt release + BAD-ASS Ambi-Selector $85. The receiver is also compatible with any standard ambi-magazine release control available as well.
PWS Enhanced DI Carrier (MSRP $199.95)
This ain't your daddy's carrier. Primary Weapons Systems decided to offer a version of its carrier used in the PWS MK1 rifle famous for reliability but in a direct impingement version.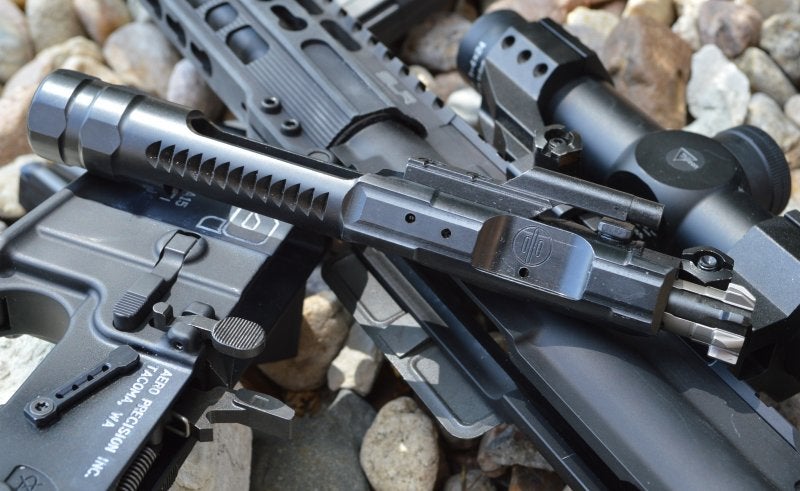 The PWS Enhanced DI carrier is made from tool steel, isonite QPQ treated for durability. The DI carrier has increased carrier mass to extend dwell time and delay unlock to allow chamber pressure to be greatly reduced for easier extraction. They have placed strategic gaps and channels between skid pads to allow for fewer points of contact to deliver smoother cycling and less friction even though the carrier is overall a little heavier. It not only looks different, but feels a little different cycling as well.
Length 6.625"
Diameter 0.98"
Coating Isonite QPQ®
Weight 9.9 oz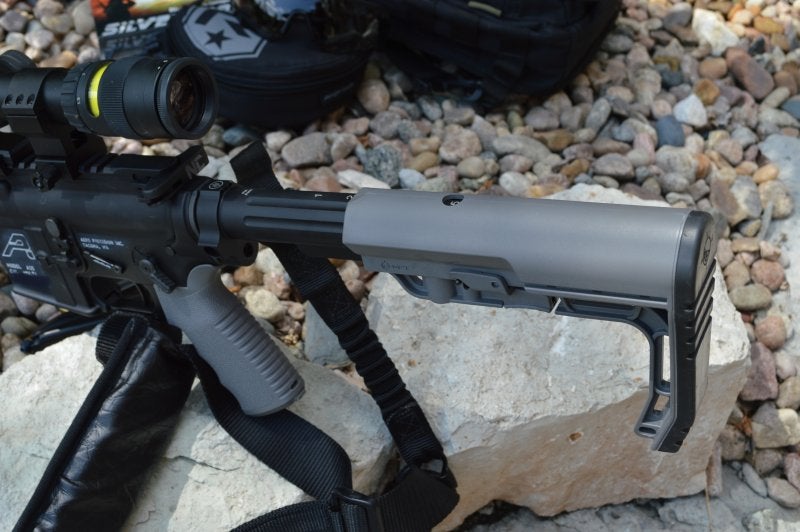 PWS Billet Buffer Tube (MSRP $149.99)
The PWS Billet Buffer Tube is machined from one piece of 6061 aircraft-grade aluminum and packs more features into the PWS buffer tube. The tube eliminates the the castle nut, and it adds a unique indexing screw and plate system that ensures precise alignment of the buffer tube. It also features a lip that extends into the receiver to support the carrier, and integrated QD attachments are machined directly into the aluminum for durability and weight savings. Some fluting on the tube creating channels for debris, and it also features a nickel Teflon coating, 4140 steel, and several drain holes to allow water to escape the system. Innovative? You Betcha!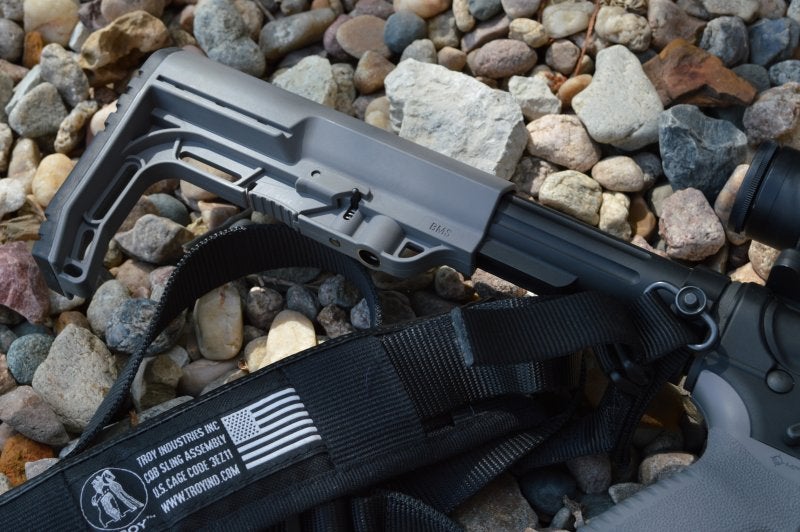 Sharps Relia-Bolt (MSRP $149)
The standard $65 AR-15 bolt available anywhere is essentially a non-optimal squares-on-squares engagement with the barrel extension that requires near perfect alignment to work. Luckily, the original Stoner design assures that in most cases the bolt will turn clockwise to unlock from the barrel extension lugs and the top of the cam will be held in unlocked position throughout the cycle by a groove in the upper receiver. The BCG cycles, picks up another round, and relocks with a counter-clockwise twist after clearing the barrel extension lugs about the same time the top of the cam pin can move over in the can pin rotation recess in the upper receiver. Ultimately this is what is supposed to happen, but in extreme situations, grit, grime and wear to the cam pin, receiver, and piston rings can throw everything off and cause problems which prevent the bolt from locking or engaging fully.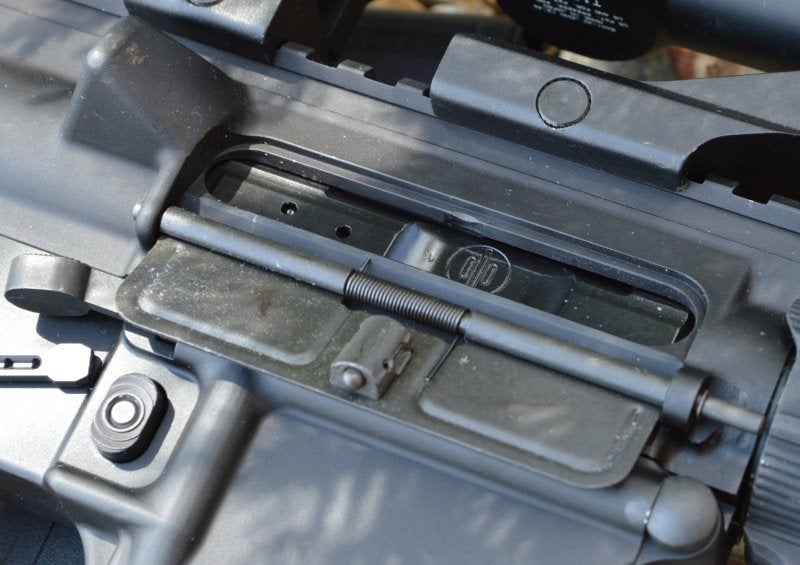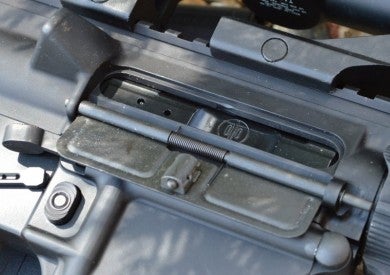 The Sharps Relia-Bolt answers these problem with a self-lubricating, self-cleaning design. The bolt is coated with NP3 which for all practical purposes is hardened Teflon and is essentially self-cleaning which can literally be cleaned by wiping with a soft cloth. The tapered leading edges of the bolt lugs in theory also help to plow through buildup around the barrel extension lugs, which could occur during extreme neglectful maintenance or situation where a high amount of debris may have found its way into the chamber area. Revolutionary? Well, possibly, but definitely a unique compared to any other AR-15 bolt on the market.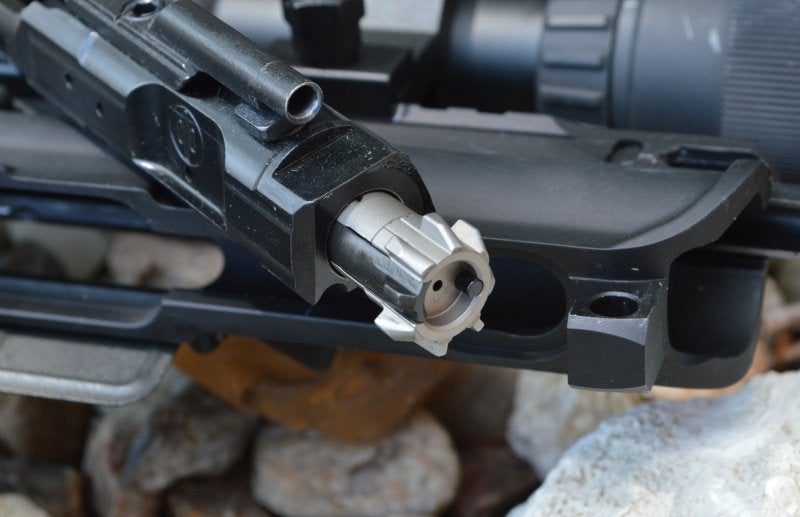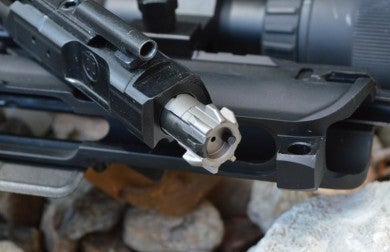 Compatible with all existing .223/5.56 variant parts groups and bolt carriers. No modification or tools are required for installation. Also works with all .223 cased variants – 300 Blackout, 25-45 Sharps, …etc.
The Relia-Bolt is machined from S7 tool steel, which significantly increases its strength. When compared to mil spec Carpenter 158, the S7 steel provides a 75% increase in tensile strength, and 60% improvement in yield strength.
Every Relia-Bolt is coated with NP3, an electrodes nickels-based finish that co-deposits sub-micron particles of PTFE (polytetrafluoroethylene), commonly known as Teflon. Even after thousands of rounds without cleaning, carbon residue can be wiped away with a soft cloth.
Lifetime Warranty
Black Hole Weaponry .223 Wylde Barrel (MSRP $320)
Black Hole Weaponry offers match grade polygonal rifled barrels that starts around $320. Not heard of Black Hole Weaponry? They sell barrels direct to customers, but they are primarily an OEM barrel supplier for many AR brands you know that punch tiny little groups. I have featured Black Hole Weaponry barrels in a number of builds and have always been impressed with the accuracy of their barrels.
If you want a certain stainless barrel weight, feel, barrel profile, fluting, or finish in a carbine, mid, or rifle-length gas system, Black Hole Weaponry can accommodate almost any request within their regular list of options.
What makes Black Hole Weaponry barrel different is their three-land polygonal rifling based on a 416R stainless steel blank. The rifling shape is a series of arcs instead of square corners, as in the traditional style of Enfield rifling. This arc shaped rifling has long been held in very high regard for its accuracy, increased velocity, reduced gas cutting and ease of cleaning. From my experience now with three Black Hole barrels, polygonal rifling delivers outstanding accuracy and runs significantly cleaner and requires far less cleaning compared to other comparable cut rifled barrels. Black Hole Weaponry barrel are thankfully different from the norm and perform far beyond the capabilities of all but the best premium AR-15 match barrel.
Bird of Prey Muzzle Brake (MSRP $150)
At SHOT 2014 his manufacturer was literally handing these Muzzle Brakes out to almost any media person walking by his booth. Due to the outrageously futuristic design of this triangular brake, stupidly many folks were just saying "uhh, no thanks".
I, on the other hand, am always looking for new and interesting products, and the Bird of Prey muzzle brake is definitely interesting, intriguing, possibly cool, and some would say a little weird looking. Though it does not look like an A2 birdcage or a standard brake, I will admit that this seems to be one of the more effective brakes out there. It also does not jack up the sound pressure for the shooter like regular brakes, and it does an outstanding job of keeping the muzzle down and the rifle flat.
The design is basically a stacked set of custom milled triangular washers with the bottom sealed to reduce dust signature when shooting prone.
Unlike many "muzzle brakes" I have tested, which provide a felt and forcible downforce, the Bird of Prey delivers a softer downforce feel while still delivering zero muzzle rise on this rifle. As strange as it may look, this is an incredibly well made brake, all USA manufactured, and very high quality piece. At MSRP $150 and Street price of $115 it is not especially cheap, but it works exceptionally well and is definitely outside the normal muzzle brake design.
Patent pending design "renders generic cylindrical compensators obsolete".
The Bird of Prey eliminates muzzle rise, helps to reduce recoil and muzzle blast.
Case hardened USA steel, and available in 1/2×28 threads for .223/5.56 caliber firearms. $124.95
Nordic Components Heavy Duty Charging Handle (MSRP $24.99)
I have used Nordic's billet aluminum Heavy-duty Charging Handle on many builds including the Lone Survivor Charity rifles I donated. The beauty of the design is that the charging handle stays true to the charging handle raceway as it slides and doesn't rotate while pulling back. Machined of billet aluminum and anodized matte black to match your AR. Comes with a standard latch. For only $24.99, it is the best and strongest in the business. Revolutiony? No, but definitely evolutionary.
SLR RIfleworks Adjustable Gas Block and Solo 14" Keymod Handguard (MSRP $119.99)
I needed a handguard and adjustable gas block for this build and I thought it appropriated to use a few of SLR Rifleswork's products. SLR was one of the first companies to offer an expansive line of KeyMod handguard forends in a variety of lengths and designs. SLR also offers some of the features I love in handguards including: a long barrel nut to add strength to the handguard/upper receiver union, a slim handguard design, any standard barrel nut tool can be used for installation, and a price which is very competitive in the market. Another little addition and modification to the KeyMod design is that every KeyMod slot doubles as a QD sling mount – a feature which SLR pioneered. All very cool innovations.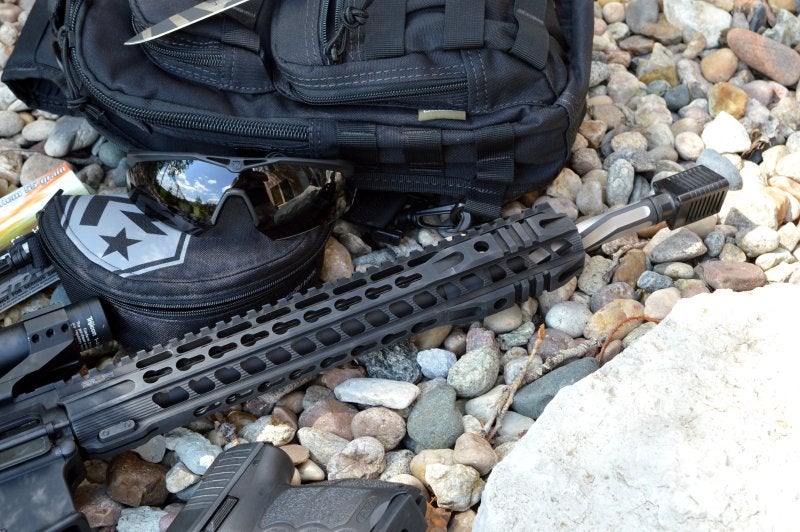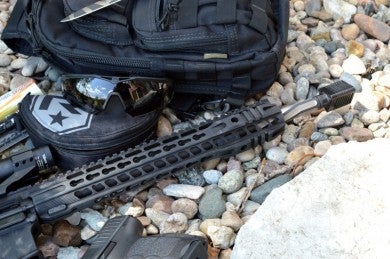 14″ Solo KeyMod
SLR's Q-Mod – All Keymod slots double as QD swivel mounting points
12.7oz oz – ​1.3″ ID
Mil-Spec Hardcoat Anodize
7075 Barrel nut w/ Handcoat Anodize
Free Floating Design – Grade 8 Fasteners
Ti Anti Slip plate – Anti Rotation- Anti Slip Design
No Special Tools Need for Barrel Nut
Continuous top rail design
Mil-Spec 1913 Mounting rails
SLR Rifleworks also took the idea of the adjustable gas block in a different direction. Several problems with adjustable gas blocks are that they can clog and they can fall out of adjustment. SLR developed a design which prevents gas from leaking and fouling the adjustment and paired it with a detent that assures it will never fall out of adjustment. My favorite adjustable gas block made and definitely different than your typical gas block with a screw in it.
HiperTouch HiperFire 24-3Gun Trigger
If you have not heard about the HiperFire line of Single-Stage triggers, you should seriously consider them. They are absolutely revolutionary from the HiperTouch 24 to the enhanced HiperTouch 24E, to the full blown super tuned 24C competition and new 24 3Gun models all in a game changing cam-action trigger design.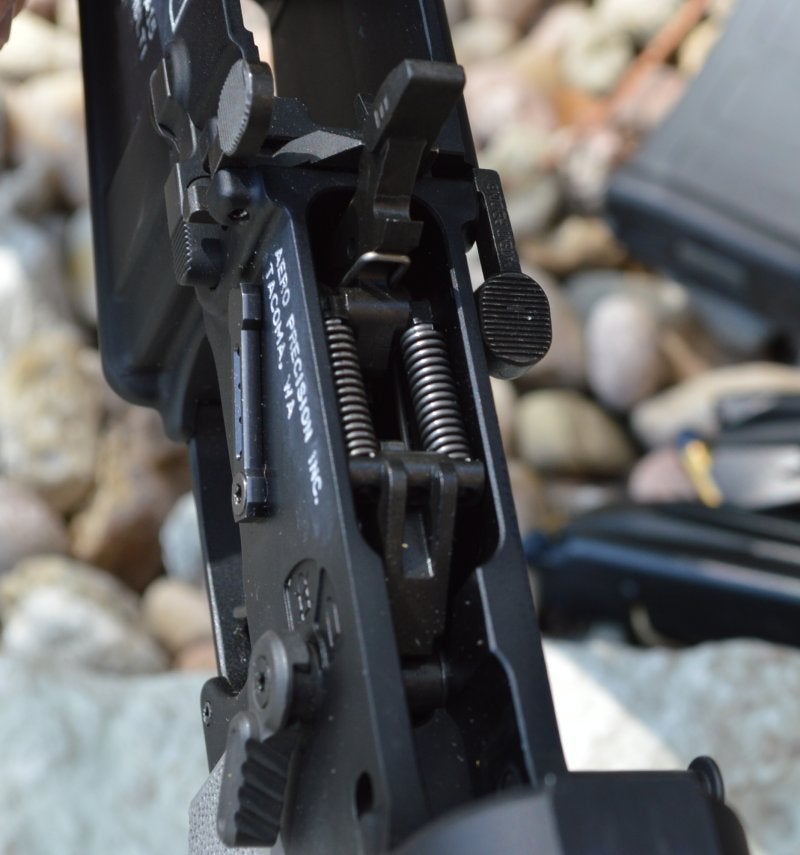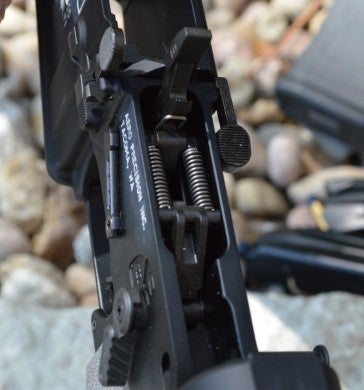 The problem is that many of these trigger design goals are all opposing forces. A smooth, fast, and flat pretravel and crisp light final break all require low forces at the sear which equates to the need for lighter hammer and trigger springs which can lead to light hammer strikes and less reliable ignition. In standard trigger designs, very fast trigger resets, minimized lock times, and high hammerfall impact require heavy springs which creates a crappy feeling heavy trigger. The final dimension is tuning out pre-travel, overtravel, and ensuring a crisp trigger break which are all impacted by the above light or heavy springs. Bad tuning can further impact reliability and safety. The end result is that trigger engineers have their work cut out for them to strike a balance for a great trigger.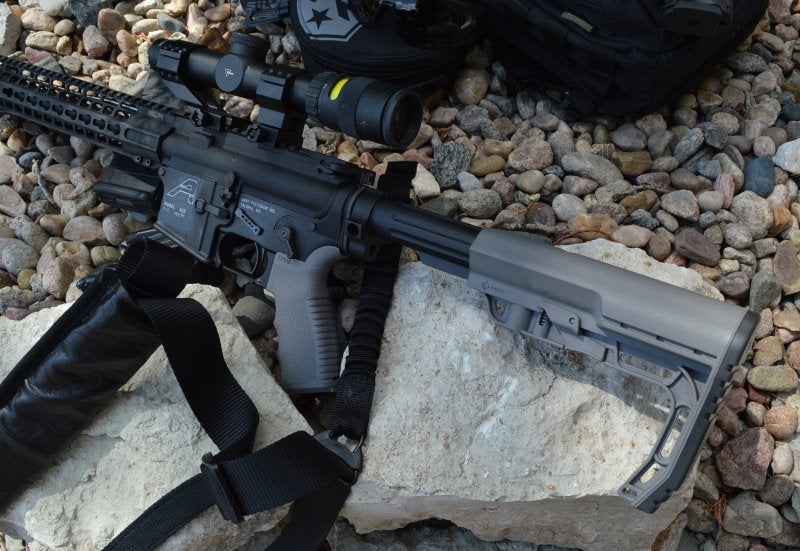 The magic of the HiperTouch HiperFire design is delivered via spring cammed pressure on the hammer, which counteracts much of the hammer spring force within the first couple of degrees of movement around the point of sear engagement. This delivers the perfect situation for a great feeling trigger and break. After the hammer begins to move forward the cam applies pressure the other way and greatly increases the hammer force. This increases hammerfall force, decreases lock time…etc. It's a mind screw when you first pull back the extra force hammer and have such a light trigger pull. It's a best of both worlds design and its a totally new trigger design. Actually I consider it the most revolutionary trigger design available for the AR-15 and it works wonderfully and the HiperFire 24 3Gun is their top model with a curved blade trigger.
Mission First Tactical Engage Grip and Battlelink Minimalist Buttstock
It is not very often that a new company takes on a market giant and actually begins eating their lunch on a regular basis. This is what Mission First Tactical did when it took on the very dominate market leader Magpul. The battle is far from over, but Mission First has used its parent company's distribution connection (Fobus) and jumped into the market with something different, more interesting, and some would argue better than what is on the market already. My personal favorite feature is that they were the first to offer some of their products in the color grey. I find their Engage Pistol grips and Minimalist buttstock more comfortable than what their competition offers and cooler looking. Mission first is bringing new evolutionary and innovative designs.
Optics
Sadly, I could not get my hands on a high tech auto tracking Tracking Point scope, but I did win an auction on Ebay for a Trijicon 1-4x scope which is perfect for this 3Gun feeling build. It was $400 well spent on an optic which still has a little glimmer of tritium glow left in the dot and looks great when light is present with the fiber optic lit reticle.
Final thoughts
All in, I have around $2300 in this build including the used Trijicon Ebay find. So how does it shoot? At 50-yards it delivers single hole groups, at 100-yards .5"-.6" groups are common with Hornady Tap and Match, Federal Gold Match, and Liberty Ammo Silverado Copper bullet ammo and all the way out to 300-yards I can still hold under 4"-6" with the 1-4X scope. I have around 1000 rounds through the build without cleaning or lube beyond the first clean and lube and have not had a feeding or functioning bobble.
Am I burying a $2300 custom AR-15 in a foot of mil-spec mud or caking the breech of a match grade barrel with mud to test durability? No, that would be moronic, but I did add up round count to see how the build all worked together. I have had "stock" rifles fail far before that round count. Frankly, I loved putting all these new ideas into one rifle to test whether all the new and innovative ideas worked together. Give some innovation a try on your next AR-15 build.
Sources
BLACK HOLE WEAPONRY BARREL – http://www.blackholeweaponry.com
BIRD OF PREY MUZZLE BRAKE – http://www.stockpilelogistics.com/
SLR RIFLEWORKS – https://www.slrrifleworks.com/
AERO PRECISION NO-FORWARD ASSIST UPPER – http://aeroprecisionusa.com/
AERO PRECISON AMBI-LOWER – http://aeroprecisionusa.com/
MISSION FIRST TACTICAL GRIP and STOCK – http://www.missionfirsttactical.com/
HIPERTOUCH HIPERFIRE 24 TRIGGER – http://www.hiperfire.com/
NORDIC COMPONENTS HEAVY DUTY CHARGING HANDLE – http://nordiccomp.com/
PRIMARY WEAPONS ENHANCED CARRIER – http://primaryweapons.com/accessories/dicarrier/
SHARPS RELIA-BOLT – http://srcarms.com/
USED TRIJICON 1-4 SCOPE – ebay – http://www.trijicon.com