Review: WMD Guns Blackout Beast in 300 Blackout Prototype
Major Pandemic 08.20.14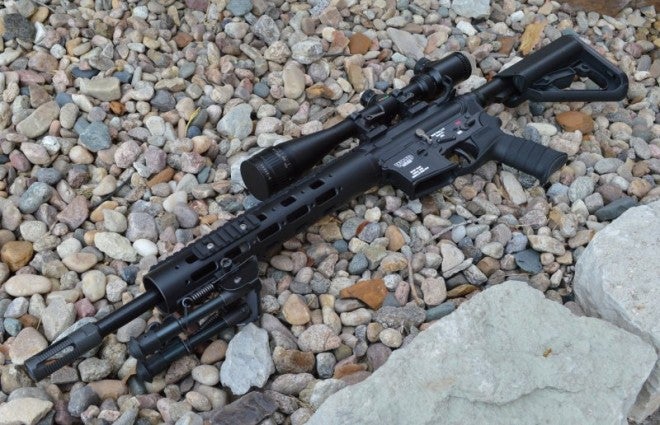 After purchasing a BPM WMD coated AR-15 and had WMD NiB-X coat my Browning A5, I have been impressed–very impressed. The NiB-X coating is super slick and durable. In the case of my Browning it was a transformative upgrade to durability, looks, and cycling.
After those articles, WMD reached out to me and wanted to send me one of their prototype "Beast" AR-15 rifles based on their Beast AR-15 Chassis Platform. WMD is one of the preeminent coating companies across many industries, but more recently their finishes have really been sought after in the firearms industry due to their corrosion resistant and high-performance finishes, including Nitromet barrel treatments and NiB-X coatings.
The WMD Guns NiB-X finish is roughly similar to NP3 or Nickel-Boron (Ni-Bo) finishes, but WMD's proprietary Nickel-Boron finish adds a huge amount of lubricity and ups the durability as well. Their Nitromet finish is similar to meloniting but offers a higher tolerance finish, more durability, up to 30% more barrel life, and potentially increased accuracy because it does not change tolerances like chrome lining.
After their success in the firearms industry, WMD decided to offer complete 5.56 Nato and 300 Blackout AR-15 chassis, which only require the user to bolt on furniture for completion–a complete AR-15 minus the owner supplied buttstock, forend, grip, and flash hider/brake. WMD is offering these for sale to dealers, distributors, and direct to consumers. WMD named the chassis "The Beast," indicating that they can continue performing even in the most adverse environments due to nearly every part being coated with their proprietary coatings.
Buyers will end up with a premium grade, totally weather and corrosion resistant AR-15 with a choice of either the natural silver/grey NiB-X finish or the Blackout version, which adds a Black Ceramic topcoat on top of the NiB-X grey finish.
When I spoke with WMD, they said that most distributors and buyers were wanting a simple option to build a customized AR-15 on a factory assembled chassis, thus "The Beast" chassis was born. They packed the chassis with all premium components, complete with their own NiB-X, Ceramic, and Nitromet coatings. The prototype that WMD provided for testing was the first ever "Blackout" black ceramic over NiB-X AR-15 chassis they created as a prototype to show off their capabilities and offer all the advantages of the NiB-X coating for agencies and individuals who require a black finish. WMD chose a play on words for their prototype Blackout chassis by opting for the 300 Blackout chambering. I am not a huge 300 Blackout fan, but I appreciate the humor and the rifle delivered excellent accuracy and functioning.
Fit, Finish, Feel, Features, and Functions
The fit of the chassis is excellent, and the finish is flawless. I had only seen WMD's grey/silver NiB-X colored coatings, so I was a bit perplexed when I opened the case at the dealer to find a completed black rifle inside. It took me a few minutes and a phone call to realize that I had WMD's first prototype Beast with an added black ceramic topcoat. It was indeed everything I had seen, but with a black ceramic finish.
Buyers end up with an AR-15 which actually has two coatings without the flashy custom silver look of the raw NiB-X finish. WMD did leave a few parts uncoated, such as the gas block, bolt release, and magazine release, just to add a custom touch and let users know that they have a NiB-X coated rifle underneath all that perfectly smooth black finish.
The Beast Chassis feels, handles, and looks just like any Mil-Spec standard AR-15, but the coatings really slick things up, add a corrosion/weather proof finish, and in the cases of the barrel can even extend life and increase heat dissipation.
The Beast sports the following features:
Fully coated (Nickel Boron) NiB-X 7075 recievers and AR-15 chassis inside and out
Premium high polish NiB-X (Nickel Boron) coated bolt carrier group
NiB-x coated Charging Handle
Case hardened, shot peened, and magnetic particle inspected Carpenter 158 bolt w/Mil-
Spec gas rings
NiB-x coated trigger/fire-control group for smooth operation
Match-grade 1:7 barrel, with Nitromet coating and NiB-X coated exterior for durability and effective heat dissipation
NiB-X coated Low-Profile .750" gas block with Nitromet SS gas tube
Black "Beast" rifles are topcoated with black ceramic for the "black rifle look"
Carbine-length gas system
16″ 4150 Chrome Molybdenum Vanadium barrel w/Nitromet coated bore last 30% longer and all rifles are available in 300 Blackout or 5.56 Nato.
The rifle hand cycles smoother, the stock trigger with NiB-X is also smoother, and even the buffer feels like it is sliding up and down the tube on bearings. If I have to classify this gun in one word, it would be smooth.
The supplied prototype had been equipped with Truglo 6-24 optic, Stark Pistol Grip and Buttstock, POF Match Trigger, and Cabelas Bipod. WMD coated a billet hand rail with NiB-X and then top coated it with the same black ceramic finish as the receivers. It was a great example of what could be done from a user perspective to customize their own rifle.
WMD is definitely paying attention to the details and is building these chassis right. All the little usual details were looked after to deliver a tight solid build. At the range, this rig delivered excellent sub-MOA 100-yard groups from a variety of 110gr HV – High Velocity 300 Blackout rounds. As expected it did not cycle 220gr subsonic rounds unsuppressed, but very few builds will unless they have pistol length gas systems. The Beast features a carbine length gas system with an enlarged gas port to assure reliabilty for the 110gr HV round it was designed around.
Final Thoughts
I have reached out to WMD and am looking forward to working up a build with one of WMD's standard grey/silver finished chassis to show off how custom they can become. I am sold on the coatings WMD is delivering. They are more consistent than cerakote and other glorified paints, do not dimensionally change the part, and deliver superior finish, lubricity, and durability of many other finishes I have tested. Expect more builds featuring their coatings.
I am always looking out for new and creative ideas in the firearms market, and WMD seems to have a stunning idea. Why not let the customers add their own furniture instead of selling a rifle and having the customer toss all the furniture and flash hider as soon as they get home just to replace it with something else. Add in the NiB-X bolt carrier and coatings and you have one well appointed gun. It was fun to test this prototype for WMD before sending it back.
SPECS
Fully coated (Nickel Boron) NiB-X AR-15 chassis inside and out
Premium high polish NiB-X (Nickel Boron) coated bolt carrier group & Charging Handle
Case hardened, shot peened & magnetic particle inspected Carpenter 158 bolt w/Mil-
Spec gas rings
NiB-x caoted trigger/fire-control group, for smooth operation
Match-grade 1:7 barrel, with Nitromet coating and NiB-X coated exterior for durability and effective heat dissipation
NiB-X coated Low-Profile .750" gas block with Nitromet SS gas tube
Rock-Solid 7075 allow upper & lower receivers completely coated inside and out with NiB-X
Black "Beast" rifles are topcoated with black ceramic for the "black rifle look"
Carbine-length gas system
16″ 4150 Chrome Molybdenum Vanadium barrel w/Nitromet coated bore last 30% longer
Available in 300 Blackout or 5.56 Nato
Prototype WMD Guns, Blackout Beast in 300 Blackout finished with:
Truglo 6×24 (lighted reticle)
Stark Pistol Grip & Buttstock
NiB-X hand rail with black topcoat
POF Trigger
Cabelas Bipod