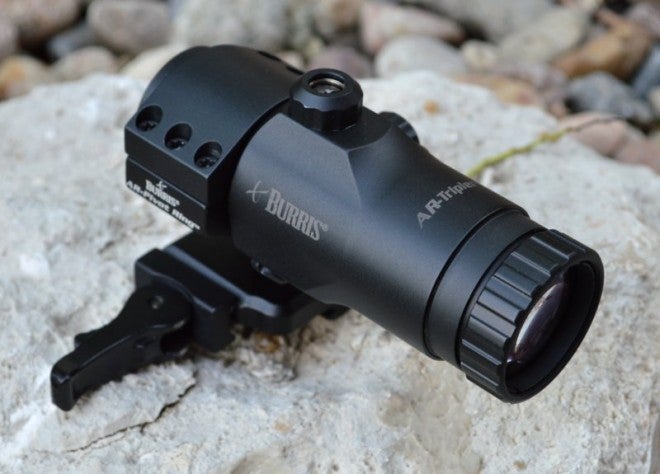 One of the hottest optical trends over the last couple years has been the introduction of a swing-over 2x, 3x, or 4x+ magnifier for non-magnified 1x optics such as the various red dots and holographic sights that now adorn our defensive, sporting, and hunting AR-15 rifles. The concept originated by EOTech is simple: clamp on a swing-over magnifier behind your red dot, and you now have the ability to flip back and forth quickly between non-magnified and magnified target acquisition for the best of both worlds. The concept has been proven to be an extremely handy setup during the ongoing wars were our troops are consistently engaging near and mid-distance targets.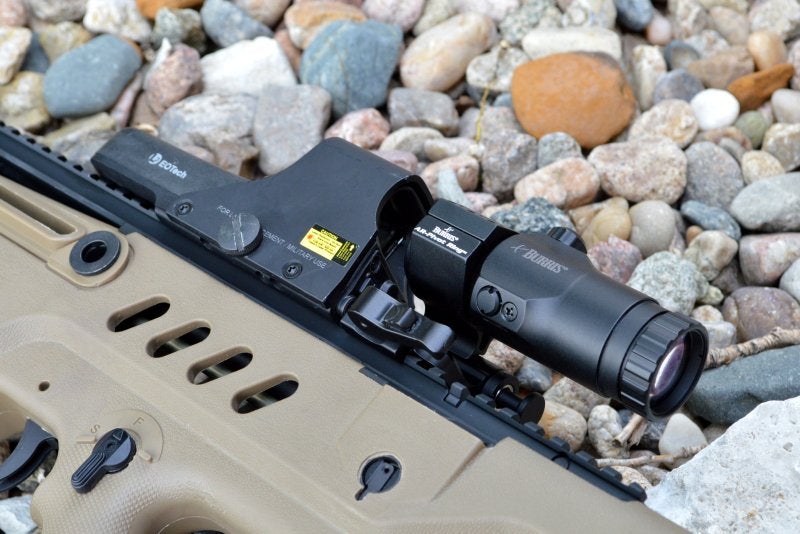 Neat idea, but not everyone wants to drop another $500-$600 on an EOTech magnifier after they just spent who knows how much on the rifle, upgrades, and a red dot optic. So Burris rides to the rescue with a clear, high-quality AR-Tripler option for around $250!
I have mounted my share of Red Dot plus tripler optic combos an AR-15s, but this time I decided to test out the Burris AR-Tripler behind my Eotech 912 on my IWI Tavor. The Tavor is an awesome platform that I have grown to love more and more. Adding the Burris AR-Tripler pushes the capabilities and precision of the platform further down range.
Fit, Feel, Features, and Function
Where the EOTech and included mount allows the tripler to be slapped back and forth, held in each position by a very strong detent, the Burris AR-Tripler requires you to push a button for the magnifier to swing out of the way. Vortex and others have the same feature, which takes a bit of of getting used to if you are used to the EOTech version. The upside of this arrangement is that the magnifier does not accidentally get bumped open or closed, which I have had happen on the EOTech.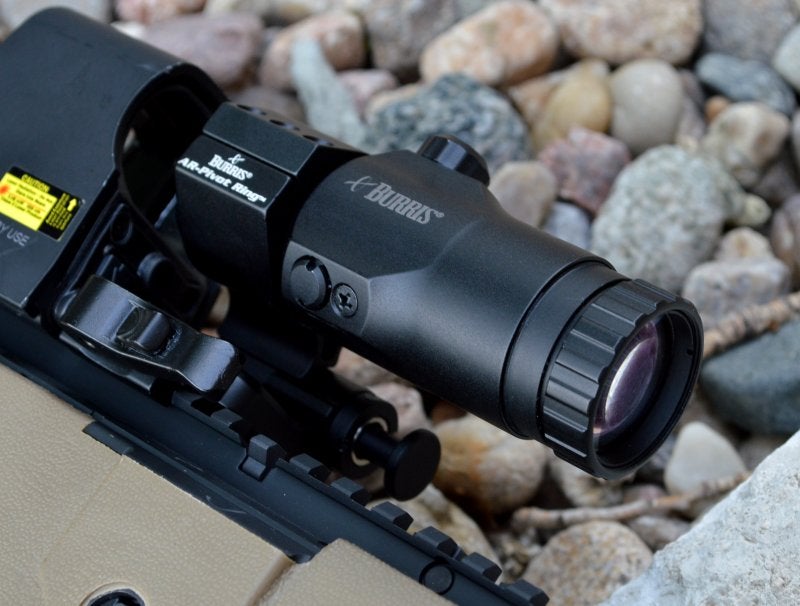 The Burris AR-Tripler features windage and elevation adjustments to assure the red dot viewed through the AR-Tripler is centered on the magnifier. Additionally, Burris has added an eyepiece focus adjustment to ensure you have a crisp and clearly focused image. I see more than a few inexpensive magnifiers that do not have these features and thus have some alignment and focus problems in practical use.
The Burris AR-Tripler magnifier is typical Burris quality with the optic clarity you expect from Burris. The big 30mm tube delivers a lot of light, even in low-light conditions. Once adjusted and in place, the magnifier allows precision shots at a longer range than you'd be able to achieve with just a red dot. The 3x magnifier is popular, but I would like to see a higher magnification model from Burris as well.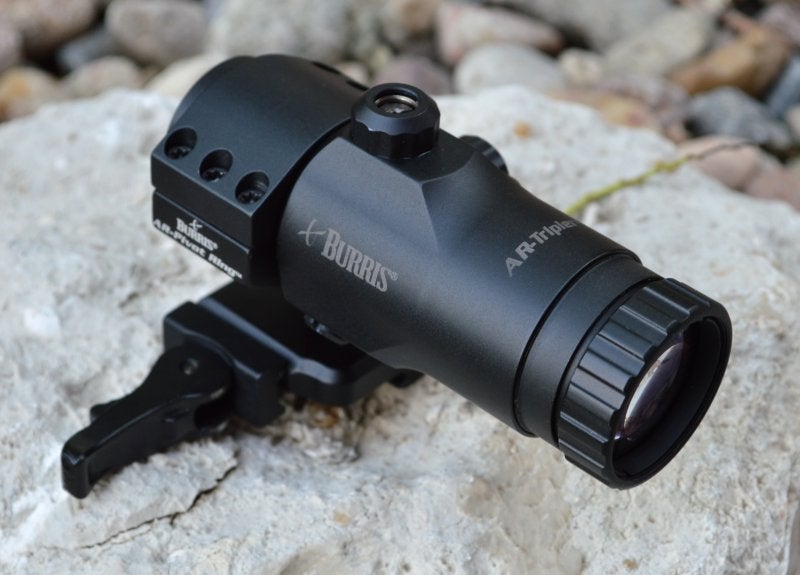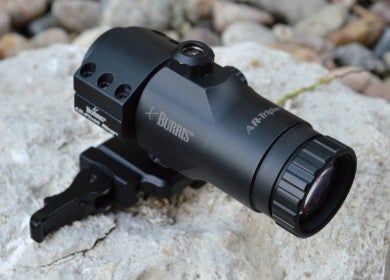 The original included flip-over mount was loose at the pivot point and vibrated image every time I shot. Super annoying. The warranty replacement was tight and problem free. In addition to the push button swing out feature, the Burris Tactical AR Pivot Ring does include a QD picatinny mount feature, which can be handy if the Tripler is not something you use often.
The Burris Tactical AR Pivot Ring sells for around $75, the Tripler without mount sells for about $170, and the combo for around $250. I would definitely buy the Burris AR-Tripler again, but as a personal preference, I might look to other, heavier duty mount options that do not require a push button to flip the magnifier out of the way. But I would expect any of these mount options to run easily into the $100+ range.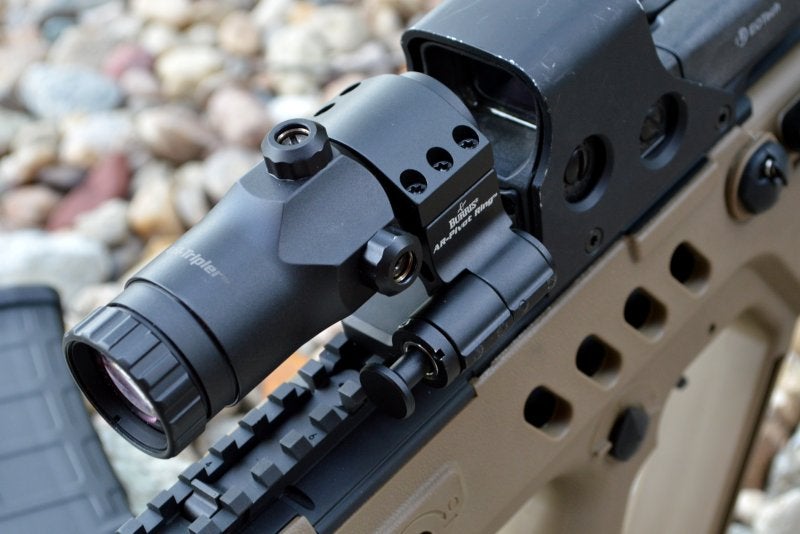 The Burris AR-Tripler with included co-witness height mount aligned well to my old school AA battery-fed EOTech 912, but it should work well with pretty much any co-witness height red dot. If you have a high mounted lower 1/3 co-witness red dot, you will likely need to purchase a separate "high" mount from another vendor.


SHOP NOW
Final Thoughts
The Burris AR-Tripler is a great deal and is going head to head with Vortex's option for a street price difference of only a $40 with a little more optical clarity. Realistically, the Burris AR-Tripler is a more common sense option even when comparing it the the EOTech simply because you are still saving about $200 even if you buy a higher end swing away mount, all while delivering about the same optical clarity. This is an excellent optical Tripler magnifier for pretty much any standard height red dot.
Specs
The AR-Tripler is a ruggedly designed 30mm tube that will give you added versatility when you need it. Designed to increase the range of the XTS-135 by adding 3X magnification, the AR-Tripler can be flipped to the side at the push of a button for close quarters shooting when mounted on the Burris AR-Pivot Mount.
Tube Diameter: 30mm
Height above rail to optic centerline: 1.65″
Fast Focus Eyepiece: Yes
Lens Coating: Yes
Warranty: Burris Forever Warranty
Power: 3x
Finish: Matte
Water/Fogproof: Yes
Shockproof: Yes
Eye Relief: 1.5-3″ depending on front optic
Exit Pupil Diameter: N/A
Weight: 9.1 oz.
MSRP $299
Street Price $250