Review: Black Rain Ordnance BRO-PG13 .308 Rifle
Major Pandemic 10.01.14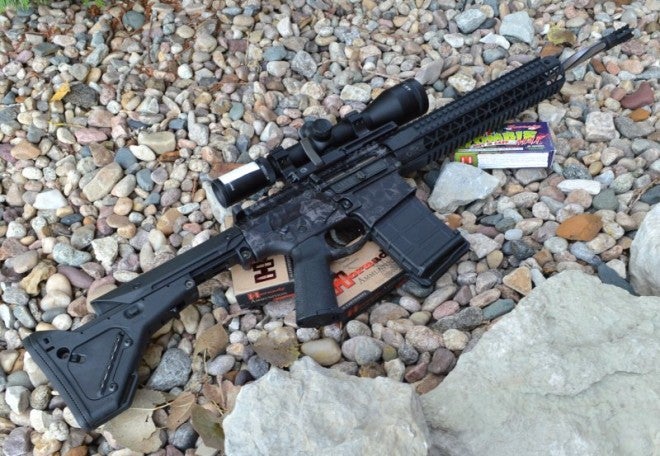 I knew that my love fest with Black Rain Ordnance products would continue as I opened up my latest BRO rifle on my FFL dealer's table. What a gorgeous custom rifle, and the kicker is you can walk into any gun dealer and buy this same rifle shown here – no custom gunsmith and no waiting for months.
Although I own two other rifles from Black Rain, those were both in 5.56 format, but this beast is chambered in my favorite all-around utility cartridge: .308 Winchester. For those who have not owned a Black Rain rifle, they may look (and are) so tricked out that you really expect there to be a catch when it comes to performance, but they still remain one of the top performing factory rifles I have tested. BRO rifles deliver the reliability you expect from any top shelf rifle, along with premium accuracy and head turning looks.
As a guy who has owned and fixed over a half dozen .308 AR platforms, I have become tier 1 tech support, diagnosis, and tuner on the often problematic DPMS .308 platform for many friends and some readers. I actually picked up one .308 DPMS rifle stupid cheap, which was being sold as non-functional and another sold cheap due to "reliability issues." Generally, it only took $10 in parts, just a magazine swap, and some tuning to make them hum perfectly. The DPMS .308 format has proven itself to be far less forgiving to little issues that would not impact reliability on a lighter shooting and shorter cased AR-15 format.
In most cases, the undersized ejection port and over-powered ejector cause most of the issues in the early DPMS GI rifle designs. Black Rain took forever to come out with their tweaked, tuned, and upgraded BRO-PG13 .308 Rifle version of the DPMS format. The main reason for the delay was that they really wanted to assure reliability instead of just getting a rifle out there. That was a hard financial decision, considering that .308 rifles at that time were being scalped on auction sites for two-three times their suggested retail prices. After only a couple hundred rounds behind this BRO-308, I knew that they had sorted out the problematic issues to deliver a reliable and enjoyable .308 AR format out of the box.
It should be no secret by now that I know the Black Rain crew very well. I was one of the first to review their original Fallout-15 AR-15 format rifles, and we are working together on a charity rifle to raise money for the Mercury One Foundation. They have been generous with their time, quietly support charities I believe in, and took a chance on me and trusted me early on as a writer. I think highly of them, but I still do not cut them any slack when it comes to review time.
Black Rain was founded in January 2008 by two gun enthusiasts with retail management backgrounds. They were frustrated by the lack of quality and options in AR-15 firearms.
Their original goal was to offer the finest custom billet upper receivers for AR-15. They then expanded to custom billet lower receiver models called "Fallout15," then complete Fallout15 rifles, and currently their rifles are known by their BRO-PG series. Black Rain is manufacturing each part of their rifles on site, with the exception of a few components like spring and stocks. It should go without saying that each Black Rain Ordnance rifle is 100% American made, but at a time when we are seeing a flood of import AR parts, it is a point worth noting. As of late 2012, Black Rain expanded its line to .308 SR-25/DPMS-308 variant big bore rifles, and as of 2014 they have added AR-15 pistols and are working on the release of a bolt action sniper rifle.
Beyond their custom 7075-T6 machined billet uppers and lowers, Black Rain Ordnance is the only manufacturer who offers a full range of ceramic coated aqua transfer patterns on production rifles at this time. This ceramic durability upgrade coating also adds a stunning level of bling and head snapping looks at the range.
They are also the only AR-15 company to offer stainless custom fluted .223 Wylde, .308 match chambered match grade barrels standard in all their production rifles. Extras and custom parts that improve performance and reliability are all standard in their builds. It all adds up to one hell of a reliable and beautifully made three-gun competition level AR without so much as touch a tool for upgrades.
Black Rain's offerings are a lot like buying the luxury line of a car such as Nissan's Infiniti or Toyota's Lexus, where leather seats, upgraded stereo, and power sunroof are included, if you get the idea. Like many Semi-Custom 1911 pistol manufacturers have done with standard production models, Black Rain is working through a growing number of "stock/standard" models to offer custom production AR rifles, but you can also build your own personalized AR based on Black Rain's components. Black Rain provides your choice of standard direct impingement or upgrades to Piston driven models.
There are some great rifles on the market with similar performance, but Black Rain stands alone with these feature packed rifles and now pistols. It is the BWM 7 Series of the gun world, with a level of custom luxury that just blows people's minds when they see them. No one in the industry is delivering this level of performance and "wow factor" custom rifle off the shelf.
My first review was published way back in October 2011 as the first review Black Rain Ordnance had ever had by any writer anywhere, and they were just starting an insane growth curve. Three years later, they have grown and grown with models stocked across a huge dealer network nationwide, and in August 2013 they were even featured on Glenn Beck's The Blaze. I cannot take credit for discovering Black Rain Ordnance, but I can take credit for being the first guy to say "Ohh yeah, I need to tell everyone about my Fallout15".