Crosman MAR177 upper for AR-15
Oleg Volk 10.06.14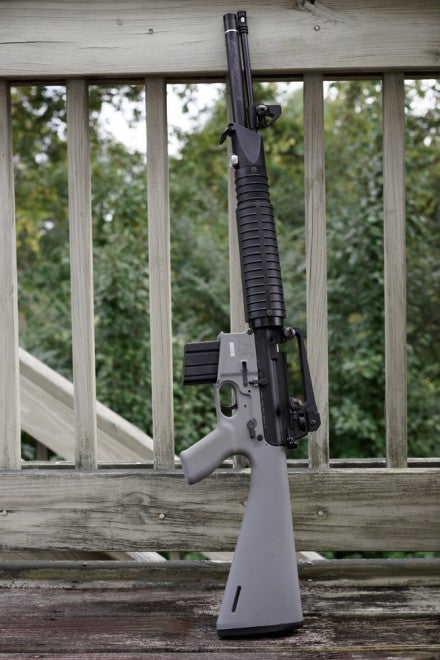 When I first saw a .177 upper for AR-15, I laughed. It wasn't suitable for defensive, therefore wasn't interesting to me. The next time I saw it, I thought it was a cute idea for entirely too much money, $600 retail. And then I grew up and realized that I have more defensive guns and ammunition than time for training, and that's when the pre-charged airgun upper suddenly made sense.
Not being a fan of public ranges (I dislike being exposed to other people's noise.), I mostly shoot on farm ranges. Every one of those is an hour away from me, so the minimal time investment for a range trip is two hours. Not even counting gas, that's a lot of billable hours spent on the road and a lot of fatigue. So I started playing with air guns, which I can shoot in my back yard or on nearby properties. Unfortunately, my favorite air gun up to now, Crosman 2300S, was quite removed from the manual of arms and the general feel of my typical defensive rifle. I wanted to try something more AR-like, especially since I've been neglecting shooting with iron sights lately.
Crosman MAR177 is a pre-charged air gun upper, meaning that is has an integral air tank holding up to 2900PSI for about 120 shots. The muzzle velocity is only 600fps, which is reasonable considering the unit was originally designed for training at 10 meters. The relatively low velocity gives both fairly good endurance on one air charge and a negligible report. Ear protection is not necessary at all, though the pellet impact may be noisy on some backstops. Predictably, felt recoil is also absent.
While some people charge air guns from scuba tanks, I prefer to have the air source with me in the form of a hand pump. A couple of minutes provide both the motive force for the pellets and the much needed exercise for the shooter. The effort required isn't great, but it gets the blood flowing prior to shooting practice. The air tank may be topped off before completely empty. It can also be drained for long-term storage using a pressure relief valve. The advantage of pre-charged air tank is two-fold: not having to stock CO2 powerlets and, more importantly, great consistency in muzzle velocity despite the un-regulated valve. The extreme spread of velocity for this gun is about 3%.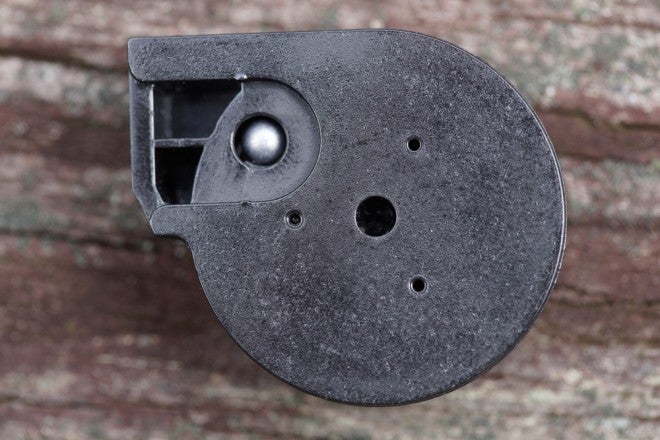 The safety of the lower works as usual, while the bolt hold-open lever becomes inactive. The forend mimics the original closely in appearance, but it is in fact free-floated around the match-grade barrel. The pressure dial is inset on the bottom, not visible from the ready position. The fit to the lower is perfect, tight without being difficult to install. The upper is supplied with a metal dummy magazine designed to emulate a loaded 20-rounder in size and weight. The actual magazine is a plastic 10-shot rotary that protects each pellet from deformation. The rotating spool has a counter visible to the right of the receiver that shows the number of shots launched. I would recommend getting several magazines and loading them in advance.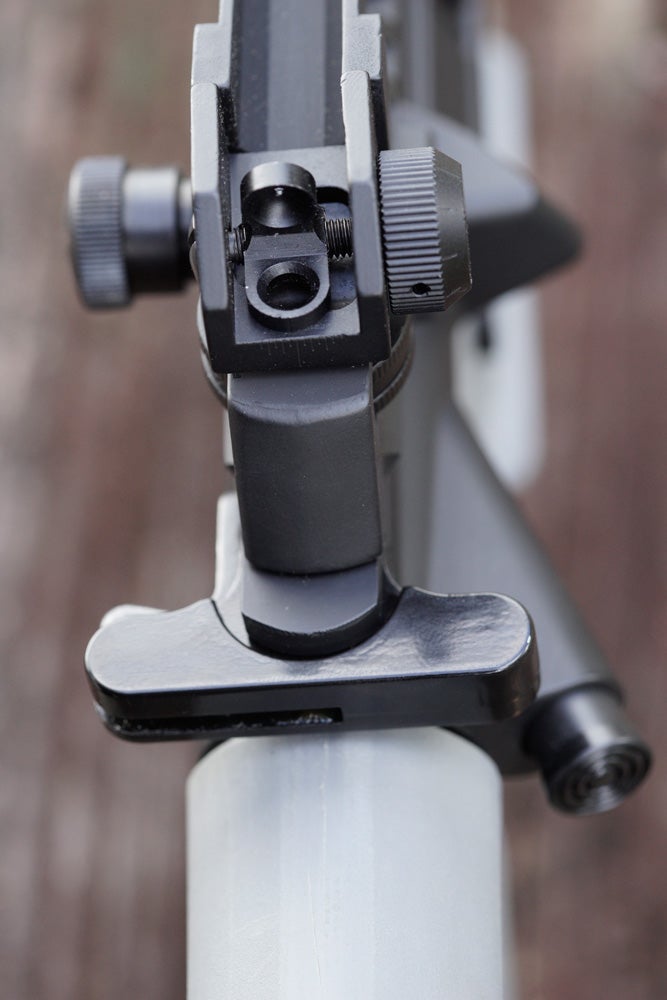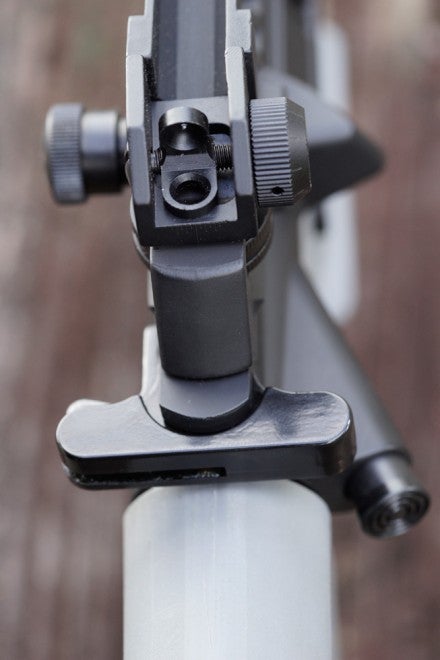 The loading is done by pulling the charging handle back. This is one part that doesn't follow AR-15 manual of arms. The cycling has to be done smartly, but the travel of the bolt handle is short, somewhat disturbing the picture. The forward assist button and the ejection port are also decorative.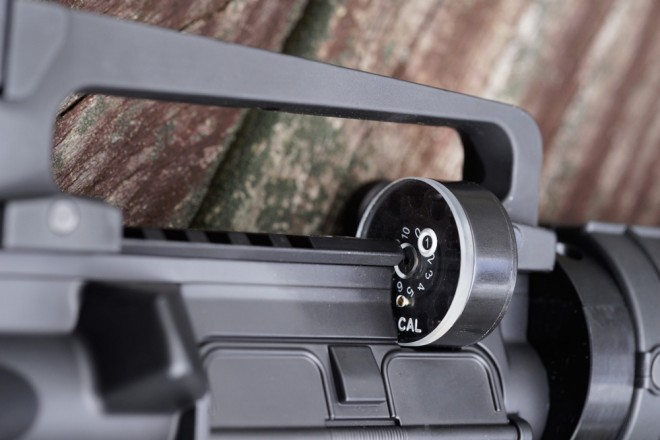 The main purpose of this upper is to make regular practice possible at home. While the 21-inch barrel is very accurate and would turn out smallest groups scoped, I shot it with iron sights to see how much Appleseed classes taught me. Turns out, quite a lot. After zeroing at 15 yards with sub-inch groups, I plinked at a pop can at 20 yards and found the target entirely too large to be challenging. The groups remained under an inch with me shooting as quickly as I could cycle the rifle. It balanced very well, and it proved its value as a marksmanship training aid immediately. For training new shooters, I would recommend adding an offset green laser so that the instructor could gauge the steadiness of the hold, the trigger control, and the follow-through. Since re-setting the trigger is done manually, that part of the practice is unfortunately not possible.
Although the upper is meant for 10-meter competition practice, I see much value in shooting it out further. The low velocity would allow learning about pellet drop, wind drift, and other long-range concerns on a reduced-length range. The high quality barrel fitted with an "air stripper" at the muzzle to reduce "muzzle blast" interference with the pellet is well capable of overlapping all pellets at ten meters. It's up the the shooter to take advantage of the capability. While the carry handle may be removed and replace with optics, I would think iron sights are quite adequate out to 25 yards at least. Pushing out to 50 yards would work best with optics to allow a consistent sight picture on small targets and also make it possible to spot hits without an additional scope.
Can the high priced for a mere upper be justified? For me, absolutely! It pays for itself in three range trips, saving at least six hours of billable work time and 210 miles worth of gas. Think of it as a precision pre-charged air gun that just happens to use an AR-15 lower for the stock and trigger. The next least expensive option with comparable features is significantly more expensive. Can the training with done with either cheaper AR-15 airgun clones or with non-AR looking pellet guns? Absolutely, but with much reduced consistency with the real weapon and usually with rather diminished accuracy as well.
For the new shooter who has more time than money, it is not the best buy. Trigger control can be mastered using a laser trainer like LT-C556 at much lower cost. But the cheapest training option with actual projectiles is the .22LR upper, and that just became less viable due to the ammunition shortage.  Once you have sufficient equipment for fighting with your AR-15, MAR177 becomes a good addition investment, especially if shared between several shooters. Frequent practice, even if done at short range, beats getting range time every other month.
Predictably, I have to echo the caveat about the firearm status of the AR lower fitted with an air gun upper. Depending on your location, the local cops may be sensible about it or cause problems. Know your local laws and make sure that you stay safe. If using it in public view, I would probably mount it on a colorful Cavalry Arms or GWACS receiver just to emphasize its "non black rifle" status.