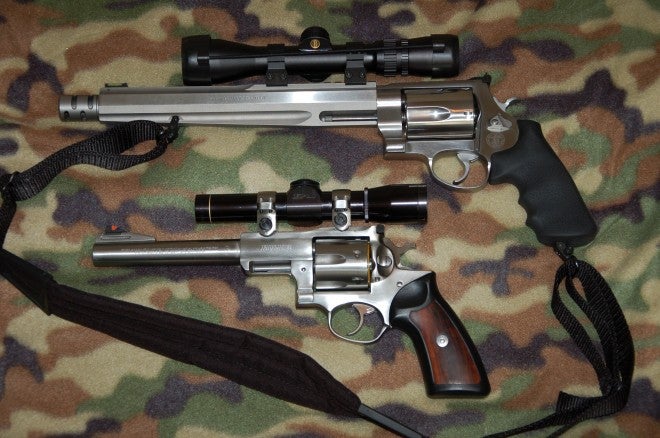 Handgun hunting for deer is the ultimate challenge for a firearms deer hunter. Is it the extreme test of hunter stalking and shooting skills, so if you are looking for a new deer hunting experience to reinvigorate your hunting, then give handgun hunting a go.
It was a cold morning just north of the Desoto National Forest near Brooklyn, MS, which is a grand piece of public hunting ground. It was spitting cold rain, and the deer were not moving. I was walking back to the truck, and as I rounded a corner along the edge of the woods, a doe was standing just out of the woods line about 75 yards away. I dropped to my knee.
I steadied the open sights, took a couple more deep breaths to calm down, and pulled the trigger. The doe fell, but I did not see it. I thought I might as well have been shooting a black powder rifle. It took a nano second for the hot burned powder gases exiting the muzzle to turn into a cloud of mist and obscure the results of the shot. It cleared, and one look through the binoculars confirmed the kill.
That was my first deer taken with a handgun. I used one of the first Ruger Redhawks in .44 Magnum on the market and not the Super version that came later with the capability to add a scope in factory dovetail mounts. I swapped for that model later because I was totally hooked on handgun hunting for deer.
If you are really interested in taking up deer hunting with a handgun, you have a number of important decisions to make. First on that list is what type of handgun you like the most and can shoot best. Some may consider the caliber choice to come first. There is a fine line here, so picking either first is okay.
The assumption being if you like the gun, its action, and its features, you will practice with it more. That is the key to successful handgun hunting. Unless you are willing to shoot your primary handgun for hunting enough to be highly proficient with it, then this may not prove to be your cup of tea.
The three basic types of handgun actions to consider for hunting are the single action (western type revolver), double action (Dirty Harry type revolver), and the single-shot bolt or break-open handgun. I am biased, but for handgun hunting, forget the semi-auto type action. The exception might be a Desert Eagle in .44 Magnum.
Each type in any given firearm of high quality and known reputation will be fine for deer hunting if the hunter will learn to shoot it accurately at a variety of deer hunting ranges, usually 100 yards or less. Handgun hunting is generally a short-range affair.
Be sure to handle numerous models of various handgun types that are suitable for hunting. Try them for hand fit, a comfortable firm grip, handling weight distribution, useful open sights, or capability to easily adapt a scope mount. All the while also keep in mind if blued steel or stainless steel is more to your liking. There are benefits and disadvantages to each.
Some factory handgun models are specifically designed for hunting and thus will be built to accommodate an LER (long eye relief) type handgun scope. Ruger makes several of these models, and the Thompson/Center single shot can be easily scope mounted as well.
In the old days, the minimum standard rule of thumb for picking a cartridge suitable for deer hunting was the all time classic 30-30 Winchester. Given that, only a very few cartridges designed for handguns can achieve the ballistic power of the 30-30 with a general muzzle velocity and energy level of 2450 fps and 1995 foot pounds. These would be the .454 Casull, .460, and .500 Smith and Wesson. As a disclaimer here, I am not talking about shooting a .308 in a single shot handgun either.
Much has been written on picking an appropriate handgun cartridge for deer hunting. Just do a Google search on the subject to find more material than you probably care to read. Generally speaking, the primary handgun cartridge choices for deer hunting include the .357 Magnum, .41 Magnum, the .44 Magnum, .45 Long Colt (marginal), and the .454 Casull. The .460 and .500 are equally as suitable if one considers the recoil of these, but they are highly effective deer cartridges for those able to shoot them well.
Handgun hunting can be done on any public WMA or National Forest during regular open hunting seasons. Check the regulations. I think you will find the challenge just what you're seeking.