Now that we have left the realm of rational spending (which, frankly, we left at least two price brackets ago), things get a little insane. This is not quite price-is-no-object gear, but it is the absolute pinnacle of the production form. If you are careful you can score some pretty sweet stuff in this price range, stuff that will serve you for a lifetime.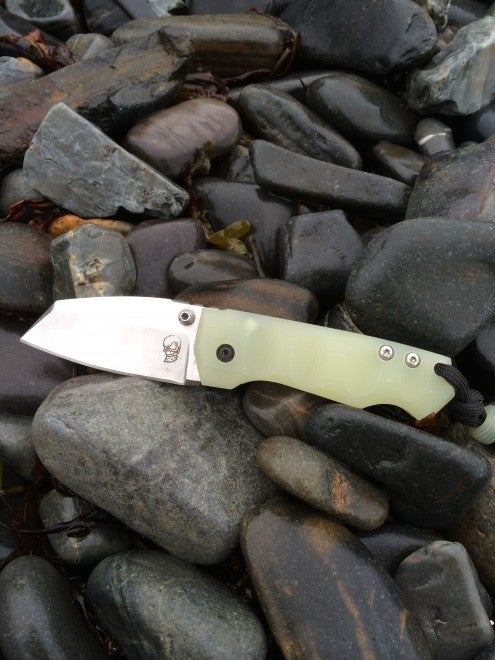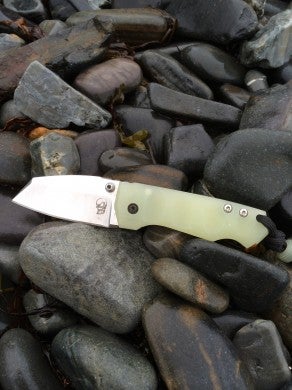 Knife: Custom Knife from a new or less well-known maker
Light: Muyshondt Aeon Mk. II
Simply put, the best values here are probably custom knives from new and/or less renowned makers. I got both my Karroll SES and my Gedraitis Small Pathfinder for under $500, and both are superior to knives I have handled from vastly more famous makers.
The trick is finding someone who has real skill and talent but is not yet super famous and completely booked up. I plan on writing a more complete article on how to find new custom makers, but there are a lot of good sources like Instagram, former knife modifiers, and USN. Looking around can yield incredible results. Finding a custom maker just before the market does means you get a great, unique knife for affordable prices.
In particular, I like Steve Karroll's work quite a bit. It looks like nothing else on the market, and it is built for folks with human-sized (as opposed to gorilla-sized) hands. I have owned two, an EDMW (Everyday Modified Wharncliffe) and an SES. Both were excellent EDC blades, and Steve's work is a rarity in the market today–high quality, unique, well-made, inexpensive, and available. He regularly posts folders for sale on his Facebook page for under $600, and all of them are distinctively his.
The light recommendation is one that is exceptionally hard to find, but Enrique has recently released a few in two outlets: his site and Unique Titanium. I mention this because this light just might be my favorite piece of gear. It's not hard to see why–titanium body, Nichia 219 emitter for ultra-realistic Hi CRI output, and an awesome, dead simple, three stage twisty UI. But the star of all Muyshondt flashlights is runtime.
Enrique, through some form of a electronics thaumaturgy, has extracted insane runtimes out of these tiny emitters. I have owned my Mk. II for over a year, almost 18 months. I have used it regularly, probably carrying it 2 days out of the week since I received it, and in that time I have changed batteries–wait for it–once. The low is quite good, bright enough to see what you need, but not so bright as to steal your night vision. It's pricey, but everything in this price range is expensive. Oh, and there is a reason so many of this light's features are my favorite. Enrique made it to my specifications after a "write in" campaign started on Everyday Commentary.
Other Considerations
There are a few production knives that are exclusive to this category. First there are the Gold Class Benchmades. Personally, I am not a huge fan. They never tempt me in the least. The problem is they are basically knife modder caliber upgrades to familiar Benchmade models. I want something more–either totally unique blades (like the recent dual-action Seibert, my favorite Gold Class of all time) or really creative revamps of familiar models with enhancements made for performance reasons, not aesthetics. It seems to me to be a huge missed opportunity for Benchmade. Compare the reception of these knives to the reception Triple Aught Design gets from its occasional releases. There is potential here, but simply putting a damascus blade on a Griptillian isn't moving the needle much.
There are also a few CRK offerings that couldn't be had for in the lower price bracket. The Umnumzaan is a beastly blade, as is the CRK Sebenza 25. Both, it seems to me, are more of the same–basic titanium framelock. There are special edition CRK knives with spectacular inlays. These are almost always a good buy from a collector's point of view as they have a market value that is exceptionally stable, but I am not too moved by a $300 knife with $200 inlays. Two CRK offerings differ: the Mnandi and the Ti-Lock. The Ti-Lock is a collaboration between Grant and Gavin Hawk and CRK. That's a knife making all-star team, and the knife looks very different from anything else on the market. But it's the garish, Vegas cousin compared to the Mnandi.
I recently had one in for review, and it is clear to me that this is what Chris Reeve had in mind for his knives all along. You can see the hints of a Mnandi in a Sebenza, but the Mnandi is vastly more refined. You could do well with this being your only knife, and if you worked in an office, it would make an excellent companion. Someone over at William Henry needs to check in on the Mnandi and learn how to do a CLASSY high end knife. No pirate or tiger engraving needed.
Speaking of William Henry, the vast majority of their line up holds no interest for me, but one blade, the Kestrel Scout, looks quite good with a 2 inch blade of ZDP-189 and a great clip. It stands out from the rest of William Henry's man jewelry (they even have actual "man jewelry," at least they know their market) in its tasteful lack of adornment.
There are quite a few European made knives that hit this price point naturally and not through the use of gilding. Fantoni blades are exceptionally well regarded, especially the Hide (which can be had for less than $300 in some places, though beware of the exchange rate). Lionsteel also makes a few knives in this price range including the stunning TiSpine. If you have had a chance to handle one you know what I mean when I say that the knife looks like molten polished Ti. It is just gorgeous. The soon to be released TiDust looks cool too, taking the overall shape and appearance of the TM-1 and making it with an additive manufacturing technique using titanium. It's bound to be light, but be aware that you are paying a lot for the gee whiz factor. The TM-1, available with upgraded carbon fiber handles, is a pretty good choice if you don't need the high tech printed knife.
There are a lot of Striders in this price range, and I love me some Strider. The ergonomics are great and the materials are nice. Fit and finish is a step up from what it used to be as well. Strider is, well, hitting their stride. In particular I like the PT, which can also be had for less than $300, but almost all other Striders are in this price range. Be aware, though, that these are hard use knives and they aren't the best slicers in the world. The new SJ75 seems to change that opting for a deep hollow grind.
In the light category things get interesting. Stalwarts from the last price category do well here. The HDS Rotary is still a great choice, though I like the smaller form factor of the Aeon Mk. II. The MBI HF-R is great–if they are still available. And you can find virtually any production light for this much money. Many Ti special editions that seem to pop up every once in a while fall into the $250 or more category, but I'd rather spend this much money on something that doesn't just look cool. When you have this much money to spend, you can get some impressive illumination tools. The McGizmo Haiku is probably the best all-around light on the planet, capable of being equipped with a Nichia 219 emitter and having a beam pattern that has to be seen in person to understand.
It's size is something I am not thrilled with, especially with a new generation of custom lights running on super small cells or incorporating much more powerful rechargeables in the same form factor. The Moddoolar/TorchLAB light is amazing. The output is stupendous and the tailcap is the best in the business. The fact it can be pocket-sized or larger is sweet, but this is an enthusiast-only light. It runs on exotic rechargeable-only cells. If your spending $500 on a light, you're probably an enthusiast. I also like Mac's Customs. They offer performance like the Moddoolar but with exotic metal bodies. I am not sure of the wait times, but you can order his lights from his site directly and he makes them himself–no lathed pieces from other producers.