How much meat does your deer yield? You'd be surprised how much meat is actually wasted. Below we've listed some recipes grouped by cut of meat from Hunter Angler Gardener Cook.
To view more recipes by cut of meat, visit them here.
1. Roast Venison with Bavarian Dumplings
Ingredients:
VENISON ROAST
1 hind leg of venison, shank removed
Salt
6 to 8 garlic cloves, peeled and cut into thick slivers
1/4 cup squash seed oil or other flavorful oil
About 1 cup of red wine, stock or water
2 tablespoons minced sage
2 tablespoons freshly ground black pepper
BAVARIAN BREAD DUMPLINGS
8 to 10 slices of stale bread (about 10 ounces)
1 teaspoon salt
1 1/4 cups tepid milk
3 slices bacon
1/4 cup minced onion or shallot
1 tablespoon minced parsley
1 teaspoon dried marjoram
2 eggs, lightly beaten
Read cooking instructions here.
2. Grilled Deer Heart with Peppers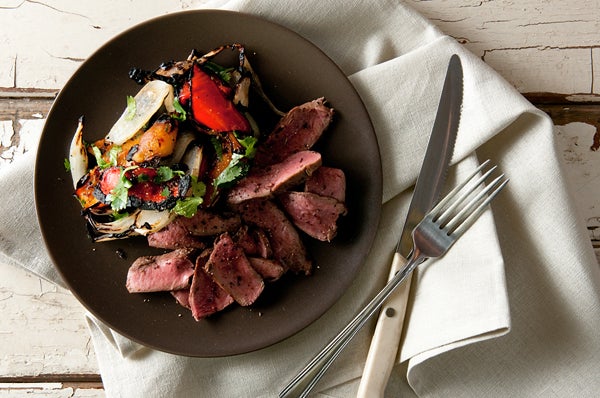 Ingredients:
1-2 deer hearts, or 1 elk, moose or beef heart
4 tablespoons olive oil, divided
1 tablespoon sherry or red wine vinegar
1 tablespoon Worcestershire sauce
1 teaspoon salt
1 teaspoon dried oregano
1 teaspoon dried thyme
1 teaspoon ground black pepper
3-4 colored bell peppers, cut into 2-3 pieces each
1 large onion, cut into large wedges
Read cooking instructions here.
3. Food Plot Venison Stew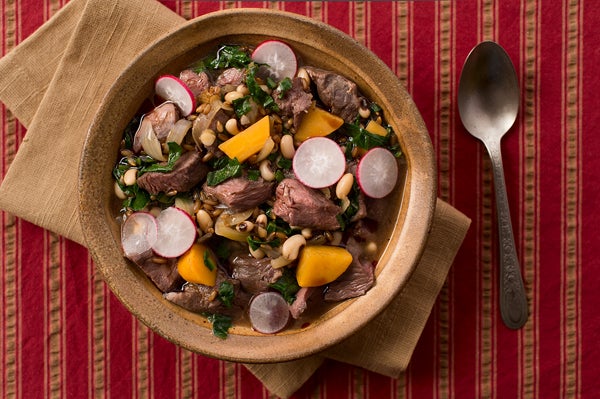 Ingredients:
3/4 cup black-eyed peas
3/4 cup rye berries (or barley or oat groats or wheat berries)
Salt
3 tablespoons unsalted butter
2 to 3 pounds venison stew meat
1 large onion, sliced thin from root to tip
6 cups venison broth, beef broth or water
1 teaspoon dried thyme
1/4 teaspoon celery seed
1 pound turnips or rutabagas, peeled and cut into chunks
4 cups chopped dandelion greens, chicory leaves, kale or chard
GARNISH
4 to 5 red radishes, thinly sliced
Black pepper
Roasted pumpkin seed oil, walnut oil or somesuch, for drizzling
Vetch or pea flowers (optional)
Read cooking instructions here.