It is awfully fun to find new high quality gear. The endless browsing that modern mobile devices not only allow but encourage makes it very easy to stumble on gems that folks don't know about yet. Halpern Titanium, right here in my home state of Massachusetts, is just such a gem.
Long an OEM for high performance gear companies, Halpern has decided to release its own line of products under the name Three Rivers Manufacturing. They produced a very high end knife that I covered here This is a review of smaller, less expensive blade: the TR-LTC200 slip joint.
Description
The TR is a modern style folder, complete with a pocket clip and a one handed opening method. Instead of a lock, however, it is a slip joint. The handle is made of titanium, as is the deep carry, over the top pocket clip. The scales on my review sample are carbon fiber.
There are three versions of the TR-LTC200–a Monkey Edge exclusive with a frag pattern scale, a GP Knives exclusive with a blue anodized titanium handle, and the review sample version from TRM. The knife opens with a triangular thumb hole. There is a half and half finger choil (half on the handle and half on the blade), and a full ricasso to allow for easy sharpening.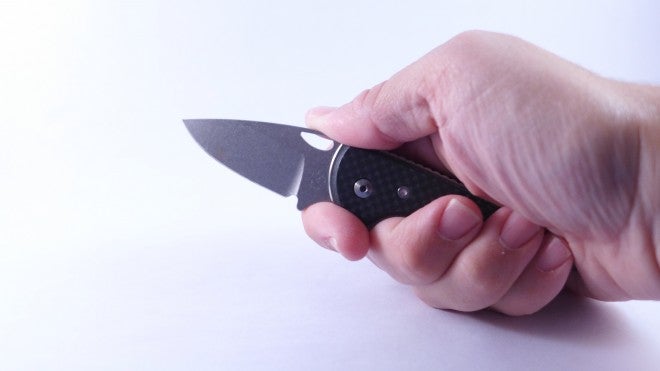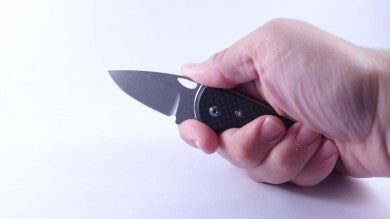 The spine of the handle is covered in very rounded humps that I don't feel comfortable calling jimping.
The blade itself is a 2 3/8 inch drop point made of CPM154. This is a powder metallurgy version of a very well regarded American made steel called 154CM (which, in turn, is similar to ATS-34, a Japanese steel, and similar to RWL 34, a European produced steel; their ingredient lists are very close). CPM154 has an excellent reputation among custom makers, and is praised for its performance and its workability (including the ability to take a mirror polish).
The knife is not heavy, but for its size I wouldn't say it is light either. It is roughly the same size as a Dragonfly and weights twice as much (1.2 ounces compared to 2.6 ounces). That said, when we are talking about something under 3 ounces, complaining about weight is silly.
Testing
Seeing as it is fall, we are right in the middle of camping, hiking, and wood chopping season. A slipjoint is not ideal for these tasks, but since that is what I was doing, I tried it out. Recently I found a maple that had fallen in the wooded area behind my house, and I decided to cut it up and haul it back to the house for firewood. In processing this tree, I used the TR-LTC200 to take off some of the limbs, and it did a superb job. I also used it for general EDC tasks–food prep (in this case camp food) and package opening. It did quite well.
A note about the slipjoint design: it's quite sturdy. If you use the half and half finger choil and even a modicum of knife sense, you will be fine. Of course, I'd prefer a lock, but even in hard use tasks, I never feared for my fingers. The carbon fiber and titanium handled held up well, but the stonewashed blade did show marks.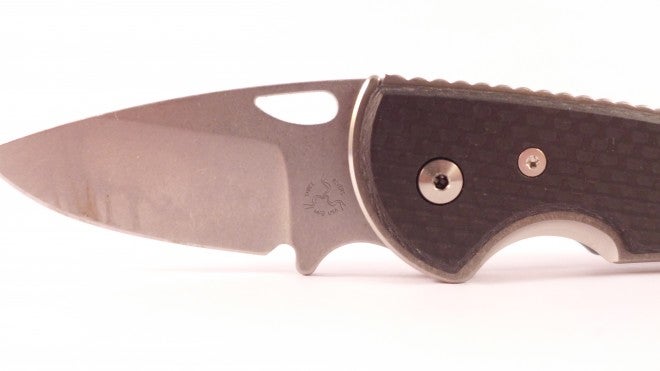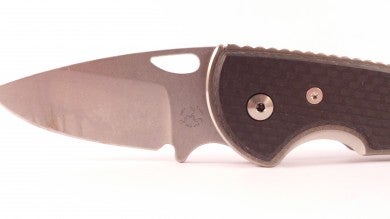 If you are a like-new-in-box (LNIB) weenie, it would freak you out, but if you are knife user, then the marks aren't an issue.
Design
The design of the slipjoint mechanism is quite ingenious. The handles have cutouts near the top, allowing the handle material to flex a bit.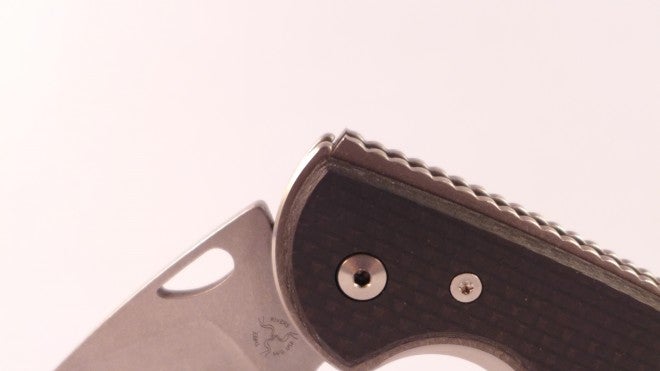 At the end of these "arms" is a steel bar that both connects the arms from each side of the handle to each other and rides along the rear of the blade, falling into a slot cut in the rear.
It doesn't lock the blade by any means, but it does provide a good deal of resistance.
The knife itself is exactly what it sets out to be–a premium modern slipjoint with broad legal acceptance. Of course you need to always check your local laws, but the blade is under 2.5 inches, getting around many of the blade length hurdles in various places. This, combined with the lack of a lock, makes the TR legal in more places than many modern folders. It also represents a clear upgrade in terms of materials and performance from the majority of Spyderco slipits. Only a few run S30V steel, and only one the out of production Terzuola Slipit has carbon fiber handles.
In many ways the TR is an ideal EDC if you can't have a lock, but it is sufficiently well made and so thoughtfully designed that it can be a delightful companion even when everything is legal.
I am not sold on the oddly shaped, upside down, triangle/tear drop thumb hole, but it works, so my visual preference for a circle or an oval is not enough to dock the knife for the unconventional choice.
Implementation
Halpern has done quite well as an OEM for two decades. Their list of customers is impressive, and that alone is enough to tell you that this is a well made piece. But handling the TR tells me that they are capable of truly elite machining and finish. The carbon fiber was smooth and without stray fibers. The titanium was marvelously finished and inviting to the touch. The blade was nicely stonewashed and obsidian sharp. I loved how the clip attaches to the handle, and after a month of use, I am convinced that this is the best clip on the market.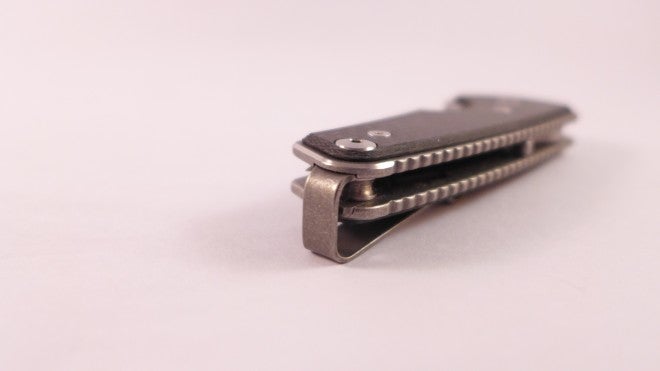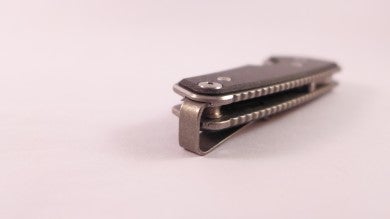 Conclusion
The modern slipjoint market is growing, not just because knife laws are getting more restrictive in some places (ahem…New York City…ahem), but because even without a lock a knife is damn useful. Right now there is nothing in this market niche as nice or as functional as the TR-LTC200. It's not a stretch to say that this is the Sebenza of this incredibly narrow class of products. It's better than any currently available Slipit, and its size is great for EDC.
If you have restrictive knife laws, just go buy the TR-LTC200 now. If not, why not? It's a great little blade and hopefully a harbinger of things to come. It would be easy to mod the knife to include a lock. TRM, did you hear that?