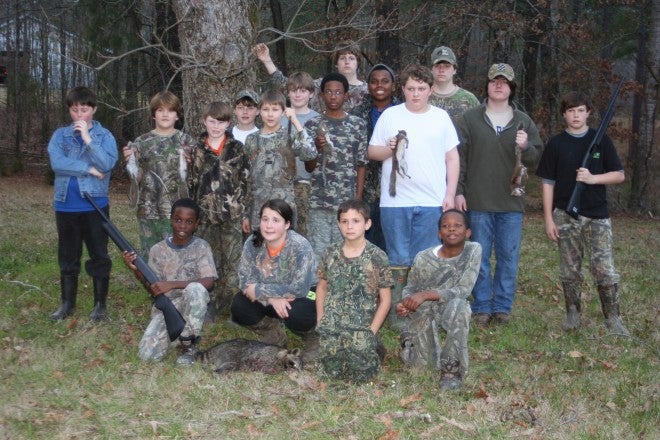 What has happened to squirrel hunting? Or should I say squirrel hunters? Squirrel hunting ought to be a top small game hunting sport, but over the past decade or so it seems to have faded into obscurity. Surely there are still hunters out there quietly stalking bushtails around the woods, but you sure don't hear much about them. Traditional outdoor publications hardly give them a nod. Wonder why that is?
When I was a kid, almost every youngster in the community that wanted to hunt started off with squirrel and rabbit hunting. I liked squirrel hunting best because of the slow pace and keen woodsman's skills required to slip up on a grey or fox squirrel that would twist around to the other side of a tree with every step I made.
For parents or other relatives of young wanna-be hunters, squirrel hunting remains a fantastic way to get them involved in hunting, the outdoors, conservation, camping, and other outdoor activities. Start slow with them and make the trip to the woods like a hike, letting them observe while you teach them along the way. Eventually they will want to learn to shoot, so coach them through that, and when they get to the right age, sign them up for a hunter safety course. That foundation will set them on their way.
There are some tricks to successful squirrel hunting but it is not rocket science. Basically all you need is a good piece of woods holding lots of squirrels, some old clothes, maybe some briar busting pants, a good shotgun or .22 rimfire rifle if you are that good of a shot, and some good boots.
Like any other sport or activity, hunters tend to add other pieces of gear to the equation as time goes on. Some of those might be a good seat cushion, quality lightweight binoculars, hunting vest with game pocket, shotshell belt, and knee high rubber boots.
Squirrel hunting sans a dog normally means creeping along in the woods at a slow pace, keeping an eye on the ground and above in the tree limbs for movement. Usually at daybreak or shortly thereafter, squirrels tend to be on the ground scrounging around for food. Later in the morning they are back in their high altitude perches.
Squirrels that do not move can be hard to spot. They can lay flat as a pancake on a tree limb and never are seen. For that reason, one tactic is to quietly sit down against a tree and wait them out. They will scurry at some point to offer some good running shots or maybe a posed position shot. Be sure to mark where they fall on the forest floor. They can be hard to find in the bushes.
Squirrels are best at hiding on the opposite side of a tree from where you stand. This is a good reason to have a hunting partner along that can walk around the tree to make the squirrel move again. Remain mindful of the position of that other hunter and make sure of your target before you pull the trigger.
Some squirrel hunters like to course a creek or small river in a johnboat or canoe, drifting along and looking in the treetops for squirrel movement. Then they pull over to the bank and hunt that area for a spell. I cannot imagine a more relaxing way to hunt squirrels especially if you bring along some fishing tackle and make a double duty day out of the trip. Fried squirrel and fish might make a good combo.
A national forest would be a natural for this kind of trip. There are put-in areas noted on trail maps, and all that can be checked out online under the forest name. Supplies, gear, and essential needs can be found in nearby towns. This would also make a good camp out weekend trip.
Squirrel hunting is easy to do and is great fun. If it has been a while since you took in this type of hunt, plan one for this fall. Take the family along, especially if you have a youngster interested in hunting. This is a best bet way to hook them on it.