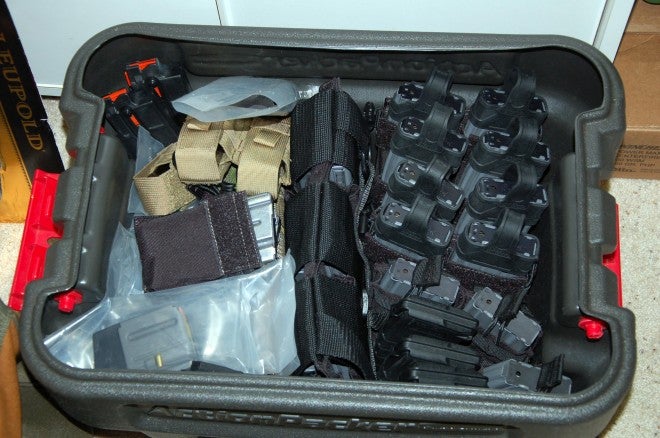 If you own and use an AR rifle platform, then you need an AR magazine strategy. Have you ever seen so many options for ways to feed a rifle than with the vast varieties of AR magazine configurations?
Your primary usage scenario for your AR doesn't matter. You still need a strategy. Maybe you just like to punch paper targets or bleeding zombie forms. More and more hunters are using ARs for varmint hunting, predator control, or even larger game hunting like whitetails or even bigger game. There are multiple law enforcement applications, professional security, or even home or ranch security and protection. AR use has multiple purposes and thus the fire control systems need to be managed, too.
Obviously an AR rifle magazine is the ammo holding device/fixture that is used to feed ammunition into the firing action of the rifle. These cartridge holding implements come in a variety of configurations, capacities, construction materials, colors, and other design features and functional differences.
Typical factory "mags" are either of a metal or polymer manufacture. There are AR magazines made of steel and, even more commonly, aluminum. You'll notice the ever so slight differences in weight when you handle and load them. Steel mags can rust and thus require more attention to maintenance issues. Aluminum magazines can bend or dent more easily, especially around the crucial feeding lips at the top of the magazine opening where ammo rounds are inserted.
Under normal everyday use by the average AR shooter, a magazine could last indefinitely if maintained and cared for and properly stored and carried. LE users and others like military applications are more likely to see damage to magazines beyond reliable use. Care for your magazines, but inspect them regularly and toss ones that fail to function properly.
Today there are many commercial AR magazines made of exceptionally strong and nearly maintenance free polymer materials or hard-like ABS plastics. The most prolific brand on the market today that readily comes to mind is Magpul. These are now made in the great state of Wyoming, having moved from Colorado for political reasons.
Magpul magazines are well made, feature a snap off dust cover, and are virtually indestructible. They can also be fitted with factory "snatch" finger grabbers or easy magazine extraction from the rifle. These come in 20 or 30 round capacities and are available in various colors besides standard black.
AR magazines come in different holding capacities, including 5, 9, 10, 20, 30, and 40 rounds in the usual single stack self-contained types. There are also 60 and 100 round magazines on the market, like the Surefire, which are of a double-stack type. Rotary feed magazines like the Beta 100-round dual cylinder magazines are popular, too, if heavy firepower is needed. Another rotary choice is the X-Products X-15 magazine. These are high quality and reliable.
AR magazine storage is not rocket science, but some common sense needs to be used to keep them in dust free environments secure from prying eyes and fingers. They are easily kept in storage "crates," like Plano snap lock gear boxes or Case-Gard AR Magazine tote ammo type boxes. I like the Case-Gard boxes with the foam magazine inserts to keep things organized, safe, secure, and clean.