U.S. Government Again Strikes Out at Bundy Ranch
Russ Chastain 10.28.14

The Bundy Ranch in Nevada is once again under attack by the Federal government, according to a post on their Facebook page.
Federal Register / Vol. 79, No.197 Notice, outlines plans to make the Bundy ranch and most of the rest of Southern Nevada, Areas of Critical Environmental Concern (ACECs). 90 days from October 10th, 2014 these proposals will become federal law without consent from the Nevada State legislatures or the people of Southern Nevada.

Areas of Critical Environmental Concern (ACECs) are human restricted management areas. ACECs have been a tool used by the federal government to gain further control of large masses of western lands and the resources.
The post goes on to outline a few of the restrictions soon to be imposed upon Americans in Nevada:
Closed Roads
Excluded Trails
Closed to Camping
Closed to Recreational Vehicles
Closed to Motorized Travel
Closed to Livestock Grazing
Restricted Human Hiking
Restricted Horseback Riding
Exclude Group Recreations
Closed to Mineral Development
Closed to Water Access
Closed to Hunting / Target Shooting
As the lengthy post points out, the people of southern Nevada "soon will have less access to their lands than any other people in the history of this country."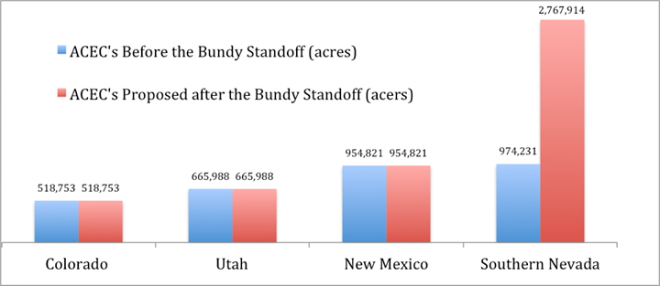 The graph above illustrates that these proposed ACECs are targeted at one state in particular, and it's not hard to figure out why. The Feds were disappointed during last spring's armed face-off between citizens and government agents and have turned to less-public means to oppress the Bundy family.
Well, let's make it just as public as the face-off. Let's all let the Bureau of Land Management (BLM) know that this Federal theft of property rights is unacceptable.
Currently, the BLM's "How to get involved" page for this proposal only bumps you back to a description page if you click the "Website" method for submitting written comments, but you can send email to [email protected] or send a fax to (702) 515-5023.
"Snail Mail" can be sent to the BLM at this address:
BLM Southern Nevada District Office
Las Vegas/Pahrump Field Offices Draft RMP/Draft EIS
4701 N. Torrey Pines Drive
Las Vegas, NV 89130