Review: Intrepid Leather Bag Co.'s Journeyman Messenger
Jon Stokes 11.14.14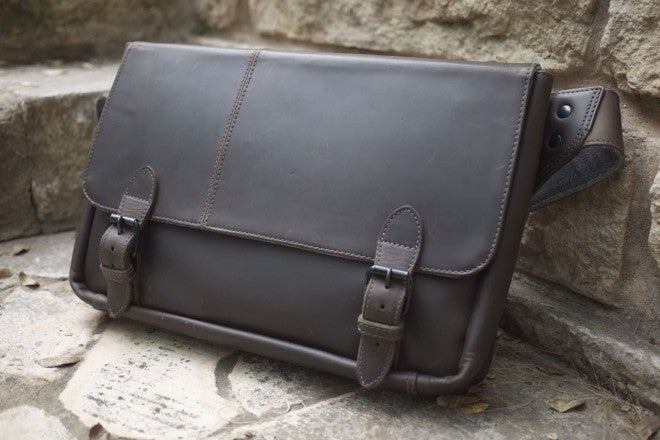 Yeah, I can admit it: I'm a pretty hardcore leather man-bag connoisseur. I have a man-bag collection that would be the envy of most women, and it includes multiple bags from Saddleback Leather, a few Jack Spades, a Tumi, an old-school Kenneth Cole (from back when they were an actual high-end men's boutique), and a very exclusive and impossible-to-find J. Crew limited edition postal bag that's currently the pride of my collection.
Word of my man-bag obsession seems to have gotten around the Internet, which isn't surprising given that I've published reviews of such bags in various places on the web (here and here come to mind), because a new startup bag maker reached out to me a few months back about reviewing their latest and greatest. I jumped at the chance to review Intrepid Bag Co's Journeyman Messenger, and I'm glad I did, because after three months of daily use, I'm happy to report that I have a new go-to bag. This is one of those cases where I'll be buying the review unit because this bag is more important to me than my wallet at this point. I use it all the time, every day, in the house, and out of the house. It's now as much a part of my wardrobe as my pants.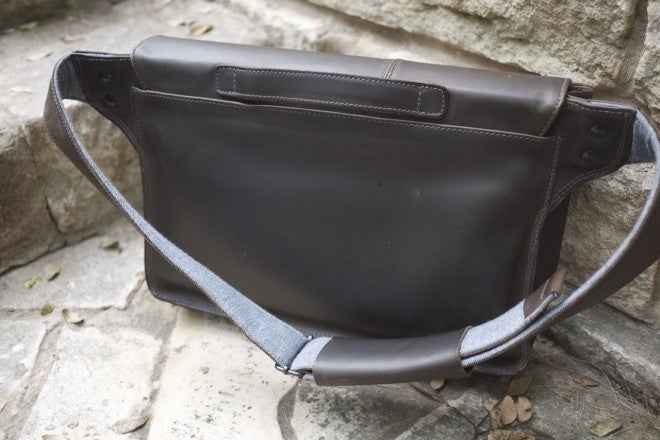 So is this bag perfect? Yeah, to give away the punch-line to this review early, the $369.00 Journeyman isn't cheap, but it's pretty close to perfect, provided you set your expectations accordingly. Literally the only thing that it would be possible to complain about is the fact that the top flap is secured with buckles instead of straps. For buckle haters, that's a deal-breaker, but for me, it's great.
Many of you will have noted the caveat in the above proclamation of perfection: "provided you set your expectations accordingly." I say this because Intrepid markets this as a travel bag–a kind of Indiana Jones adventure companion that you're supposed to take with you to the Himalayas. Well, I've traveled with this bag (not to the Himalayas, but to San Francisco), and I'm not likely to take it on further plane trips. The reason? It's too small to fit all of my carry on essentials. In general, if I'm at a conference or somewhere where I'm out-of-pocket and living and working out of my bag for a long day, which means I'm carrying a full mobile office loadout, I'm going to want a little bit more space than this bag gives.
So forget about Intrepid's marketing materials with far-off vistas and long treks, because what this bag actually is is the World's Best EDC Bag. Everything about this bag, from the materials to the size, weight, layout, and craftsmanship, make it an absolute dream for EDC. Intrepid's Journeyman is the Bellroy Sim Sleeve Wallet of bags. The Journeyman has exactly enough space for everything that I need in a normal workday or for going around town with my laptop, and not a centimeter more.
Let's get into the features of this bag, and I'll show you how I've been using it.