CZ Scorpion EVO 3 S1 Pistol Already Making a Splash
Russ Chastain 11.25.14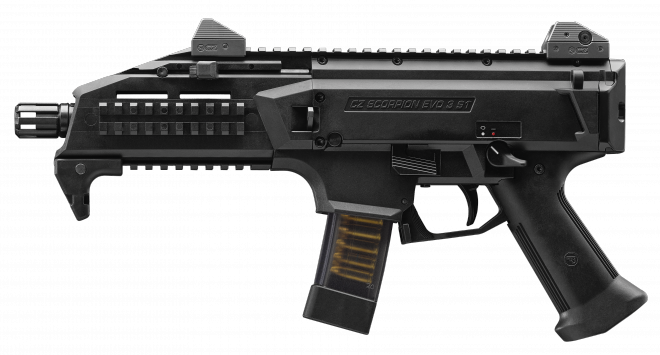 The old CZ Skorpion 61 was a submachinegun chambered for the dinky 32 ACP (7.65mm Browning). As time went by, a 9mm version came into being. When a modern version was developed, about the only thing it shared with the original was the name, the spelling of which had been anglicized to Scorpion with a "c."
With shoulder stock and full-auto capability, the CZ Scorpion EVO 3 A1 9mm has a plastic frame (yes, their specs say "plastic," not "polymer"), 30-round magazine, 7.7-inch barrel, and weighs in at 6.1 pounds. And of course, the regular Joe isn't allowed to own it without a whole lot of hoop-jumping, red tape, and bribes–er, I mean "fees."
Enter the CZ Scorpion EVO 3 S1 Pistol, which has many of the same features of the sub gun. Barrel length, sight radius, magazines, and pistol grip all appear the same. Both fire 9mm Luger groceries, and both look like a lot of fun.
The EVO 3 S1 is blowback-operated and semi-automatic only. It comes with low-profile sights, and the rear sight is a peep with four different aperture sizes so you can select the size you need. The piece fairly bristles with picatinny rails, with the longest being on top. CZ says that one is 11 inches long and calls it "perfect for mounting optics."
A couple of nice features are the ambidextrous controls and the charging handle, which doesn't move around during fire and can be swapped from one side to the other. Heck, you can even adjust the reach to the trigger.
With its short barrel, it cannot be legally equipped with a shoulder stock without becoming classified as a short-barrelled rifle (SBR) under the USA's ridiculous firearms restrictions. That's why it had to be made a pistol in order to be sold to the American masses. Pistols, of course, are more difficult to shoot accurately, as they are held by your hands out at the ends of your arms, which move a lot. A rigid connection between gun and body is desirable.
CZ already offers a little help with that via an accessory called an "arm brace adapter." They say it "quickly and easily adds an AR-style pistol buffer tube to the rear of the action, enabling the use of an arm brace for added stability."
The CZ Scorpion EVO 3 S1 Pistol has a SKU of 91350 and its MSRP is $849.