The Boker Kwaiken is a collaboration between custom maker Lucas Burnley and Boker. The original custom was an elegant knife, with a slim silhouette and beautiful blade shape. Converted into a production knife, the Kwaiken took off, becoming a top selling knife for Boker and the subject of endless modifications.
The design is fascinating, but people's response to it is even more interesting. The Kwaiken is at one and the same time a great knife and a flawed knife, but people have such a strong reaction to its unique appearance that they are willing to tweak it and purchase multiple versions of it. Looking at all of the versions is not just good knife knut fun, but it is insightful. There is something about this knife that is hard to shake, and once we look at all of the different Kwaikens, I think we will have a better idea of what it is.
Custom Kwaikens
Original:
This is the knife that started the Kwaiken obsession (though there are other kwaiken style knives like Jake Hoback Kwaiback), and it used a thumb disk deployment. The handle was perfect for a wide variety of handle materials, something of a blank slate for premium stuff. The lines were there–those sleek angular lines that defy current trends in custom knives. This is a piece that looks like nothing else, even when bone stock.
Flipper:
Burnley later released a flipper version and gave in just a bit to modern trends. He also sullied the beauty of his original. The flipper tab breaks the monolith look and brings the knife more in line with other custom blades. In my opinion, this is not an upgrade.
Boker Production Kwaikens
Original Production:
The original model was a very good looking blade, with a pair of coarse textured micarta handle scales and that uber sexy kwaiken blade shape, but it was something of a fit and finish disaster. The knife was damn near impossible to deploy, and the blade was pokey enough to slice paper when closed. The AUS8 steel is fine, though a little below par for the cost, around $90.
Blade HQ "Big Disk": Like the original, but better. The micarta handles were replaced with orange G10, and the thumb disk was changed from a circle to an oval so that it would actually work.
Ti Flipper:
The Kwaiken Paperweight Edition: This monster weighed in at more than an ounce heavier than the already heavy original (both run steel liners, something that is totally unnecessary on a blade with titanium scales). Also, the thumb disk is gone, but it was replaced by a very mediocre flipper. The steel was "upgraded" from AUS8 to VG-10, something like going from a cold to the flu in terms of upgrades. I am just not convinced that VG-10 is an appreciably better steel than AUS8. It's a smidge harder, but it seems to just make it tougher to sharpen in my experience.
Carbon Fiber Flipper: Well, Boker fixed one of the issues from the Ti Flipper and made this knife barely lighter. The flipper still stinks and the steel is still VG-10, but this is all about baby steps apparently, that or milking a good selling design for all it's worth.
Modded Kwaikens
There are three primary mods to this knife, all of which were created by knife modders and became so popular that folks request them as "standard" mods.
Dietz-mod Kwaiken: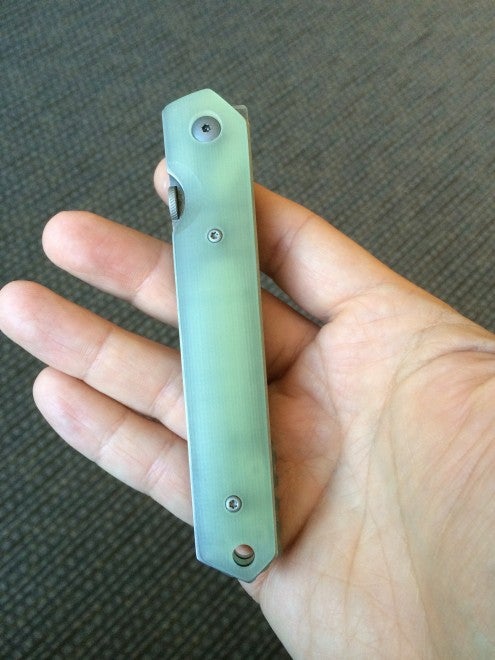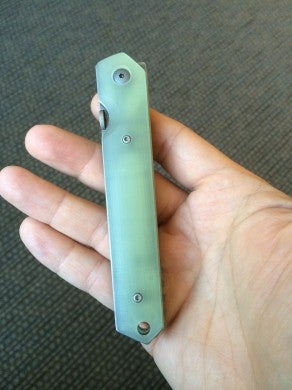 This mod takes the non-flipper version of the Kwaiken and hacks off part of the handle to expose the rear tang of the blade. This corner gives your finger enough purchase to flip open the knife. It creates a flipper out of a non-flipper, but does it in such a way as to preserve the elegant shape of the Kwaiken design.
Cut down Kwaiken:
The original Kwaiken is a long blade, around three and half inches. Additionally many Kwaikens had problems with the tip poking out of the handle scales. My production Kwaiken sliced my finger right open even though the blade was closed. This mod not only fixes the pokey blade problem, but it also shrinks the blade and makes it legal in more places. Finally, it replaces the thin pointy tip with a sturdier, sheepsfoot-style blade.
BowerBladeworks Flipper Mod Kwaiken: The flipper tab on the production Kwaiken seems to have been designed by someone who never flipped open a knife. It is rounded and doesn't meet the finger the right way. Kevin Smock did some clever grinding and fixed the problem, creating a very functional and useful flipper.
What is it About This Knife?
I think there are two things behind the Kwaiken's popularity: the overwhelming beauty and uniqueness of the original custom design and Boker's not-so-great job translating it into a production knife.
Knife knuts see the Kwaiken, with its long, slender handle and vanishing blade, and fall in love, only to realize upon purchasing the production knife that it is the blade equivalent of a butter face. That tension between elegant design and lackluster implementation, between what the knife is and what it could be, fuels the market in variants and mods. Everyone is trying to "fix" the Kwaiken and make it work like the knife it is in theory. The knife has enough good stuff to make the mods worthwhile (stunning looks, slender carry package, and a silky IKBS pivot), but enough things that are a bit off to make the mods popular.
Having gone through this process, I can tell you that the production version is almost unuseable as a knife. The fact that it can cut paper while closed is one of those deal-breaker kind of flaws. Its poor flipper design and hard to reach thumb disk are also real problems. But having been sent through the modification process, the Kwaiken is now a truly superior blade.
It is also interesting that the form itself is so easily modified. The scales come off quite easily and the pivot is nice enough that even the Dietz mod flippers fly out quite well (there is a detent mod that helps). The many varied forms of the Kwaiken exist because it burns a part of all gear geeks brains–how can I make this better? It's crazy to think that the knife is as popular as it is because Boker did such a poor job translating the custom into production form, but something tells me that if they had nailed Burnley's design out of the gate, it would have been a one and done design.