Oath Keepers – Guardians of the Republic or Domestic Terrorists?
Russ Chastain 11.30.14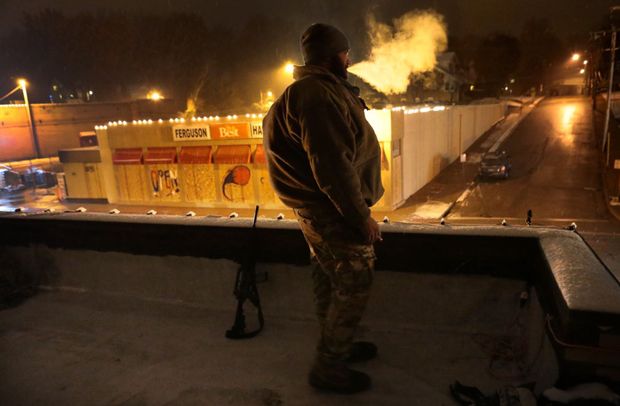 Ferguson, MO is a mess. It has been for quite a while, ever since civil unrest erupted in September. Local gun purchases have soared, while the Federal government apparently uses the place as a breeding ground for conflict and a precursor to martial law throughout the USA.
Those last two points are my own personal concerns and observations and will be considered debatable by some. But one thing that can't be denied is that members of Oath Keepers–who call themselves "Guardians of the Republic"–have been present in Ferguson, peacefully guarding lives just by being there, standing up for what's right in order to prevent the burning of some buildings in the area.
And these honorable police and military veterans, who have vowed to remain true to their oaths to the Constitution no matter what, are reportedly enduring some downright scary stuff–and not from looters.
Stewart Rhodes, president and national founder of Oath Keepers, was quoted as saying, "We had an alarming incident that happened last night with our team spotting what looked like a Fed three-man sniper team moving into a nearby house on higher ground, and then pointing their rifles at our team of American combat veterans, while our team was guarding the buildings against looters."
He also said his team saw state police snipers pointing rifles at them from the roof of a nearby fire house.
Stewart reported that his team then contacted Unified Command for an explanation. Local police responded that the Federal team had acted without the knowledge of Unified Command and had failed to coordinate with them.
Stewart observed that "local police are on our side and expressed gratitude for us being there, but the Feds are trying to run us out."
According to Joshua Cook's article, "The federal government is trying to badmouth this organization of ex-police and ex-military, even called them a 'domestic terrorist' group."
One team leader said in an interview that "buildings to the north are burning every night, buildings to the south are burning every night. Since we have been here no one has thrown a molotov cocktail through the windows or caught the building on fire."
Sounds like they're doing great work, and there can be no good, positive, patriotic reason for the federal government to discourage their actions.