Why You Should Consider a Multitool as an EDC Alternative
Tony Sculimbrene 12.02.14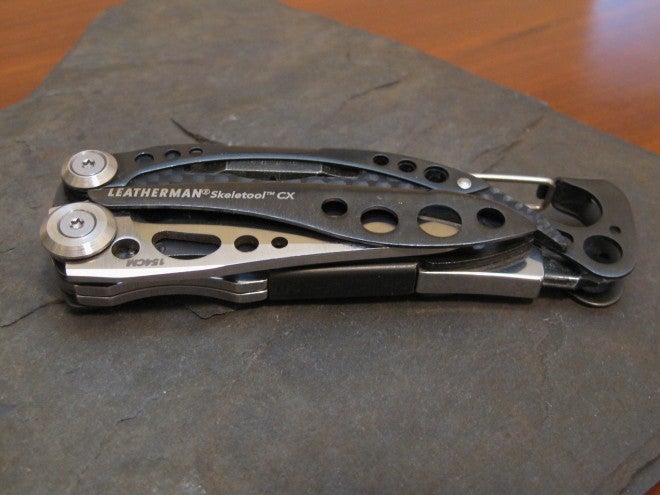 In past articles in this series, I have written about fixed blades, out-of-production knives, and traditional knives as EDC alternatives to the modern folder. In this piece, I am going to highlight multitools that I think make suitable replacements.
It's not really a huge revelation that multitools make good EDC companions, but I think there is a misconception out there about how good they really are. There are some folks that do work that allows, if not encourages, them to use and carry a multitool everyday. Mario and Manny of Utility Talk discussed this issue in this episode of their podcast. My take on this is a bit different. I am not so sure that a multitool, especially one the size of something like the Leatherman Super Tool, is really a viable option for folks to EDC.
Suppose your job involves lots and lots of repair work. You're an auto mechanic, for example. In most cases like that, you have a set of tools you use, individual screwdrivers, ratchets, wrenches, and so on. You either bring them with you or you are stationary and they are all around you. Given all of this, there is very little a multitool has to offer. No multitool is better than even a modest pair of dedicated needle nose pliers. In that situation, there is no reason whatsoever to carry a multitool. It does literally nothing for you.
If you have a primarily outdoor job, the multitool option is probably not weight justified either. When was the last time you found a naturally occurring carriage bolt? And then there are the paper pushers among us (of which I am one). In that situation can you really justify the weight? How much work are you actually going to do?
Multitools are handy. Drop one in a glove box and you can get out of a lot of jams, but as something you carry on your person, I am not so convinced. Additionally, if you have a bag you carry with you (a man purse or fanny pack, say), the multitool might work. But if you just drop some stuff in your pocket each day to help, it's very hard to justify the increased weight and size a multitool represents. In my daily life, not on the weekends, my multitool is a knife like 90% of the time. That extra 10% of the time does not justify a 150% increase in size and weight (comparing, for example, my normal EDC a Spyderco Dragonfly II at 1.2 ounces to my Leatherman Skeletool at 5 ounces or so).
This is all a long way to say I don't think multitools are great EDC alternatives. Many have tons of tools you never use and almost all of them are way heavier than they need to be.
I love my multitools, but I rarely EDC them. The ones that I do represent something special, something that breaks down the logic of this argument a bit. They do so because of truly superior design. Here are five multitools that operate as good EDC alternatives:
Victorinox Swiss Army Knife Alox Cadet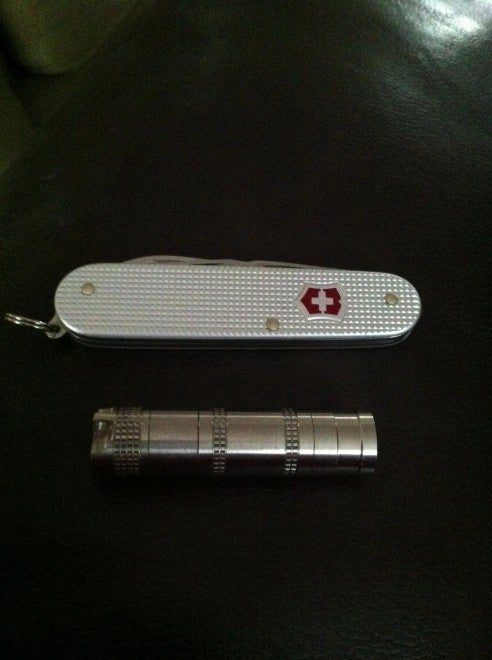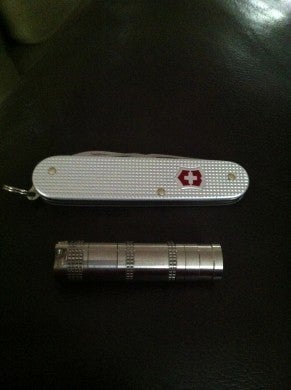 The Alox Cadet is the item I recommend more than anything else when someone emails me about recommendations for EDC. Available everywhere, including your local Target, the Cadet breaks the rules about the viability of multitools as EDC because it is as slim and as lightweight as almost any knife you could carry.
Additionally, its form factor is as people-friendly as it comes.
Finally, the tool complement is spot on for modern life–no dumbass corkscrew or horseshoe cleaner. Folks with multi-kilobuck EDCs still find a way to squeeze a Cadet in there. They are that damn useful. It's not just useful, it is also beautiful. The Alox gives it an amazing appearance–clean and minimal, the perfect complement to anything from an iPhone to a handgun. If the Cadet is a bit small, look to the Pioneer, which is a slightly larger tool that is similarly svelte.
Leatherman Skeletool CX
The Leatherman Skeletool CX, pictured at the very top of the page, is the only classic multitool on the list, and it is here because it is just so smartly designed. You get a great knife with decent steel (154CM vs. 420HC on the non-CX model). This is the real reason to upgrade BTW, not the purely ornamental carbon fiber accents.
The Skeletool CX works because it eschews many of the tropes of heavier multitools. Its focus was on making very good versions of a few tools instead of cramming three flathead drivers into the handles. It also comes with a very good pocket clip, something many multitools are missing. It's still a bit heavy at around 5 ounces, but it is much better than things like the Supertool 300 and the Victorinox Spirit.
Gerber Shard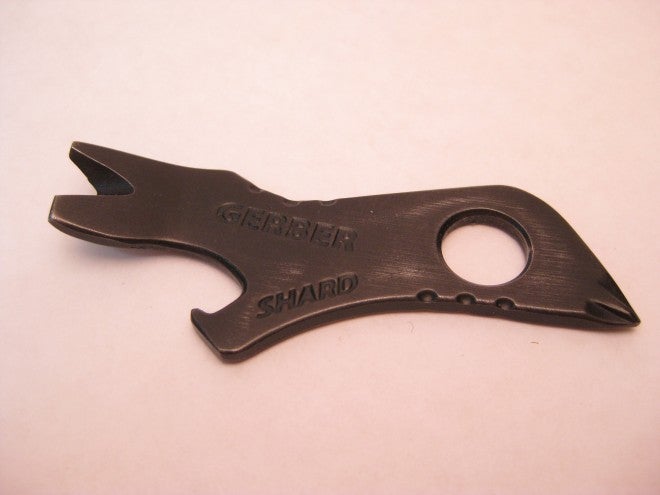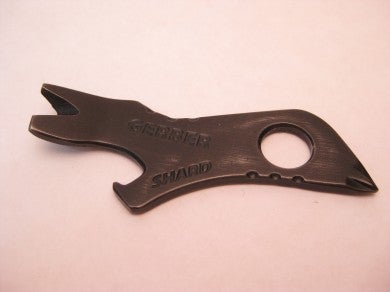 The Gerber Shard is the only one piece multitool on the list, and for a good reason. I have owned many of these and reviewed a dozen more, but in the end they are little more than a bottle opener most of the time. They are so small and so limited that I can't seem to figure out how to make them useful. There is not enough space to get any type of leverage to do real work.
But the Shard stands out for a few reasons: it has a Phillips driver, it's relatively nice in the hand, and it's cheap. So many of these tools are bonkers expensive, and many only exist for sale on the secondary market. From maker prices aren't bad, but many of these OPMTs sell out in the blink of an eye. The Gerber Shard is pretty readily available for under $10. See, I am not a complete and total Gerber hater. Just mostly so.
Todd Rexford RUT
The Todd Rexford RUT isn't the cheap option, the reasonable person option, or the easy to get option, but it is made by one of the finest custom knife makers in the world.
Folks in the know routinely cite Todd Rexford's work as the high watermark of the form. I had a TAD co-branded model and I liked it. It is exceptionally well made, its true cutting edge is actually quite useful and a notable upgrade from the snag edges on many OPMTs. At $149 in the rare instance you find one for sale from the maker or from TAD, the RUT's tool per dollar ratio ain't great. But if you want a little of the Rexford magic, this probably the only way you can get some without sacrificing a few paychecks.
Gerber Dime or Leatherman Squirt PS4
Either the Gerber Dime or the Leatherman Squirt PS4 will be a great piece to drop on a keychain or bum around in your pocket for some suburban living.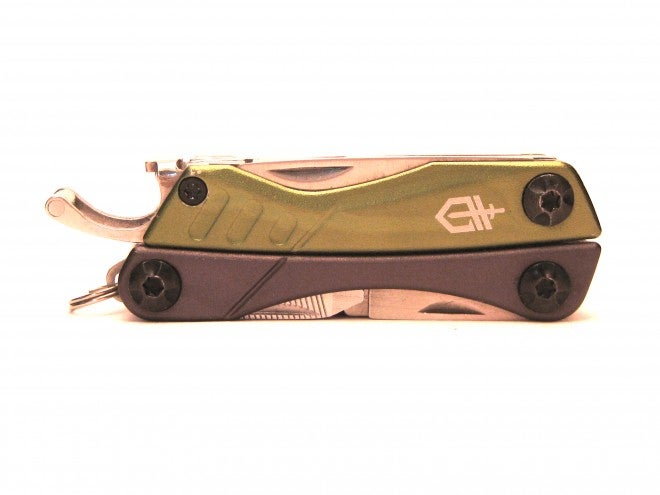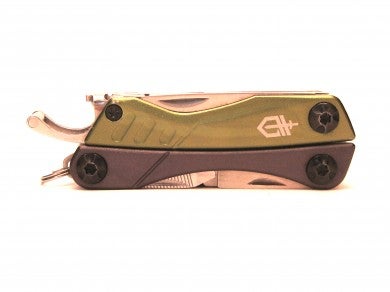 I like the Dime's clam shell cutter, but Gerber's spotty fit and finish makes this a riskier bet than the Squirt, which has the normal Leatherman quality (and their insane 25 year, no questions asked, send us a bag of parts warranty), but lacks the clam shell cutter. I am preferential to the Squirt for sentimental reasons (my son gave me mine on my first Father's Day), but both are good.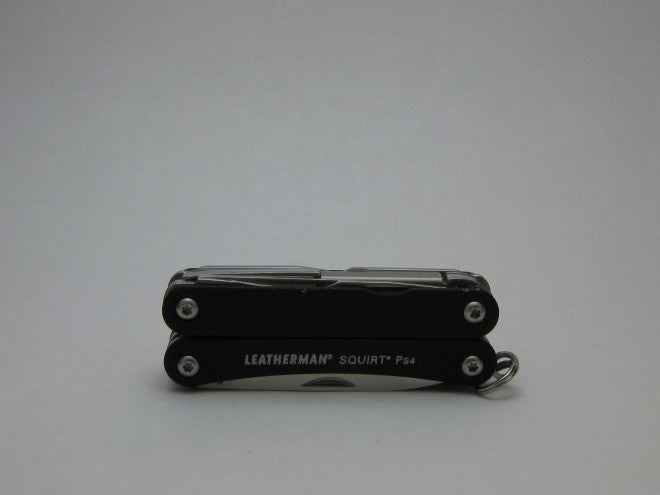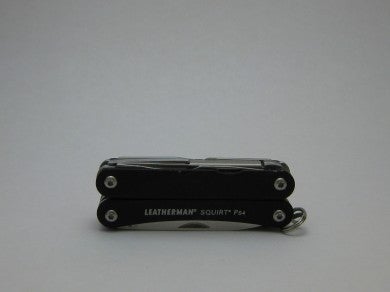 I am not so sure that a randomly chosen multitool can be justified over a knife, but when carefully chosen they represent a larger tool set with not too much more weight. Additionally there are few tools out there that are just different than carrying a knife, but they can get you out of a jam.