Victim of FSU Gun Free Zone Had CCW But Couldn't Use It
Russ Chastain 12.05.14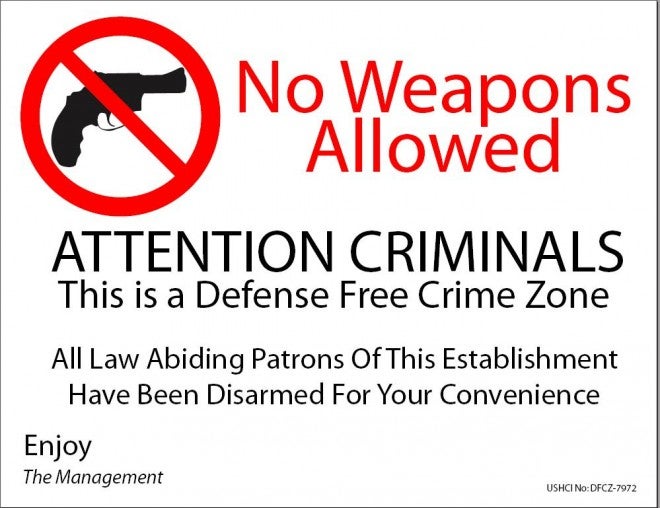 Tallahassee, FL – Two weeks ago, a young attorney and Florida State University (FSU) graduate whose name I refuse to publicize reportedly entered the campus library and shot three people, sending students into a panic. Moments later, police killed the crook after he fired a shot at police.
It was later reported that one of the victims, Nathan Scott, was licensed to carry a concealed firearm but was barred from doing so because of laws against licensed carry of firearms in schools.
Scott was shot in the leg while pleading with the bad guy not to shoot him. He would have had every opportunity to defend himself if only he'd been allowed to have his gun with him. While Mr. Scott hid under a desk with a co-worker, the bad guy walked up and calmly shot him in the leg while Scott, hands in the air, begged him not to, reportedly saying, "No, no, no, no, no."
How much better this could have been if only Nathan Scott had had his firearm with him. He could have prevented his own shooting and possibly that of others as well. Returning fire with fire is always more effective against a threat than begging and helplessness.
Nathan Scott is a member of Students for Concealed Carry at FSU, which issued a press release a few days after the incident. Below is an excerpt from that release.
The events of the last week in Tallahassee make plainly clear that it is unacceptable for responsible students who have gone to training, had extensive background checks, had their fingerprints taken, are of legal age, and are licensed by the state to be prevented from carrying their self-defense weapons on campus. We have seen that the current 'Gun-Free Zone' policies have done nothing to curb violence… As criminals don't abide by these policies, they only serve to prevent victims from having the ability to defend themselves and their peers.

This is highlighted by two FSU students, one of whom was a US Army Infantry combat veteran and had a clear shot at the shooter, the other is gunshot victim Nathan Scott who is a member of Students for Concealed Carry at FSU who was able to go and warn other students about the shooter despite his injury. Both of these individuals, in spite of having the training and skills necessary to end the shooting, were powerless to prevent it due to Florida's laws.
So-called "gun-free zones" are more accurately called "helpless victim zones," as has been proven time and time again. It's high time we do away with them and allow all Americans the basic human right of self-defense.