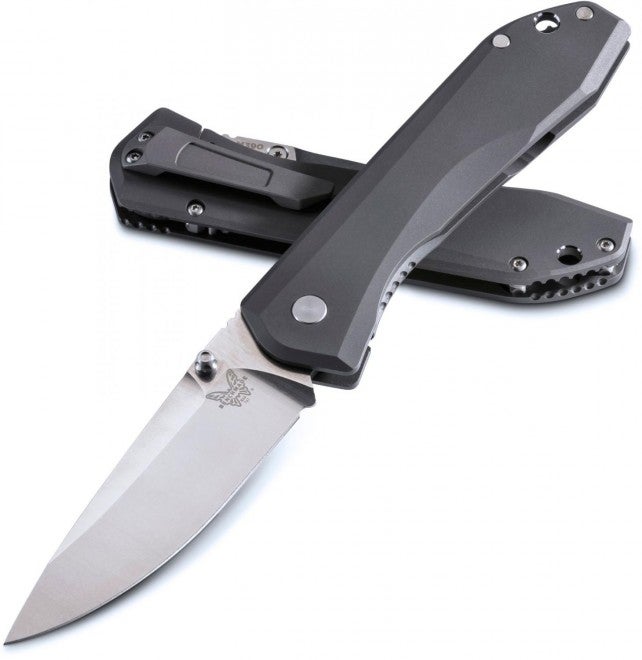 "I want a Benchmade titanium framelock."
At some point everyone has said that. Maybe it was the Skirmish or the Mini Skirmish with its faulty thumbhole or the Lerch Sub Rosa with its assisted opening blade. Or maybe you thought the Emissary would be okay as an aluminum and Axis lock substitute. All of those blades, in some way, weren't exactly what people wanted. What makes that extra weird is the fact that Benchmade makes both the Alias and the Alias II for Bradley, and that is a darn good titanium framelock. It's very strange.
Well, the conundrum has been solved. Just like they did with the SN300, Benchmade stealth dropped the 761, a large titanium framelock. It's unusual for a company as high profile as Benchmade to drop a new blade not previewed at Blade or SHOT without much publicity at all. The 761 has all sorts of modern touches: M390 steel and a sweet looking 3D machined pocket clip. It's a big blade with a 3.73 cutting edge, but everything about this knife is top shelf. All of that size is offset somewhat by a below par weight of 4.36 ounces.
In a lot of ways this is a cool knife because it is so "unBenchmade." It's not that being Benchmade is a bad thing, it's just very predictable–thumbstud, Axis lock, 154CM or S30V, in a wide variety of shapes (but not sizes. Where are the sub 3 inch blades Benchmade?). If the 761 was a flipper, man, that would be smokin'. As it is, it is a competitive entry into the market. Whether it sells well is another question, and a question that has a lot to do with price and competition.
It looks like the 761 is going to retail for $330 or so. That's less than a large Sebenza or an Umnumzaan, its closest size equivalent, but the problem is that it's not that much less. This is a knife that has better steel, but not much else. It's not all that different in design. There is no clever design or unique look to it. It's just a framelock. And the steel itself, while great, isn't a revelation compared to S35VN. So it comes down to this: is this knife capable of competing with the Sebenza or its larger brother in basically the same price bracket (the Large is $400 and the Unnumzaan is $425)? Benchmade's fit and finish is always superb, but CRK is the gold standard (I resisted using the phrase "benchmark" on purpose).
If the 761 succeeds, it will be because it is as good as one of those two knives, but cheaper. If it's not as good, then I think it is a hard sell. For years we have been seeing new gadgets come out touted as iPhone killers and none have taken the sales crown away because they don't just have to be as good, they have to be better or as good, but cheaper. Had had the 761 been a flipper, I think it would have been different enough not to be such an obvious comparison, and any time you avoid a comparison with a Chris Reeve knife, that's a good thing. The Sebenza is beloved for


SHOP NOW