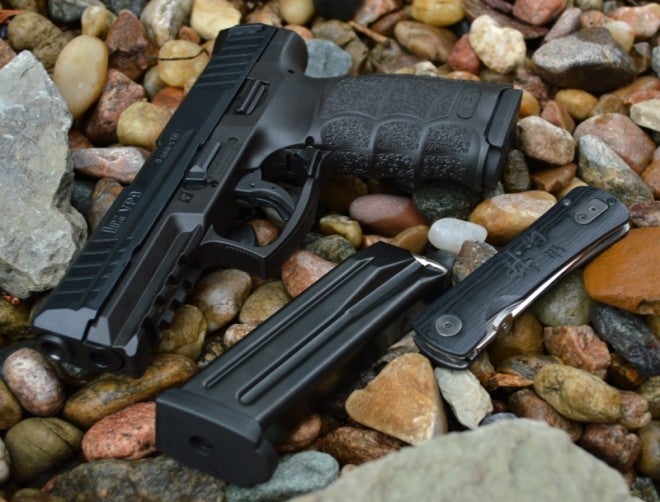 Recently I reviewed the Heckler & Koch P30L, and frankly am in love with the pistol. The quality and the features are all top of the line. As a defensive pistol, it has a level of refinement that can only be seen on Sig Sauers, but with features unique to H&K.
The P30 line has been one of H&K's most popular pistol lines and is the reference benchmark for quality in a defensive polmyer handgun. That said, H&K fans have been demanding a modern production H&K striker fired option built on the popular P30 ergonomics and magazine, and now H&K has delivered the VP9. What really sets the VP9 apart from other Heckler & Koch pistols is the common man's price tag, as its company's first sub-$600 priced gun in recent history.
I want to apologize to Glock to the continued comparisons to their G19 model throughout this article, but I do this because the Glock 19 is the most respected industry polymer pistol in this category. Additionally, with the H&K VP9's affordable price and features, it represents one of the most significant competitive threats to Glock's control of its polymer pistol empire, so I think it is a relevant comparison.
H&K P30L vs VP9
The P30 is a single-action/double-action hammer fired pistol and the VP9 is striker fired, so you can expect differences. If you put the VP9 and P30 next to each other, you can see similar levels of quality and refinement.
From my perspective the P30 still reigns from a fit and finish perspective, covering H&K's top of the line quality handgun slot, but the VP9 is still exceptional with just a tiny bit less refinement. Some will argue with me on this, but the P30 "feels" marginally higher grade. The grips are very similar in feel, with the swappable side grips and back straps and the overall H&K design profile. After a bit of grip swapping, I still find the P30's grip just a bit more comfortable for my hand. Of note, the grip contours are similar but not the same between the models, with just a bit of difference with the P30 being a tad more comfortable.
The sights on the VP90 are luminous as on the P30, but the VP9's seem a little lower quality and are ramped compared to the P30. If you want the ability to charge the firearm off the belt, the rear VP9 ramped sights will prevent that. The two pistols are definitely design siblings that can share magazines while delivering almost identical features, including ambidextrous controls.
GLOCK 19 VS VP9
Let me put the VP9 in perspective for potential buyers compared to a Glock 19.
Let's say BMW started selling a 5 Series sport sedans just a bit more than the price of the extremely popular, highly dependable and very good quality Toyota Camry. Even if you had a bias toward Toyotas, you would take a very long hard look at the new BMW.
Predictably, in this anecdote you could replace Toyota's Camry with Glock's G19 and BMW's 5 Series with H&K's VP9. With options like the Walther PPQ and this H&K VP9 available, it makes you wonder why anyone would buy a Glock G19. Barring any unexpected recalls or problems, if H&K plays its cards right from a consumer advertising perspective, it could start eating a huge piece of Glock's G19 and G17 market share, the H&K VP9 is that good.
The Glock is just a tiny bit shorter by both length and width, but it actually feels smaller in the hands and in the pants. I would like to have the butt a little rounded on the VP9 to prevent just a bit more printing when carrying concealed.
From a fit perspective the VP9 delivers a premium quality polymer pistol with exceptional fit and finish. I am a Glock lover, but the H&K VP9 pretty much just blows my Glock 19s away on every point with the exception of known reliability.
The polymer lower receiver on the VP9 is actually perfectly straight and not ever so slightly warped like my Glock, and the slide is contoured with a bit of style with front and rear serrations instead of a rounded square. The sights, looks, ergonomics, ambi-controls, magazines, operation, accuracy, finish, and trigger are all better.
Even as a guy wrapped up in a long time love affair with Glocks, I have to ask myself why am I still carrying around a squared off  pistol with the style of a piece of tupperware. The only answer I can come up with is confidence. I have run tens of thousands of rounds through Glocks with very very few problems. Those problems I have had were all ammo related. Years down the road, I am sure we will ask why we did not have more faith in the VP9 design earlier on. If I see the same long-term reliability as my Glocks, I may end up with just as many H&K VP9s and variants as I have a Glocks.
Walther PPQ vs. VP9
Looking closer at those VP9 features makes me immediately pull out my Walther PPQ for comparison. From the outside anyway, the very awesome Walther PPQ and the equally awesome H&K VP9 look like they literally had the same designer. Both boast fully ambidextrous operational capabilities, ergonomic insert swappable grips, extended picatinny rail, front and rear slide serrations, heavy duty extractors that also pull double duty as a loaded-chamber indicator, high quality German 15-round magazines, contoured slide, ejection ports designed to prevent any stovepipe/failure to eject jams, accuracy that easily edges out most other production defensive pistols, and sights that are very good. Actually the VP9 and PPQ look more similar than the VP9 and P30 do.
If you love the PPQ, then you will have no issues jumping in bed with the H&K VP9, with only the feel of a magazine release being moved to H&K's trigger guard release.
As much as I in love with the Walther PPQ as a Glock 19 replacement, the VP9 is even a bit more refined. The front picatinny rail is extended to allow all the normal larger sized tactical lights to mount and index fully. The trigger guard is even larger on the VP9, and once you get used to the ambidextrous H&K style paddle mag release, you start to wonder if you were wrong all those years for pressing a left handed button to release mags.
Internals
Internally is where the H&K VP9 breaks away and looks like a completely different animal than all the other striker fired competition. The internal receiver/frame rails are much thicker than any polymer pistol I have seen, which would indicate the gun could take a bit more beating than other pistols around. The striker fire system is also a bit unique, but in the end it accomplishes the same purpose: it fires the gun with a trigger just a hair under the crisp break of the renowned Walther PPQ's trigger.
I love the fact that H&K took the stance to provide magazine interoperability between the P30 and the new VP9 line. For law enforcement and military, this makes for a much simpler and less expensive gun swap if you happen to have a load of P30 mags stacked around.
The charging ears on the back of the slide are an amazingly ingenious innovation. If I could somehow bolt these onto every pistol I own, I would. These ears deliver just that extra bit of grip you need to charge the pistol when you get a bit sloppy. It's an awesome idea that has been elegantly executed.
Functions and Accuracy
I have a little over 1000 rounds of a mixed bag of 9mm ammo through the H&K VP9, and it has run flawlessly–you know, like a Glock. It even feeds some of the rather poorly reloaded 9mm rounds that are marginally out of spec–you know, like a Glock. After some practice and some rather informal iPhone Shot Timer App logged tests, I may actually be a little faster on the reload with the H&K paddle mag release than with my Glock, which surprised me.
Accuracy is where the H&K pistols seem to pull away from the Glock. The VP9 has nearly identical accuracy to my Walther PPQ, which is around 1" 25-yard groups. The H&K VP9 was also able to replicate my PPQ's 50-yard hits on golf balls off the sand bags. The VP9 is not a pistol lacking from an accuracy perspective. In most cases, groups were around ¼" smaller than those typically shot with Glocks.
Final Thoughts
At a recent media tour of Timney's triggers, I had an opportunity to talk with a number of other writers, and all who had shot the VP9 pistol were very impressed. The pistol represents everything we have asked for and whined about on our Glocks, with a level of striker fired pistol refinement that has only previously been represented in the Walther PPQ. The VP9 though is not a Walther or a Glock or a Sig Sauer, it is a Heckler & Koch, which gives it a legacy of extremely high quality, infallible durability and reliability, and leading edge innovations. H&K not only hit a home run with this pistol, but we are also still waiting to see how far the ball is going. My expectation is that this will be the hottest pistol of 2014 and 2015. And the kicker is that it rides perfectly in my Glock format Crossbreed Holster, so I don't even need to change holsters.
Specs
Caliber: 9mm
Length: 7.34″
Width: 1.32″
Height: 5.41″
Barrel Length:  4.09″
Sight Radius: 6.38″
Weight (with empty magazine): 25.56 oz.
Weight (empty magazine): 3.28 oz.
Weight (without magazine): 22.28oz
Magazine Capacity: 15+1
Trigger Pull: 5.4lbs
Trigger Travel: .24″
Return Travel: .12″
Barrel Profile/Twist: Polygonal, 6 grooves, right-hand twist, 1 in 9.8 inches