One to Watch: Prometheus Design Werx Danger Ranger Bear Scout Knife
Tony Sculimbrene 12.10.14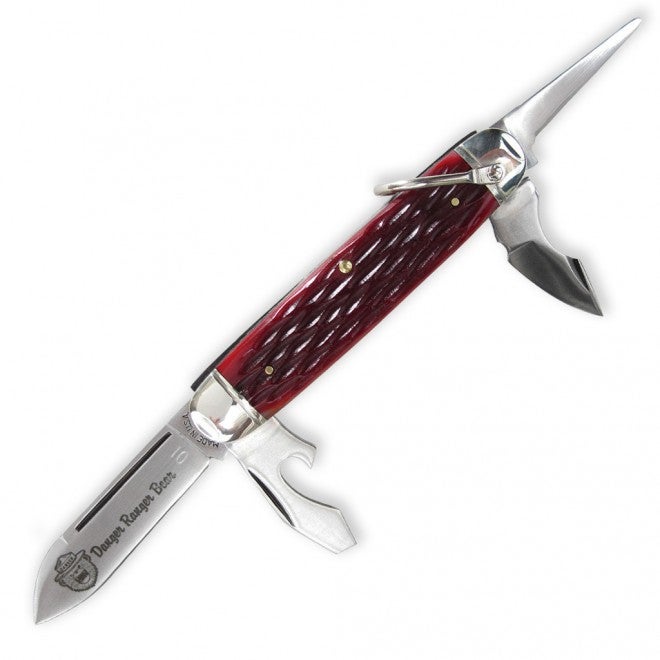 Well, it has happened; PDW has released their first folder. I covered their dog tag OPMT here and it was a herald of things to come, but I would have never predicted this: a traditional, multi-bladed folder. After all, PDW is the brain child of Patrick Ma, among others, and he is the progenitor of the Dauntless Project–a series of ultra modern folders. So to see a bailed, bolstered, and bone-handled folder as their first release was pretty stunning.
I have, over time, acquired a taste for traditional folders. The Northwoods Knives Indian River Jack is one of my favorite folders on Planet Earth. I have had a few others from some of the greats–a Queen, a GEC (or two), and I have handled many a Case. The Danger Ranger Bear falls right in to that line.
The knife itself is pretty classically configured. It is has four implements: a large blade, a small blade of some odd design, a awl or punch, and a flat head driver/bottle opener. It is available in four different handle covers, including stag and three colors of jigged bone. There are bolsters on either end and a bail. The steel is 154CM. PDW doesn't state the maker, but they claim that it is made by one of the old American knife companies. There are only 50 of each model. The stag version is $215. The other three are $170. This is likely a knife made by Queen Cutlery or GEC, though this is 100% speculation based on their product copy ("oldest American manufacturer…"). They have their own knives and often do OEM work for others (Northwoods Knives are sometimes made by Queen).
Generally speaking, it seems that this knife strikes the market in an odd way. Evidence for this is the fact that more than week or more after their release, these knives are readily available on the PDW site (the stag version is sold out as of the writing of this December 8, 2014). Knives don't have to sell out in a week to be a success, but the other products on PDW sell out in minutes, even the more expensive ones such as the fixed blades, so this lack of scarcity is telling.
While I like traditional knives, this particular design doesn't do much for me. It's as if they made a SAK with less useful tools and a traditional set of covers. Tool for tool, I'd rather have a SAK Alox Cadet or a Pioneer, both of which are a fraction of the price. If I were to confine the comparison to traditional knives only, this knife comes up short compared to the elegance of something like the Indian River Jack. I have no doubt that the knife is a capable design. It's a pattern that has been made with various tweaks for a very long time, but compared to what's out there, it leaves me cold.
Compared to what we have come to expect from PDW, the Danger Ranger Bear Knife seems a bit underwhelming. It has none of the exclusivity of their normal offerings, and its large batch size means it is less likely to light a fire under collectors. It's not a bad knife, but it's just not something I think the market was expecting or wants–hence the fact that it is still in stock.
I guess when your first movie is Citizen Kane, everything else seems less impressive.